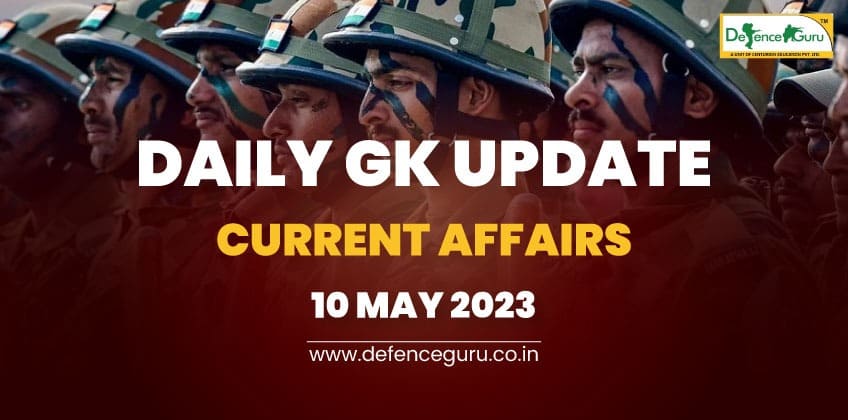 Defence Guru is a dedicated platform to provide DailyCurrent Affairs Updates to Defence Aspirants. Our Daily Current Affairs Update covers National Affairs, International Affairs, Economy, Sports, Awards and Honours, Books, Appointments, etc. You can follow us for regular current affairs updates. Current Affairs cover almost 15-20% of all defence exam syllabus. That's why It becomes very important for Defence Aspirants to cover Daily Current Affairs Updates. Our Current Affairs Update is accurate, reliable, and useful for every defence exam and other exams in India.
Current Affairs

National Affairs

The Ministry of Culture is going to launch a singing talent hunt program.

The Ministry of Culture is going to launch a singing talent hunt called 'YUVA PRATIBHA'.
The winner of this talent hunt will get 1,50000 rupees as prize money.

The Indian Army is going to introduce a common uniform for the officers above Brigadier Rank.

Indian Army has decided that Officers above Brigadier Rank will have the same rank irrespective of their parent cadre and appointment.
Cap, Shoulder Badges, belts, and Shoes all will be made the same for all.
For example, officers from parachute regiments wear maroon berets, while officers from other regiments wear different berets. Now All Officers from above the rank of Brigadier will wear the same uniform.

India is trying to export its goods to Israel through a railway network via Arab Countries.

The Israeli Foreign Minister has clarified that India will be able to export goods to Israel via Arab Countries.
India will send goods to Arab Port and from there goods will be taken to Haifa Port in Israel through a network of trains.

Assam is going to ban Polygamy.

The Assam Government has formed a panel to ban polygamy as a part of implementing the Uniform Civil Code in Assam.

International Affairs

India gave 1 billion dollars of the line of credit to Sri Lanka.

This 1 billion dollar line of credit is part of 4 billion dollar emergency assistance which is being provided by India to Sri Lanka.

The Supreme Court of Sri Lanka has legalized Homosexuality.

The Supreme Court of Sri Lanka has clarified that the bill seeking to decriminalize Homosexuality is not inconsistent with the Constitution.
Srilankan Court followed the example of the Indian Supreme Court where the Indian Supreme Court legalized Homosexuality in Navtej Singh Bahar vs Union of India Case.

China and Pakistan have agreed to extend CPEC to Afghanistan.

China, Pakistan, and Afghanistan have agreed to boost economic ties among all three countries.
All three counties have decided to extend CPEC (China-Pakistan Economic Corridor) to Afghanistan also.

The former Pakistani Prime Minister Imran Khan has been arrested over corruption charges.

Imran Khan has been arrested over corruption charges. After his arrest, large protests started in Pakistan against the Pakistani Army.

China and Canada have expelled Diplomats from each other.

A Chinese Diplomat was expelled from Canada over the Diplomat's remark on Canadian Lawmakers.
In a tit-for-tat move, China too expelled a Diplomat of Canada from China.

Awards and Honours

Associated Press has won the Pulitzer Prize for its reporting in Ukraine.

The New York Times has won the International Reporting Honour Award for its reporting stories on the Russian invasion of Ukraine.

Indian President presents Gallantry Awards.

Shaurya Chakra(posthumous)- Rohit Kumar, J&K Police and Sudip Sarkar, BSF, Mudasir Ahmad Sheikh, J&K Police.
Kirti Chakra(posthumous)- Jasbir Singh, 19 RR and Artillery Regiment.

Sports

Pakistani Batsman Fakar Zaman has been named ICC Player of the Month.

Narumeol Chaiwai, a Thai Female Cricket Player has also been selected as ICC Player of the Month.
Read More:
Daily GK Update - 09th May 2023 Current Affairs
Daily GK Update - 08th May 2023 Current Affairs