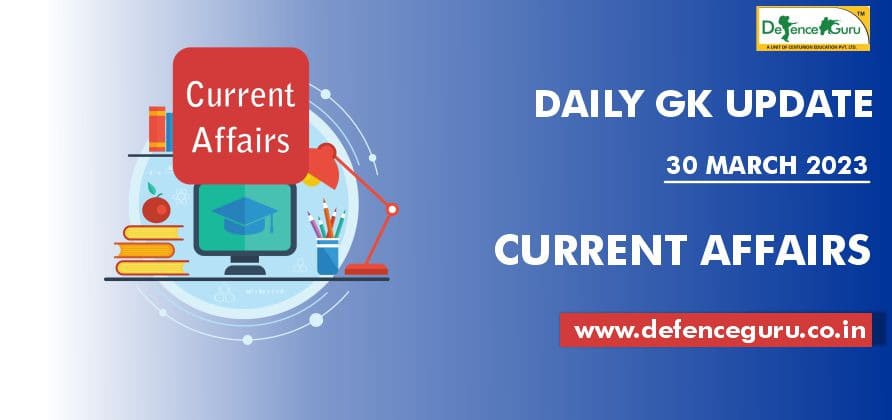 Daily GK Update - 30th March 2023 Current Affairs
Defence Guru is a dedicated platform to provide DailyCurrent Affairs Updates to Defence Aspirants. Our Daily Current Affairs Update covers National Affairs, International Affairs, Economy, Sports, Awards and Honours, Books, Appointments, etc. You can follow us for regular current affairs updates. Current Affairs cover almost 15-20% of all defence exam syllabus. That's why It becomes very important for Defence Aspirants to cover Daily Current Affairs Updates. Our Current Affairs Update is accurate, reliable, and useful for every defence exams and other exams in India.
Current Affairs

National Affairs

The Indian Government is going to procure satellites for the Indian Army.

Government is procuring these satellites for the Automated Air Defence Control and Reporting System.
The name of this project is 'Akashteer'.

The Cheetah brought from Nabia gave birth to four cubs in Kuno Pal Pur Sanctuary.

The name of the female Cheetah- Siyaya
Kuno National Park is a national park and Wildlife Sanctuary in Madhya Pradesh, India. It derives its name from the Kuno River. It was established in 1981.

SCO National Security Advisor Meeting took place in Delhi.

The Shanghai Cooperation Organisation (SCO) is a Eurasian political, economic, International security and defence organization. It is the world's largest regional organization in terms of geographic scope and population, covering approximately 60% of the area of Eurasia, 40% of the world population, and more than 30% of the global GDP

Gandhamardan Hills of Odisha has been declared as the 36th Biodiversity Heritage Site in India.

Gandhamardan Hills or Gandhamardan Parbat is a hill located in between the Balangir and Bargarh districts of Odisha, India. This hill is well known for its medicinal plants.

West Bengal Government launches 'Pathashree-Rathashree' Project.

This project has been launched to improve roads and improve village connectivity.

International Affairs

Saudi Arabia has joined SCO (Shanghai Cooperation Organisation) as Dialogue Partner.

There are two 9 members in Shanghai Cooperation Organisation- China, India, Kazakhstan, Kyrgyzstan, Russia, Pakistan, Tajikistan and Uzbekistan.
There are total dialogue partners of SCO Armenia, Azerbaijan, Cambodia, Nepal, Sri Lanka, Turkey and Saudi Arabia.

The Second Summit for Democracy was hosted by the USA.

Indian Prime Minister Narendra Modi addressed this summit through virtual mode and highlighted that India has always been a democratic country citing the example of Mahabharat.

Books and Authors

Basu Chatterji: And Middle of The-Second-Road Cinema

This book has been written by Anirudhha Bhattacharjee.
This book describes the life and career of veteran filmmaker Basu Chatterji.

Book- 'War and Women'

The book 'war and women' has been written by Dr. MA Hasan.
This book describes war crimes committed by the Pakistan Army against women of Bangladesh.

Awards and Honours

Tapoban, an NGO from Assam was honoured with the Children's Champion Award.

Tapoban NGO works in the field of supporting Children with special needs such as Autism.

Aliya Mir from Jammu and Kashmir has been awarded with Wildlife Conservation Award.

Aliya Mir is a resident of Kashmir and works as Wildlife SOS.

Sports

Messi surpassed the 100-goal record for his national team.

So far, Messi has scored 100 Goals for his national team, Argentina.
He has scored 7 hattricks also for his national team.

BCCI adds two new rules in IPL 2023.

First Rule- Impact Player Rule

Under this rule, the captain can call a substitute player and use the new player as the bowler.

Under this rule, bowlers will be able to take DRS for wide balls and no balls also.
Read More:
Daily GK Update - 29th March 2023 Current Affairs