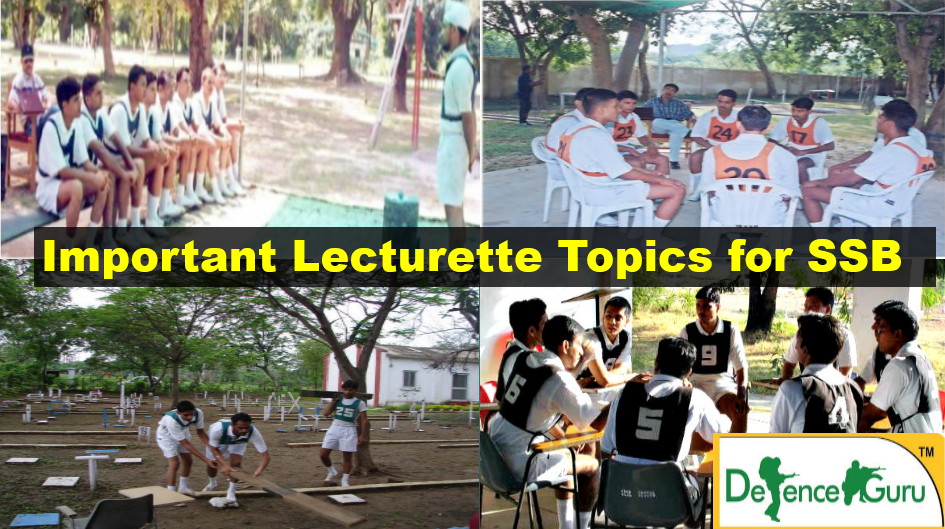 SSB Interview is a Five Day process where a candidate is accessed by different Officer. The main Stages  involves Psychology, GTO, Interview. During the GTO test a test conducted to Judge the personality of Candidate named as Lecturette. In this test a small speech or we can say lecture or a small talk is given by the candidate. This Lecturette test is conducted by GTO during Group task in SSB.  Your performance in Lecturette really matters because it is a test in which you are assessed individually
Here we are sharing some of the important SSB lecturette topics that have been asked in last 2 years. These all topics are very important for all Defence aspirant those who are going for their SSB.
Latest Lecturette Topics Asked In SSB Interview
- Indian Space Research organization
- Terrorism and infiltration.
- Swatch Bharat Abhiyaan
- Cosmetic-a new rage, Privacy, Genetically modified food, Fav SportspersonÂ
- Electronic devices
- Internal problems between Indo Pak
- Tourism in India
- Development of rural areas in India
- Right to Education
- Right to Information
- Secularism, Nuclear Proliferation, Subsidies
- Indian Foreign Policy
- Internet- curse or boon
- Poverty Eradication
- Cross border terrorism, Strategic importance of Indian Ocean.
- Coastal security
- Cyber Security, Brain drain, Family planning, Internet necessary evil, China secret threats against India
- Cyber bullying
- Organ trafficking
- India's stand on terrorism
- Higher education in India
- West Asia Crisis
- South China Sea Dispute
- Biotechnology
- OPPOSITES ATTRACT
- India's foreign relation, DRDO, Junk food, Constitutional reforms
- World Trade Organization, United Nations role in global Development
- Operating System
- Dynastic Politics
- Cybercrime, Sports in India, Social media
- Swatch Bharat
- India – A Giant Country Awaken
- Coalition politics, Extra-terrestrial life, Meeting energy crisis in India
- Metro railway
- Impact of Globalization on Indian economy
- Superiority of RUSSIA AND USA in world and the rising competition
- Dynamic politics
- Election system in India
- Should India break its diplomatic ties with Pakistan
- Betting to be legalised in India or not
- Cause of poverty in India
- USA- China relations
- Women in combat role
- Criminalization in politics
- Tourism in India
- Impact of cinema on youth
- Distance Education
- Global Warming
- Doping in sports
- Ills of democracy
- Juvenile crime
- Land requisition bill, e commerce, Aadhar Card, Indo China relations
- AFSPA
- Falling value of Indian rupee in context to dollar
- FDI in defence
- Yoga
- Population Merits and demerits
- Reservations system
- CPEC, Sex Education
- Sponsorship in sports
- Mobile phones
- WTO, Social Network, Tax Reform and My Best Friend
- Indian Democracy – Is it a force or flawed
- Indo-China relationship, ISRO vs NASA
- Indian Economy
- Training in Armed Forces
- Dowry system, Role of NGO, Senior citizens
- Capital Punishment, Child Labour, Gambling
- Child labour
- Women Empowerment
- Indo-China , ISRO
- Defense budget
- Higher education in India
- Medical Science
- 4G Mobile Communication
- Reforms in UN security council
- National Integration, Television, Mercy Killing
- Justice delayed is justice denied
- Influence of western culture
- New technologies in India, Nuclear power
- Chinese goods impact on India
- Role of India in united nation
- Nasalism, Digital Sector, Instagram, Indo Myanmar relations
- Election commission
- Global Warming
- Make in India
- Sex Education, MNC, Organ Donation
- Division of states
- Is consumer still a king?
- Love marriage or arrange marriage
- Power and Politics
- Reservation system, Western education vs traditional education
- Industrialization in India
- Organic farming
- Cybercrime
- How to improve sports in India
- Uses of technology in agriculture sector
- Student UnionÂ
- Rural development and ethical hacking
- Unemployment
- How to increase GDP Rate
- Agriculture in India.
- Women as Fighter Pilots in Indain Air Force
- Indo China relation
- Women in present society
- Sports in India
- Indo-Russian relationship
- Effects of social media
- Boarding School IT industry
- Importance of E-Commerce
- Corruption in politics
- Present situation of Indian judiciary system
- Do religious institution promote religious discrimination!?
- Dynastic politics
- China becoming an economic super power
- Illiteracy
- Disposal of nuclear waste
- Make in India

We recommend all the Candidates to go through these topics and start preparing for them these will definitely help you in during your SSB Lecturette.
Also read:
ALL ABOUT OFFICER LIKE QUALITIES-I