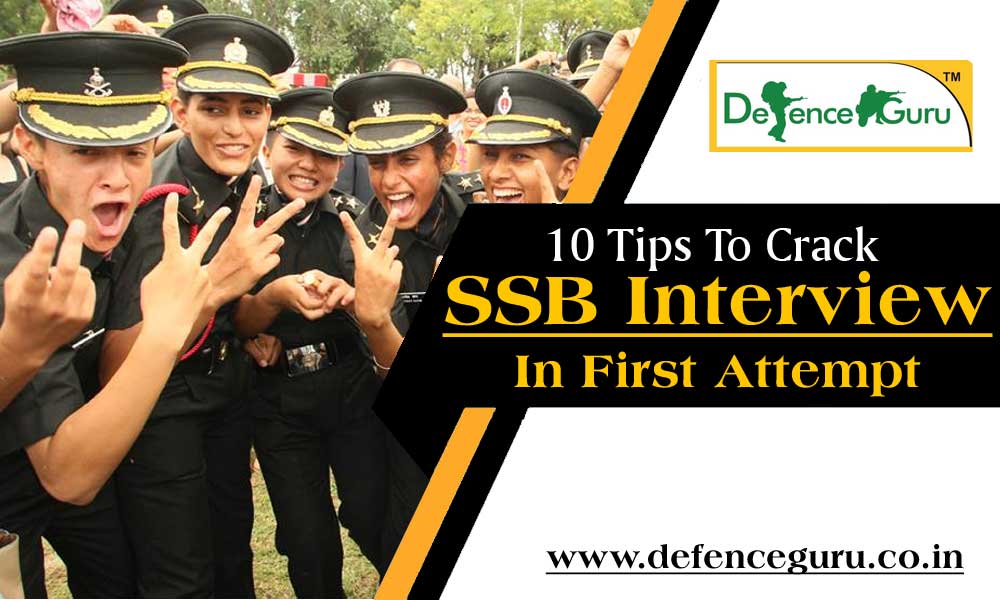 10 Tips To Crack SSB Interview in First Attempt
1. KNOW SSB'S DAYS PROCEDURES
SSB  interview is not a one day stuff. It is not like a regular interview also. Most of the selected candidates make this mistake. They don't know important details about SSB and its procedures .
Try to learn more about the procedures that you'll face once you reach there. There will be a series of tests conducted across several days. Make sure that you get proper knowledge about the time-table. Learn more details about the various tests you'll face.
Initially, there will be a screening test. Those who manage to clear the screening test and group discussion round are then supposed to stay at the SSB centre for the next 5-6 days. Over these 5-6 days, various tests and interviews will be conducted by the board. Personal Interview is also held during this phase. Apart from PI, some other tests are also held. Those tests are- SRT, WAT, Progressive Group Task, Final Group Task, Command Task, Physical Test and Conference round.
These tests will come one after another from the second day onward. Though the CHM will inform you about the timing and dates regarding these tests, it is always better to do one's homework and be prepared to face them anytime!
Know what tests like WAT (Word Association Test), SRT (Situation Reaction Test) etc are all about. Know when you'll face such tests, what these tests are all about etc. This is the most important tip.
 
2. DAY-WISE PREPARATION HABITS
Okay, I hope that you'll follow tip 1 religiously. After doing that, make sure that you go on a quality 'practice session'. Knowing these tests closer is key part, but practicing them is even more better.
Study materials are available in abundance. You may go for 'coaching classes', buy CDS and NDA preparation books or get study material online!
Whatever source you choose, make sure that you practice well. It is very important to prepare for each test/stage involved in the SSB Interview. Each test has its own unique nature. Forming test-wise preparation habits will definitely be of help.
SRT, WAT and similar written tests can be dealt with by practicing from study material available in the market. Going through question sets will help you get a grip, when it comes to such tests.
But it is difficult to prepare for Group Tasks, PI, Physical Test round and Conference round merely by referring books and study material. When it comes to Group Task, one must have confidence, clear thinking, analytical skills, decision making skills and good communication skills to perform well! Developing those traits will definitely help one out!
Being physically fit and agile will help during the Physical test stage. There's a set of fixed obstacles, when it comes to this round. Having knowledge about these obstacles and training keeping them in mind will help you during the actual test. Time saving tactics can be used during this stage and bonus marks can be obtained by one!
PI is a tricky affair. One must be very confident, prepared and honest, when it comes to this stage. Adequate importance must be given to dressing and appearance, sitting posture, physical gestures and eye contact. Don't get too nervous, try to stay calm and answer the interviewer's questions honestly. Keep answers to the point. Honesty is the best policy. Filling up the PIQ form honestly and correctly will ensure that you won't face 'tricky situations' during the interview. During the PI, interviewer will look for key traits like OLQs, confidence, decision making skills, analytic skills, general awareness and aptitude.
3. NATIVE STATE/TOWN BETTER
Having good, detailed knowledge about your home state or town is good. Questions related to them are often asked during personal interview.  Before the personal interview, candidates are asked to fill a PIQ (Personal Information Questionnaire). Details like state, town etc of the candidate must be filled. So, it is obvious that the interviewer will pose some questions related to them.  Collect information related to current affairs, historical significance, population, language, governmental organizations, notable personalities etc of your state/town.
 
 4. ADD ADVANTAGE  OF  CURRENT AFFAIRS
This is what many candidates ignore. They'll practice for all those tests, but leave behind Current Affairs. Having good general awareness and knowledge of current affairs is an added advantage!
Many times, during the personal interview stage, questions related to current affairs will be posed by the interviewer. Make sure that you go through NEWS Papers, NEWS headlines etc daily. Also referring magazines like Pratiyogita Darpan and sites like http://Defenceguru.co.in will help you.

 5. HAVE DETAILED KNOWLEDGE ABOUT FACTS
All SSB interviews emphasize on some common topics. These common topics are- India, Indian Politics, History of India, India and its current affairs, Armed Forces in India etc. Questions about these topics are almost always asked during personal interviews, group discussion etc.
Make sure that you read and study these topics extensively. Preparing and keeping your own 'notes' will help. With the use of internet, you may get all the necessary knowledge for free!

 6.TECHNICAL/ ACADEMIC KNOWLEDGE
Doing so will come handy during the personal interview. Many times, interviewers go for such technical questions. If you are a 12th standard passed/appearing student, the interviewer may ask questions related to your studies. For example, I was asked this question- 'What is Bernoulli's equation?'.
If you are an engineering graduate, then prepare for similar questions related to your branch. So, brushing up your knowledge is essential.

7. PRACTICE TIME MANAGEMENT ACCORDINGLY
Usually, the interviews are held at time, when the climate is extreme. For example, consider the SSB interview held at Allahabad in January. At that time, the place would be too cold.
It is essential to know the climatic conditions early on and practice accordingly. In January cold, at Allahabad, you won't be able to write fast because of 'cold and frozen' hands!
And let me remind you that 'writing fast' is necessary to do well in tests like WAT, TAT, SRT etc. So, writing practice, keeping the climate in mind often helps. Take time to form some 'time management' strategies.
 
8. BE SIMPLE AND 'BE YOURSELF'
Having these traits will help you greatly during personal interview and the whole SSB thing. Be honest while filling out PIQ form. Don't brag about things you never did! Bragging and lying will come back to haunt you during interview! Don't try to act smart. Be your normal self. Acting like somebody else will do more harm than good.
 
9. IMPROVE YOUR ORATORY SKILLS, CULTIVATE CONFIDENCE
This is something you definitely should do. Building confidence will certainly help you perform well in personal interview, group discussion, group task etc.
Having good oratory skills will also help during group discussion, group task etc. Invest some time daily cultivating these qualities in yourself. You'll be amazed by the return it'll give!

10. MAINTAIN GOOD PHYSICAL FITNESS
There is a whole 'obstacles round', where your physical prowess will be put to test! So, maintain a basic level of fitness and physique.
Exercise regularly, eat well, eat good food. The obstacle course is a real 'bonus round'. You can score high score if you're in good shape and have good fitness level.
Here Defence Guru Share 10 Tips To Crack SSB Interview in First Attempt with you guys. We believe that religiously practicing and implementing these SSB tips will help you crack SSB interview!  You'll learn a lot during your stay there.
 
You can Also Read
Tips To Crack PPDT
TAT TIPS FOR SSB