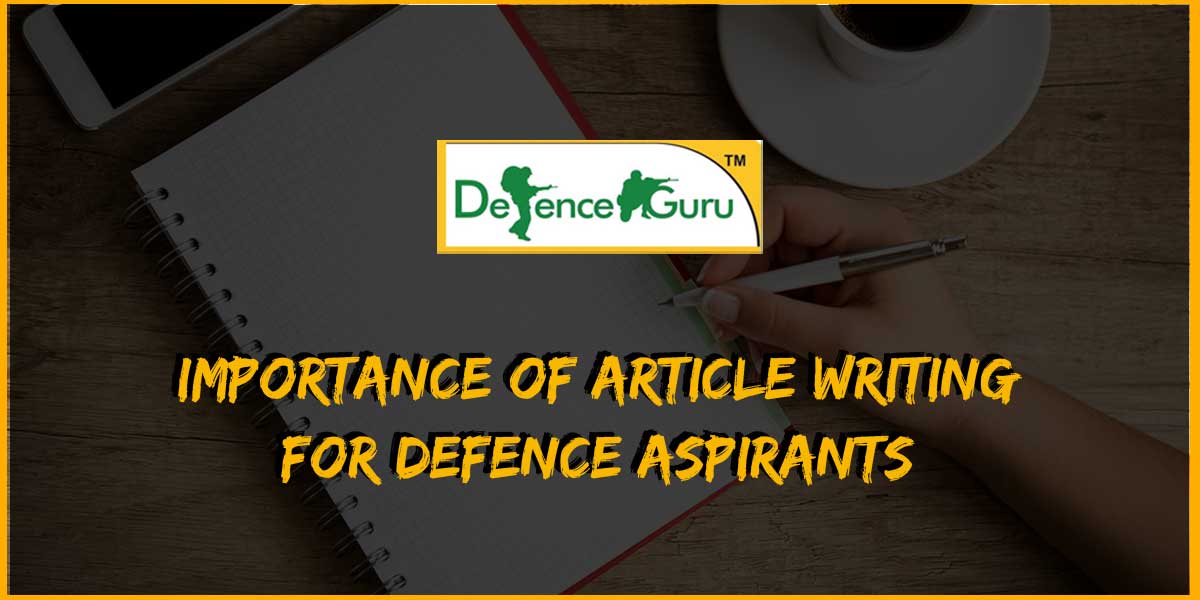 Importance of Article Writing for Defence Aspirants
Dear Students,
I am going to share a smart way of learning for those who are preparing for entrance exams NDA, CDS, AFCAT and MNS. In these exams, English subject is a scoring subject and it becomes tough to score for those students who are not language friendly. One factor which is often missed by students is that they take it as a subject whereas it is originally a language. Those who use it in their communication, find this subject an easy subject and obviously they make a good score too. Now this fact should be taken into consideration and an approach for learning is to be developed. Although it is quite challenging to work on someone's way of thinking. One can bring an idea into his habit only if One has done proper analysis for the same. One should analyse it deeply that why English subject has been kept in competitive exams whereas we made the English leave our country and we never intended to follow their guidelines so why to give special attention on their language.
Well, the answer is very simple that is it your choice that you want to be the part of such an organization which operates in PAN India basis. In armed forces, you are posted in different part of the country and you find different cast, creed, colours, culture and even languages too. It is not feasible to communicate thoroughly in Hindi language and that is why the need of a common language comes which understood and spoken across India and it is English language. This is only the reason Government of India has put this subject in competitive exams.
Now it has become mandatory for us to have a good command over English language. Here a discussion comes to think on the ways to make English subject interesting and result oriented too. Be it the preparation of written exam or the interviews, having an interesting approach to learn this English language plays a very important role. I have observed that students who are interested in English subject, they have better analysis of grammatical rules whereas the students who learn this subject due to compulsion, their analysis is poor.
As per my experience, article writing is the one way that can make you confident in overall section of the English language. If you write an article on daily basis you are going to improve following things.
Enhances analytical skills as you think before writing an article. Generally your attention goes to have a good beginning, body section with elongated explanation and the conclusion part to end up with intended message that you wanted to give. As per my experience, many students have reported me that they have lack of views is a problem with them. I simply denied this fact as there is no lacking of views, it is just the fact that you have not planned your views properly so confidence is not there to present them. It is generally a query from those who take it as a subject and not willing to put their ideas in English and keep bothering on the ways to develop it. I find that it is the most efficient way for weak students to make their analytical power strong. If you look at history, you will find multiple examples who took article writing in their habits and they achieved success in their work. These successful people have spent quality time in crafting their speeches and even if they get busy later on, there is a team behind them who work on crafting speeches for them. For a proper presentation of views, it is important to plan them and here you see the role of article writing.
Students often say that they have vocabulary problem and they want to work seriously for the same but when I ask them for the list of those words where they had problem, they are blank and they say that the list they have not prepared. See here one should understand properly that merely highlighting a certain issue will not be the solution, one must think for it to resolve it. Well, I believe that article writing is the best way to enhance your level of vocabulary. When you write on a topic, you come to know various words that you don't know; you can search them or ask them from an expert. In a very short time, you will notice that your count of vocabulary is increasing you will also feel comfortable to express your views either in writing or in spoken part.
A good command on sentence formation is the basic criteria to boost your confidence level in writing as well as in spoken. Students often think to find a smart way to get it. Article writing makes you do so. Article writing enables you to get variety of sentences where most of the grammatical aspects are covered. This is the best method to keep in touch with the learnt grammatical rules too. Generally a student has to revise them time to time but one is able to write an article on daily basis, these rules will automatically be recalled and he will always feel that he is updated and obviously that enriches his confidence level too.
If the written article is checked by an expert, you get a smart filter. You can summarize how much you know and how much more you have to know now. It gives you a clear picture and you have the opportunity to improve them further. Students should also understand that what is more important for them. Proceeding for further topics or having an analysis of the knowledge that give them a clear picture about their existing knowledge and the knowledge that they to gain further. I believe that assessment is more important than just going on collecting the number of topics without getting the clear picture for the same. Article writing is the way that can give the result of your overall knowledge in English language. Many students have improved their sentence formation through it and this is practically observed formula.
Synchronization of the ideas can be learnt through article writing. Sometimes we feel that we have enough material but how to put them in proper order is a matter of concern. Through article writing you don't come to know the order only but also you get a chance for deep analysis of the topics too. This thought process assists you a lot in lecturrette session which is conducted in SSB (Services Selection Board) interview.
Tips to write an article
Selection of the topic: Initially students should select easy topics to write on. Select such topics which are very well known to you. In fact, you should select very natural topics so that you just have to focus on its presentation rather than thinking a lot to collect the ideas from various sources. Once your level is enriched, you may proceed to those topics whose knowledge is an assignment for you to gain. I am going to give you some examples.
Self Introduction
About your place (hometown, city, state, country)
About your school, about principal, about your best teacher, about your best friend, about your role model, about events that happened in school days, about your achievements, about your learning phases, about your embarrassing day, about your happiest day, about your innovations in school, about some mischievous activities that used to take place in school time and many more.
You must have understood from the above mentioned topics, that the ideas to be comfortable first then to proceed with new assignments. Without being comfortable at initial level, writing on an article will always be a challenging task for you.
Use simple sentences to present your ideas. Some students think that making complex sentences will make a better impression but according to me it is an obstacle in building blocks. If you are a beginner, use simple sentences. Simple sentences will make you comfortable and confident also to present your views. Step by step improvement will be there in your approach of making sentences. One must understand that language is just a medium of expressing ideas. It is not a showcase and one should take care of the audience too. Simple sentences are easily understood by majority. The overall idea for writing an article is to convey the intended message not to make an impressive language.
Do highlight the unknown words and sentences. It is seen that we ignore the areas where the improvement is required. Doing so, improvement is not found even if multiple presentations are given time to time. See, writing multiple articles are just intended to give you an opportunity to work on weak areas. If weak areas like vocabulary, complex sentences are not highlighted, the effort will not be result oriented.
Experts opinion is necessary in the beginning steps so do get it checked by the experts to seek the areas of improvement.
Try to find out the chances to present these written articles to develop your power of expression. If these written topics are delivered too in front of audience, you will find it very easy to be conversant in communication. This comfort is possible because this time, you are not focusing on the content part in fact your overall attention is to deliver them. Thus I can say that article writing is a key method to enhance power of expression.
So, students above mentioned tips will help you a lot to write an article. I have already highlighted the advantages of writing article to improve your overall performance in English. Hopefully you will have understood and will also bring it into implementation. Once you think deeply on the above mentioned factors, you will definitely instruct your mind to bring it in your practice. One it comes in practices for a few days, it will come into your habit. Slowly, you will feel comfortable in expression of the ideas and they you may vary your schedule as per your comfort zone but initially you need determination to do so.
Best wishes and have a happy writing skills!
Aditya Dubey
Head of the Department (English and Interview Skills)
Centurion Defence Academy
Alambagh Branch,
© 2018 Defence Guru All Rights Reserved.