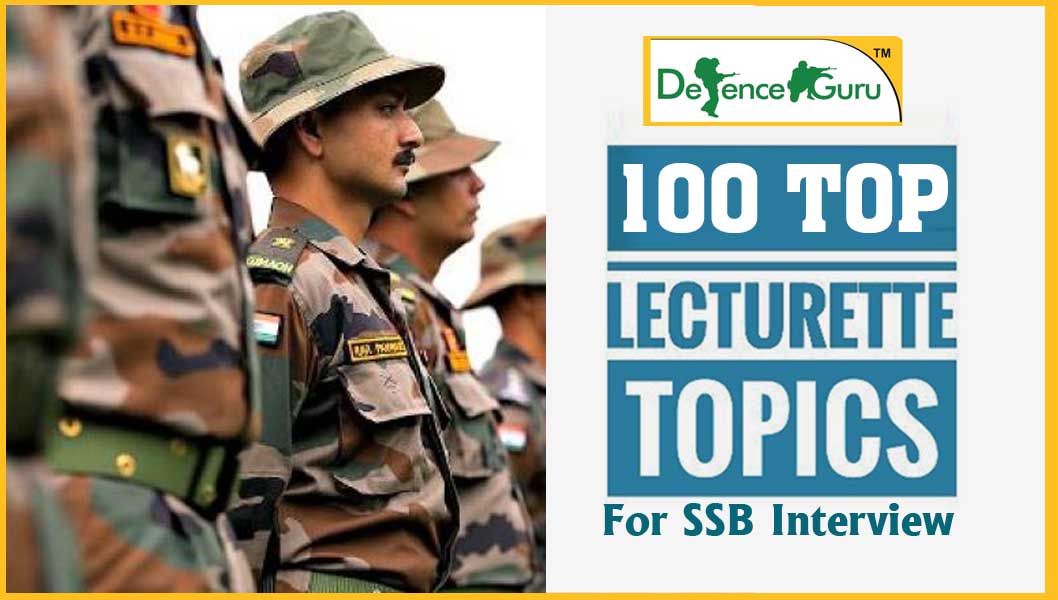 100 Top Lecturette Topics For SSB Interview
Lecturette is one of the important tests which come under GTO series. It is a 3 mins exercise where a candidate is required to present a speech related to a topic which he has to choose out of four given topic. It is basically a small talk which is to be delivered by each candidate in the given time. It is conducted in order to assess the speaking skill, knowledge, interpersonal skill, influencing ability and quick decision making ability of an individual.
Lecturette Topics For SSB Interview
candidate can read and download the top 100 Lecturette Topics for SSB Interview which candidates can face during SSB interview GTO tasks. These lecturette topics would help you to familiarize with the type of topics you might face during lecturette in GTO. Lecturette topic is mentioned along with the name of the SSB centre where it was faced by the candidates.
Top 100 Lecturette Topics For SSB
| | | |
| --- | --- | --- |
| S.no | Topic | SSB Board |
| 1 | Global warming | 18 SSB Allahabad |
| 2 | Nuclear Weapons | 21 SSB Bhopal |
| 3 | T20 cricket | 4 AFSB Varanasi |
| 4 | Terrorism | 21 SSB Bhopal |
| 5 | Women Empowerment | 4 AFSB Varanasi |
| 6 | Foreign Direct Investment in Defense | 24 SSB Bangalore |
| 7 | Modernization of Indian Armed forces | 17 SSB Bangalore |
| 8 | Reservation System in India | 2 AFSB Varanasi |
| 9 | AFSPA | NSB Visakhapatnam |
| 10 | Yoga | 33 SSB Bhopal |
| 11 | China-Pakistan Economic Corridor (CPEC) | 14 SSB Allahabad |
| 12 | India- Sri Lanka Relations | 5 AFSB Kanchrapara |
| 13 | Sex Education | 11 SSB Allahabad |
| 14 | World Trade Organization | 3 AFSB Gandhinagar |
| 15 | Population of India- Merits and Demerits | 19 SSB Allahabad |
| 16 | Brahmos | 20 SSB Bhopal |
| 17 | Honor Killing | NSB Visakhapatnam |
| 18 | Water Scarcity | 2 AFSB Mysore |
| 19 | Corruption in India | 31 SSB Kapurthala |
| 20 | Start up India | 14 SSB Allahabad |
| 21 | Demonetization | 17 SSB Bangalore |
| 22 | E-Governance | 3 AFSB Gandhinagar |
| 23 | GST | 32 SSB Kapurthala |
| 24 | Social Media | NSB Visakhapatnam |
| 25 | SAARC | 31 SSB Kapurthala |
| 26 | ISRO- Indian Space Research Organization | 20 SSB Bhopal |
| 27 | Human Rights | 11 SSB Allahabad |
| 28 | Media – fourth pillar of democracy | 11 SSB Allahabad |
| 29 | BRICS | 32 SSB Kapurthala |
| 30 | Make in India concept | 1 AFSB Dehradun |
| 31 | Mother | 19 SSB Allahabad |
| 32 | Kids Reality Shows – Good or Bad | 2 AFSB Mysore |
| 33 | Capital Punishment | 31 SSB Kapurthala |
| 34 | Smart Work Vs Hard Work | 21 SSB Bhopal |
| 35 | NATO | 11 SSB Allahabad |
| 36 | Alcohol Ban in India | NSB Visakhapatnam |
| 37 | Bullet Trains In India | 33 SSB Bhopal |
| 38 | Compulsory Military Training | 3 AFSB Gandhinagar |
| 39 | DRDO | 14 SSB Allahabad |
| 40 | South China Sea | 2 AFSB Mysore |
| 41 | BPO in India | 12 SSB Bangalore |
| 42 | Unemployment in India | 17 SSB Bangalore |
| 43 | Indian GDP | 33 SSB Bhopal |
| 44 | Democracy | 2 AFSB Mysore |
| 45 | Privatization of Education | 32 SSB Kapurthala |
| 46 | Nuclear Supplier Group NSG and India | 14 SSB Allahabad |
| 47 | Women in Indian Armed Force | 1 AFSB Dehradun |
| 48 | Online Piracy | 31 SSB Kapurthala |
| 49 | NASA | NSB Visakhapatnam |
| 50 | Child Labour | NSB Visakhapatnam |
| 51 | Dowry System | 19 SSB Allahabad |
| 52 | Indian Economy | 3 AFSB Gandhinagar |
| 53 | Love Marriage Vs Arrange Marriage | 22 SSB Bhopal |
| 54 | MNCs in India | 2 AFSB Mysore |
| 55 | Organic Farming | 14 SSB Allahabad |
| 56 | Swachh Bharat Abhiyaan | 17 SSB Bangalore |
| 57 | Electronic devices | 33 SSB Bhopal |
| 58 | Higher Education In India | 19 SSB Allahabad |
| 59 | Sports in India | 24 SSB Bangalore |
| 60 | 4G Mobile Communication | 11 SSB Allahabad |
| 61 | Development of Rural Areas | 3 AFSB Gandhinagar |
| 62 | Election Commission | 2 AFSB Mysore |
| 63 | Fundamental Rights | 33 SSB Bhopal |
| 64 | Influence of Western culture | 32 SSB Kapurthala |
| 65 | New Technologies in India | 1 AFSB Dehradun |
| 66 | Privacy | NSB Visakhapatnam |
| 67 | Senior Citizens | 19 SSB Allahabad |
| 68 | Supreme Court of India | 3 AFSB Gandhinagar |
| 69 | Tourism in India | 17 SSB Bangalore |
| 70 | Cybercrime | 14 SSB Allahabad |
| 71 | Gambling | 33 SSB Bhopal |
| 72 | Justice delayed is justice denied | 21 SSB Bhopal |
| 73 | Mercy killing | NSB Visakhapatnam |
| 74 | Role of NGO | 11 SSB Allahabad |
| 75 | Nuclear Power | 31 SSB Kapurthala |
| 76 | Paid media | 33 SSB Bhopal |
| 77 | Police Duties | 2 AFSB Mysore |
| 78 | Role of India in United Nations | 19 SSB Allahabad |
| 79 | Use of Technology in Agriculture | NSB Visakhapatnam |
| 80 | Chinese goods impact on India | 1 AFSB Dehradun |
| 81 | Cosmetics, a new rage | 32 SSB Kapurthala |
| 82 | Evolution in Telecommunication | 14 SSB Allahabad |
| 83 | India's role in World Forum | 17 SSB Bangalore |
| 84 | Industrialisation | 33 SSB Bhopal |
| 85 | ISIS | 3 AFSB Gandhinagar |
| 86 | National integration | 32 SSB Kapurthala |
| 87 | Naxalism | 1 AFSB Dehradun |
| 88 | Power and Politics | NSB Visakhapatnam |
| 89 | United Nations Security Council | 14 SSB Allahabad |
| 90 | Capital Punishment | 3 AFSB Gandhinagar |
| 91 | Division of states | 17 SSB Bangalore |
| 92 | Indian defence budget | 11 SSB Allahabad |
| 93 | Indo Myanmar relation | 31 SSB Kapurthala |
| 94 | Medical Science | 12 SSB Bangalore |
| 95 | NDRF | 2 AFSB Mysore |
| 96 | Organ donation | NSB Visakhapatnam |
| 97 | R & D in India | 19 SSB Allahabad |
| 98 | Sign Language | 32 SSB Kapurthala |
| 99 | Student Union | 1 AFSB Dehradun |
| 100 | Politics and Religion | 14 SSB Allahabad |