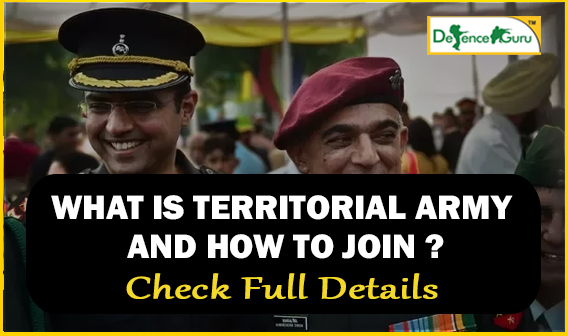 What is territorial army?
TA stands for the territorial army. It is a second line of defense after the Regular Indian Army; the Indian Territorial Army is not a profession, occupation or a source of employment. It is only meant for those people who are already in mainstay civilian professions, in fact, gainful employment or self-employment in a civil profession is a pre-requisite for joining the Territorial Army. Territorial Army in an integral part of Indian Army.
The Territorial Army (TA) provide excellent opportunities for employed young men to join the Indian army and earn the glorious uniform. This is also helpful for one to full fill his dream of becoming an officer and joining Indian army if he wasn't able to do it earlier with regular entries.
The Territorial Army initially had various types of units such as armoured regiments, infantry battalions, air defence, medical regiments, engineers field park companies, signal regiments, Electrical and Mechanical Engineers (EME) workshops, coast batteries, Army Service Corps GT Coy, ASC Compo Pl, and AMC field ambulances. By 1972 these units were either disbanded or converted to Regular Army units with the exception of infantry battalions.
Who is eligible for Territorial Army India?
Male and Female citizens of India and Ex-service officers who are medically fit.
Age – 18 to 42 years.
Qualification – Graduate from any recognized university.
Employment – Gainfully Employed in Central Govt/Semi Govt /Pvt Firm/ Own business/Self Employed
Nationality: Only citizens of India (male and female).
Age Limits: 18 to 42 years on the date of application.
Educational Qualifications: Graduate from any recognized university
Physical Standards: A candidate must be physically and medically fit in all respects.
Employment: Gainfully Employed
Note: Serving member of the Regular Army/ Navy/ Air Force/ Police/ GREF/ Para Military and like forces are not eligible.
What is Territorial Army salary?
The recruitment process of TA works under Indian Army and it is managed by Ministry of Defence Government of India. The center of attraction of territorial army is its respectful life, handsome salary with many extra allowances and a good career in the army or even after. The salary structure of the Territorial Army employees fully depends on their rank. According to their rank the salary, basic pay, grade pay, military service pay and extra perks are provided to the employees.
Territorial Army salary Structure 2019

Rank                               Pay Band/Scale                  Grade Pay       Military Service Pay
Brigadier                      Pay Band 4 (37400-67000)      8900                    6000
Colonel                        Pay Band 4 (37400-67000)       8700                   6000
Lieutenant Colonel      Pay Band 4 (37400-67000)       8000                   6000
Major                           Pay Band 4 (15600-39100)       800                    6000
Captain                        Pay Band 4 (15600-39100)       6100                  6000
Lieutenant                   Pay Band 4 (15600-39100)        5400                  6000
Subedar Major            9300-34800                                4800                   2000
Subedar                      9300-34800                                4600                   2000
Naib Subedar             9300-34800                                  4200                  2000
Havildar                      5200-20200                                  2800                  2000
Naik                           5200-20200                                   2400                 2000
Lance Naik                5200-20200                                   2000                 2000
Rifle Man (GD)Â  Â  Â  Â  Â  5200-20200Â  Â  Â  Â  Â  Â  Â  Â  Â  Â  Â  Â  Â  Â  Â  Â  Â  Â 1800Â  Â  Â  Â  Â  Â  Â  Â  Â 2000
 
Pay and Allowances
TA army get same allowance, pay and service perks same as the Indian Army.
Camp Allowance
TA group Insurance
Terminal Gratuity
Pension (on completion of 20 years physical service)
Hard area posted allowance.
Transport allowance
House rent allowance
Uniform allowance Rs 6000/ at the time of commissioning.
Bounty allowance of Rs 450/- to officers of infantry units.
 
Territorial Army Benefits
An employee of Territorial Army will get benefits which are mention below:
All allowances and pay of employee's rank as applicable to the regular Army.
TA employees will get camp allowance which is for officers while attending training.
Employees will get free rations.
Medical Facilities.
Leave facilities, leave encashment, accommodation and leave travel concessions will be provided.
Pension after retirement.
Fee medical facilities to the pensioners or ex-servicemen.
All medals and awards as per the regular army.
Canteen facilities after retirement.
Death cum retirement gratuity.

What is the Selection Procedure of Territorial Army
For Civilian Candidates:
Candidates whose applications forms are found, correct after scrutinization will be called for screening, by a Preliminary Interview Board (PIB), at their respective TA Group Headquarters. Candidates selected by PIB should provide brief BIO-DATA to include details about their employment with monthly income from all sources at the time of documentation immediately after PIB. Successful candidates will further undergo a Service Selection Board (SSB) and Medical Board for final selection
Test Syllabus:
(a) Short Essay
(b) Objective type question on General Awareness Includes Issues related to Political/Economical affairs, International  Situation and Sports.
For Ex Service Officers Only
Ex Service Officers of three services as a candidate should send their application alongwith enclosures as mentioned in application form to Addl Directorate General TA, Integrated HQ of MoD (Army), 'L' Block, New Delhi-01.
The candidates are screened by an Army HQ Selection Board (ASB) held at Addl Dte Gen TA Army HQ, 'L' Block, New Delhi which is followed by a Medical Board for successful candidates
 
How to apply for Territorial Army
Keep visiting Indian Army Official website for latest notifications.
Territorial Army Commission has invited applications for the recruitment to the officer posts in Territorial Army. The eligible candidates cam apply for the post on or before 25 June 2019.
 
Syllabus of Territorial Army
Paper – I. Reasoning and Elementary Mathematics.
(a) Part – 1. Reasoning. The question paper will be designed to test the candidates ability to complete sequences making logical conclusion based on simple patter of numbers, statements, figures, letters etc as may be expected of a rational thinking person without any special study of the subject.
(b) Part – 2. Elementary Mathematics.
(i) Arithmetic. Number System – natural numbers, integers, rational and real numbers. Fundamental operations – addition, subtraction, multiplication, division, square roots, decimal fraction.
(ii) Unitary Method. Time and distance, time and work, percentages, application to simple and compound interest, profit and loss, ratio and proportion, variation.
(iii) Elementary Number Theory. Division algorithm, prime and composite numbers. Tests of divisibility by 2, 3, 4, 5, 9 & 11. Multiples and factors, factorization theorem, HCF and LCM. Euclidean algorithm, logarithms to base 10, laws of logarithms, use of logarithmic tables.
(iv) Algebra. Basic operations, simple factors, remainder theorem, HCF, LCM, theory of polynomials, solutions of quadratic equations, relation between its roots and coefficients (only real roots to be considered). Simultaneous linear equations in two unknowns-analytical and graphical solutions. Simultaneous linear equations in two variables and their solutions. Practical problems leading to two simultaneous liner equations or in equations in two variables or quadratic equations in one variable and their solutions. Set language and set notation, rational expressions and conditional identities, laws of indices.
(v) Trigonometry. Sine x, cosine x, tangent x when O° < x < 90°. Values of sine x, cos x and ten x, for x = 0°, 30°, 45°, 60° & 90°. Simple trigonometric identities. Use of trigonometric tables. Simple cases of heights and distances.
(vi) Geometry. Lines and angles, plane and plane figures theorems on
1 Â Properties of angles at a point.
2 Â Parallel lines.
3 Â Sides and angles of a triangle.
4 Â Congruency of triangles.
5 Â Similar triangles.
6 Â Concurrence of medians and altitudes.
7 Â Properties of angles, sides and diagonals of a parallelogram,rectangle and square.
8 Â Circle and its properties, including tangents and normal.
(vii) Mensutration. Areas of squares, rectangles, parallelograms, triangle and circle. Areas of figures which can bisect into the figures (field book). Surface area and volume of cuboids, lateral surface and volume of right circular area of cylinders. Surface area and volume of spheres.(viii) Statistics. Collection and tabulation of statistical data, graphical representation-frequency polygons, bar charts, pie charts, etc. Measures of central tendency.
Pattern of Question Paper of Territorial Army India

Paper – II. General Knowledge and English.
(a) Part – 1. General Knowledge. General knowledge including knowledge of current events and such matters of everyday observation and experience in scientific aspects as may be expected of an educated person who has not made a special study of any scientific subject. The paper will also include questions on history of India and geography of nature which candidates should be able to answer without special study.
(b) Part – 2. English. The question paper will be designed to test the candidates' understanding of English and workman – like use of words. Questions in English are from synonyms, antonyms, reading comprehension, Para jumbles, error spotting, jumbled sentences, sentence correction and fill in the blanks
Training Details of Territorial Army
One month basic training in the first year of commission.
Two months annual training camp every year including the first year.
Three months Post Commissioning training within first two years at IMA Dehradun
 
Click Here for Apply - Territorial Army 2019