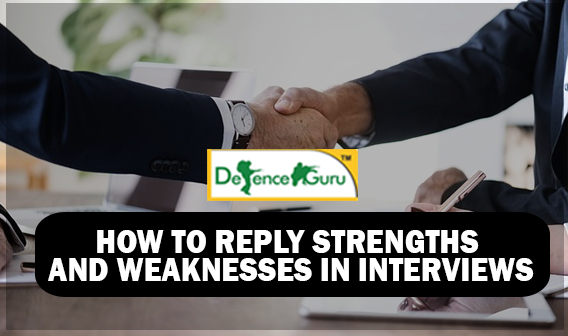 SWOT Analysis
Knowing self is the first step to know more about existing things. It is often a criterion of an interviewer to see how well you know about yourself. In some cases, it is seen that the interviewer has these grounds to assess your skills. Students who appear in the interview after 10+2 or those who do not have any professional degree, have more and more discussion about them only. Apart from self-introduction and various questions of Personal Information, there are questions related to candidate's Strength, Weakness, Opportunities and Threats. This analysis makes you ready to project yourself well in front of the interviewer. In this article, I would clarify how to do this analysis and what to reply when you are asked your strengths, weakness opportunities and threats.
Strengths: The positive qualities that support you at your workplace are your strengths. One should introspect and consider the workplace scenarios and see where you are strong at. Let's take some examples, in nature or
| | | | |
| --- | --- | --- | --- |
| Extrovert | Dynamic in nature | ability to adjust with any environment | Empathetic |
| Result oriented person | Stamina | Self-motivated | Punctual |
| Sincere | Honest | Truthful | Curiosity to learn new things |
| Ability to grasp things | Leadership skills | Presentation skills | Communication skills |
| Negotiation skills | Inter Personal Skills | Creative Problem Solving | Ready to accept challenges |
| Ability to work under pressure | Determination | Responsible | Sense of responsibility |
| Effective Intelligence | Decision making | Resourcefulness | Agile and focused on goal |
In the above mentioned examples, one can ponder about oneself and can decide the appropriate quality or skills for himself. One should not copy these skills from others. In such cases candidate is not able to give proper presentation about them. Failing to present the strengths can be considered falsehood and it can leave a bad impression. Knowing about oneself make your other skills visible as one can be sure about future aspects too.
Weakness:
Weaknesses are asked to know about the areas which you have to improve. None is expected to be perfect and it is universal truth. Improvement is the part of growth. If one says that he is improving, it means his weak areas are being rectified and he is moving towards strong areas. Knowing our weak areas gives the impression that we are updated with our scope of improvement. Now one should be careful too while giving answer of weakness as it might leave a very poor impression and one can lose his candidature too. The following points should be kept in mind.
Answer your weaknesses dynamically. If you share a physical weakness, always remember that you are there for job not for getting remedy of that medical problem. Some students start saying that their eye sight is weak or they are unable to run for a long distance. Actually these physical weaknesses may be weak areas personally not professionally. So one should discuss the relevant details. Although scope of improvement is always there but talking irrelevantly may divert the listener's attention.
Talking about your weak subjects may also make irrelevant discussion in the interviews. Always remember that you are there in the interview for your strong areas in academics not for poor performance in it. Academics is the base of your overall candidature. Again a point of attention i.e. the organization is not the academy who can help in improving that subject area.
If we share a weakness that has scope of improvement in long term basis then it can be a manageable.
Need to work more on public speaking
Believing on others easily
Become anxious until work is completed
Unable to say "No" for responsibilities
Trying to manage time more efficiently
I focus format following more than a casual approach
In the above defined weaknesses it is quite clear that one should tell such a weakness that should affect his job. This is how you can answer smartly and genuinely. The overall focus is on relevant answer and that can be given by selecting the right set of information among other details. "Public Speaking" has vast scope of improvement. Everyone likes to improve on it. Even many successful people also spend their quality time in crafting their speeches and put efforts for public speaking. So if someone shows his willingness to work more on it, it is often considered right and no impact on working skills is there. "Things happen on the basis of belief only in fact all of us are connected on the basis of believe only." So it is quite clear that one has to believe on others to get the work done. Suspecting him every time is not right approach. Now people who believe easily have more scope of improvement and that's again a workable idea in the context of weaknesses.
"Anxiousness is natural when one is focused for successful completion of work"
Now the negative part of anxiousness is already known to us. Sometimes our personal life is affected due to that worried nature. An area of improvement can be the systematic approach of doing work.
From the above explanation, it is quite clear that one should one's strengths and weaknesses as per his analysis. One should give time for this and should also see the impact of decided things in one's practical life. Stay tuned for more updates!
Happy analysis!
Thanks with Warm Regards
Aditya Kumar Dubey
Head of the Department
English and Interview Skills
Centurion Defence Academy, Alambagh Lucknow