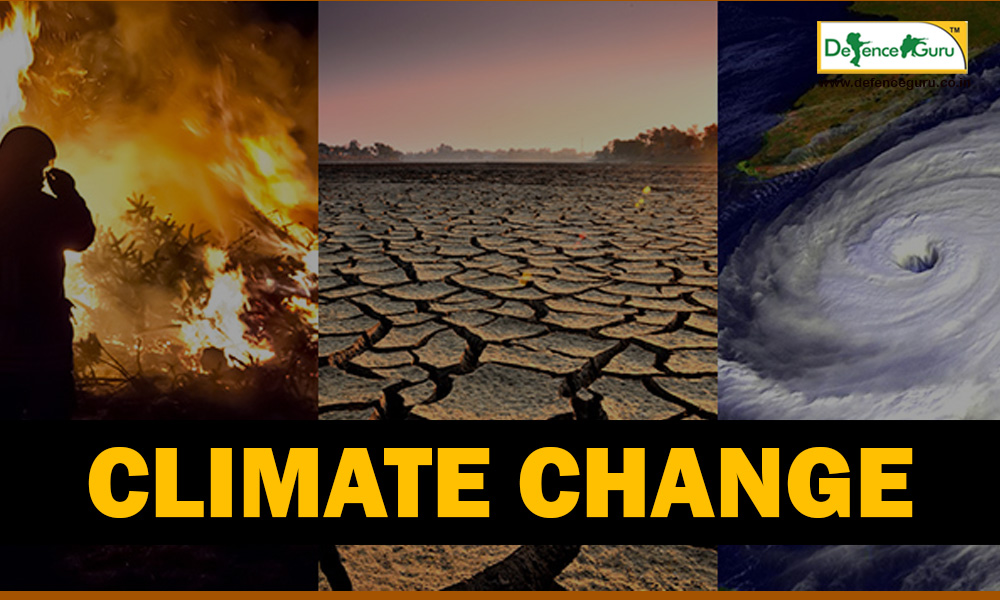 BRIDGING SSB AND CLIMATE CHANGE
Ever heard the phrase: Spin the wheel and try your luck! Well that's a likeable reality of SSB session for Defence applicants. Amongst scores of other tests conducted during the long- lasting SSB session, GD (group discussion) and Lecturette rounds are the most challenging one. There is a plethora of topics that could be put forward for discussion.
In such circumstance, confidence for sure plays a major role but knowledge is the beacon of all. So better hasten your knowledge graph than relying upon your luck. To catalyze your knowledge start reading about each and every topic that comes into mind. One such issue is CLIMATE CHANGE.
Trending since a decade, climate change has linked all spheres of study and profession. From politicians and social activist to researchers, environmentalist, economist, scientist, doctors and….. students, all are raging their voices in context of this topic.
So grab up your lenses and scroll down to get some quick, precise and handy information about the burning issue of 'climate change':
To explain in simple terms climate change is an unhealthy, unacceptable alteration in the regular course of weather and Earth's natural phenomenon.
Created 4.5 billion years ago, our planet Earth was functioning properly until 19th century, when scientist observed major changes in Earth's natural phenomenon and disturbance in climate. Research began, conclusions were laid and by the year 1960 it was declared that rising technology, pollution, deforestation, population and human greed is causing fluctuation in climate. If not dealt on time there will be drastic effects.
The history described above, let's dive our mind into some essential facts about climate change:
GLOBAL WARMING: The term refers to heating up of Earth and rise in its temperature due to: increased greenhouse gases(methane, CO2) which get trapped around Earth+ ozone depletion wherein the ozone layer which safeguards Earth from harmful UV rays is tearing down
As per NASA's report of 2018, the CO2 concentration on Earth was 407 ppmm… the highest in 3 million years.
According to NASA and NOAA 2016 was the warmest year with global average temperature of 1.78 degrees
According to World Atlas and U.S Census Bureau U.S.A is the second largest contributor to CO2 concentration despite having just 4.4% population
As per the IPCC there is a 2.7F increase in temperature expected by 2100
11% emission of CO2 is caused by deforestation done by humans
According to Lively Planet Report there has been a 60% decline in vertebrae count between 1970 to 2014
Due to rise in temperature Aedes aegypti mosquito has grown, killing nearly 10,000 people and affecting 100 millions per year with dengue disease.
There is a hike in floods, rains and droughts in various region of the Earth. According to Carbon Brief 68% of these conditions are caused by human- climate change. This includes 43% heat wave+ 17% droughts+16% floods and rains
A loss of more than 1 million hectare area has been recorded. Equivalent to New York city, an area of coastal ecosystem is destroyed each year.
SETTLING THE CANON: Mere knowledge of causes and effects won't save Earth. We need to push ourselves and take up some everlasting measures to curb the climate change problem. Experts around the globe have been conducting various conferences in this regard. So here is a bunch of recent conferences:
The Kyoto Protocol and UN Intergovernmental Panel on Climate Change (IPCC) are leading organizations trying to normalize climate by collaborating with various countries of the world.
The first World Climate Conference was held in 1979 with an aim to enhance climate research, monitoring, applications and impact assessment. The same was refocused in Second World Conference in 1990.
The third WMO (World Meteorological Organization)-convened World Climate Conference in 2009 and established an updated global framework for climate services.
Under the United Nations Climate Change Conferences (UNCCC), certain crucial conferences have been conducted such as:
The Kyoto Protocol, that started in Kyoto, Japan in 1997 aims exclusively to reduce greenhouse gases emission.
The much famous Paris Agreement, originated under UNFCCC was signed in 2016 and deals with greenhouse-gas-emissions mitigation, adaptation, and finance. As per 2019 data, nearly 195 UNFCCC (United Nations Framework Convention on Climate Change) countries have signed the Paris Agreement.
Beginning from 1995 till 2018 nearly 24 COP (conference of the parties) have held in various parts of the world. Herein a formal meeting is conducted between UNFCCC parties to assess the programs dealing with climate change.
U.N. climate chief Yvo de Boer praised India for collaborating with developing countries that are "making very significant efforts to show what they are doing to address climate change and indicate what more they are willing to do." Here is a bird's eye view to the initiatives taken up by India to combat climate change:
India joined 16 other countries at Major Economies Forum on Energy and Climate in Italy in July and took oath that pre- industrial level average global temperature will not increase more than 2 degree celcius.
In 2018 the Ministry of Environment and Forests released a report of 20 initiatives that India is willing to take for bringing down climate change at national level. It includes reforestation+ 0.8 million hectare of forest per year+ improve forest conservation and management+ installation of 20GW of solar capacity by 2020+ enhance energy use across various sectors under The Mission for Enhanced Energy Efficiency
Furthermore certain novel missions have been brought to the front such as:
India's National Action Plan on Climate Change (NAPCC); International Solar Alliances (ISA);State Action Plan on Climate Change (SAPCC); FAME Scheme – for E-mobility; Atal Mission for Rejuvenation & Urban Transformation (AMRUT) – for Smart Cities; Pradhan Mantri Ujjwala Yojana – for access to clean cooking fuel; UJALA scheme - for embracing energy efficient LED bulbs; and Swachh Bharat Mission.
Add to the above various activities are promoted across the country to bring a change at individual level. These activities include: installation of household and community bio gas over methane stove+ provision of solar power lights+ climate smart farming techniques are focused+ disaster risk management+ Ahmedabad heat action plan has commenced
Huh! Too much of information, isn't it? Well knowledge never goes waste my dear. Knowledge is that candle whose light never fades. So have a quick bite of the article and increase your horizon about climate change because pre-preparation is the ultimate tool to victory.