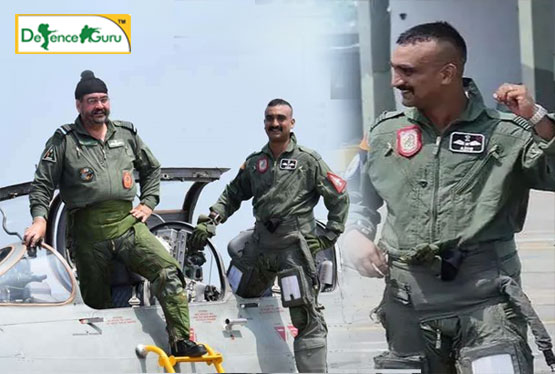 Wing Commander Abhinandan Varthaman flies MiG-21 sortie with Air Force chief BS Dhanoa
BRAVO TO COURAGE!
To die for nation- such is the spirit of true patriots! India's celebrated icon- Abhinandan Vartyhaman is endowed with the same zeal. His story has been inked in the historical chronicle of India.
Born and brought up in Kanchipuram, Tamil Nadu Abhinandan Varthaman grew up in the backdrop of Defence as his father is an Air Marshal and mother is a doctor. He spent his graduation days in NDA and got trained at Batindha while being promoted to the post of flight lieutenant in 2006.
Everything went smooth, life was soaring with thrill until 27 February, 2019 when Vartahaman was flying MiG-21. The sortie to which he belonged was attacked by Pakistan air craft in Jammu Kashmir. Long story cut short, Varthaman crossed the Indian border and reached Pakistan after a long combat between the two parties. Before ejecting into Pakistan, Varthaman managed to shot down Pakistan F-16 fighter jet. What next? Well, after 60 hour capture in Pakistan, the Prime Minister of Pakistan, Imran Khan announced release of Abhinandan as a benevolent act of peace. On March 1, 2019 he finally crossed the border and reached his motherland safely.
The latest news unlocks the incredible bravery of the nation's hero- Abhimandan. Accompanying Chief B.S. Dhanoa, who also ejected sortie against Pakistan in 1988, Abhinandan Varthaman flew sortie back again on September 2, 2019. They flew MiG- 21 Type 69 fighter parallel to each other with equal determination. On 23 August Varthaman resumed flying after he was declared medically fit. He has been conferred with Vir Chakra award.
Bravo and a proud salute to the knight of honor of India. Not only depicting nationalism but also proving us that courage possess the ultimate power to turn back on heels, Abhinandan is all glitter and glory for the country. So you, the Defence aspirant, better imbibe the same spirit of valor from Varthaman if you wish to join the Indian Armed Forces.