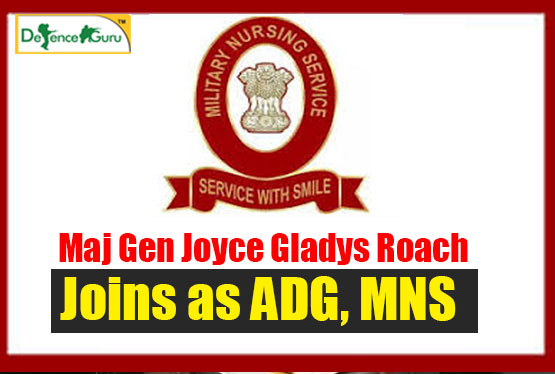 Major General Joyce Gladys Roach takes charge as ADG of Military Nursing Service
SUCCESS SIMPLIFIED
Ever rented a fantasy and saw it turning real? Major General Joyce did.
MNS is the most sought after career in Defence for girls. But only few achieve high- status promotion in the field. General Joyce has beamed messages of hope with her tale of achievement and has become a trendsetter for today's female!
It becomes incumbent to take a look at her success story:
Born in Pune, Major General Joyce Gladys Roach was authorized as a member of MNS on December 30, 1981. Her honors follow a long list which incorporates: midwifery training from Military Hospital, Jabalpur followed by pursuing further studies in Armed Forces Military College, Pune and B.Sc from IGNOU in 2004. She holds 37 years of experience in clinical nursing and administration. Her aura of service spreads to various Armed Force Hospitals such as Command Hospital Air Force, Bangalore. Add to that Major Joyce also served as a Cardio Thoracic OT Matron for 15 years.
Major's last employment includes working at the post of Principal Matron at Army Hospital Research and Referral. Prior to this General Joyce was the Principal Matron at INHS Sanjivani, CH(SC) Pune and HQ Eastern Command. More so she has quality training in Nursing Education and Practices.
But why am I consuming your precious time in the achievements of this lady… because dear people Major General Joyce has undertaken the post of Additional Director General (ADG), Military Nursing Service (MNS). After being promoted to as a Major General on June 1, 2019, this Sunday, that is, 1st September, General Joyce assumed the esteemed position of ADG.
So goes the great bridge to victory. Major Joyce is an epitome of girl power and her sketch is an inspiration to all! We wish heartiest congratulations to this ray of sunshine.