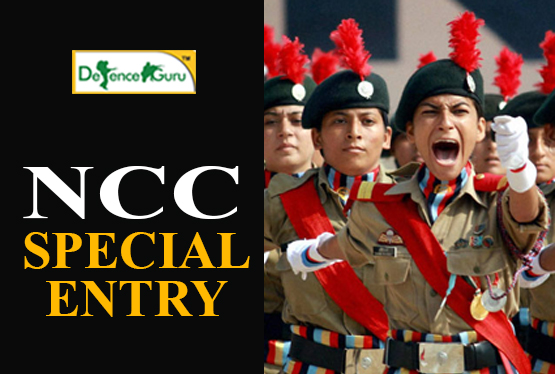 NCC Special Entry
Kicking off the typical professions prevalent since ages, Indian Armed Forces has mounted as the new choice of the new citizen of India.
While there are many ways to be get indoors into this profession, NCC is a majorly attempted short cut these days. Let's bag on to the details of NCC special category in the following article:
National Cadet Corps, as you might have heard in school, is not only a physical training in relation to military rather it is a functional wing of Indian Armed Forces in service for the youth. The headquarter of NCC is situated in New Delhi. All the three pillars- Indian Army, Navy and Air Force are included in NCC.
"Unity and discipline" is the overreaching motto of NCC and the objective centralizes on building up comradeship, character, discipline, zeal, boldness and a nationalistic- secular outlook amongst the young girls and boys of India.
NCC recruits volunteers from schools and colleges and provide them a basic military training.
Plunging on to NCC special category course here are its essentials:
REQUIREMENTS
Candidate should be a citizen of India/ subject of Bhutan/ subject of Nepal/ a Tibetan refugee who came before 1st January, 1962/ an Indian origin- person coming from Pakistan, Burma, Sri Lanka, Uganda, East African Kenya, Tanzania, Zambia, Malawi, Zaire, Ethiopia and Vietnam.
The age limit must range between 19- 25 years of age.
Both unmarried male and female are welcome to apply.
The height standard is also essential so keep it in check: Male- 157.5 cm and Female- 152 cm.
Educational qualification incorporates:
Graduation degree from a recognized university with 50% marks. Students in the final year of their graduation are also eligible, provided they have secured 50% in 1st and 2nd year and ensure to secure the same in their last year.
OR
Should have serve 2 academic years in Senior Wing of NCC
OR
Must have obtained 'B' grade in 'C' certificate exam of NCC.
PROCESS
The candidates are selected directly for SSB interview as they receive a call from the SSB panel once their application is shortlisted.
If the applicant successfully clears the SSB he/ she will be given training for 49 weeks at OTA, Chennai.
The SSB interview is held twice a year, once in May- June- July and the next in October-November.
HOW TO APPLY
If you are enthusiastic enough then log in to www.joindianarmy.nic.in, register yourself and get started with your application procedure. The notifications are released twice a year: in the month of July and in the month of January.
Be mindful that you have the following documents while applying:
Self attested copy of- application form+ photograph+ 10th mark sheet+ 12th mark sheet+ graduation mark sheet+ NCC certificate.
India needs zealous patriotic. Being a youth let your passion outflow, join NCC to showcase your talent and groom your personality!