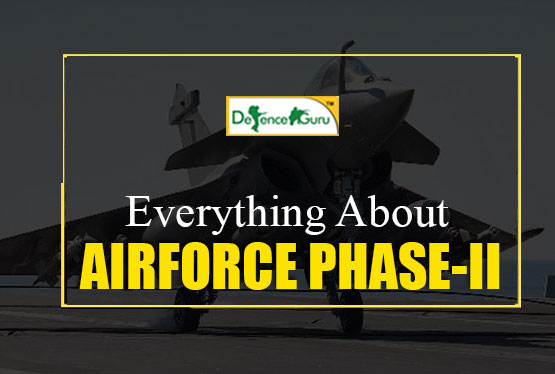 INDIAN AIR FORCE PHASE II
Do you have a penchant for flying high in the sky? Ask yourself, don't you fancy the Officers flying planes up above, don't you want to feel the air, the open space, the height or the mechanics of crafting the equipments and let the answer come from the bottom of your heart.
For those of you whose answer lays in the affirmative this article is grand hack as it brings A-Z information about the Air Force phase II exam:
AFCAT and Airmen test (X and Y group) are the two gateways to lodge your career in Indian Air Force.
Centralizing upon Airmen test in this article let me cut a slack of crucial points for you:
The Phase I involves an online written exam followed by a Physical Fitness Test.
Once you have proved your capabilities in the Phase I you brace yourself for Phase II.
Well the latter involves Adaptability Test I and Adaptability test II and a finishing touch is provided by medical assessment.
The goal of Adaptability tests derives from its name… to judge the capability of candidates to adjust and mould himself into an Air Force Officer lifestyle; to survive in stringent conditions; to be an amiable comrade.
To give you a hint of difficulty level: there will be different geographical conditions; various environmental situations and adjustment with people of all sorts from nook and corner of India.
Adaptability test I (AT I) could simply be termed as a situation- reaction test. Herein the candidates are provided with a questionnaire of 45 situations and he has to select the most reasonable answer out of the 4 options given to him. The answer determines his reaction.
The 45 questions are MCQ based. In all you get 30 minutes to complete it. The situations are bilingual and are mandatory to be answered.
Add to that, the result works sweepingly here. Oh yes, within an hour the results are announced and those who have passed AT 1 gain the licence to take AT 2 while the rest leave.
What is the aim behind structuring this test? Well AT I aims to dive into your thought process+ your psychological stance. It examines your various adjusting qualities or to say Air Force- Officer- like qualities. Your responses reflect notions such as: how responsible you are, how socially- morally concerned you are, your maturity level; intelligence' ability to remain calm and tackle difficult situations; deal smartly and be a true Indian!
Next comes Adaptability Test II (AT II). Unlike the first one this is a verbal test as it rests upon Group Discussion, often called G.D. the candidates are segregated into groups of 10- 12 members each. The groups are assigned 1 topic and all they have to do is present their views on it. The seating arrangement is in a semi circular form. While bilingualism is allowed but English is much preferred.
The catch lies in the mystery behind this test which is to judge your social behavior. How calm you behave; your co- ordination level; whether you give equal chances to your mates or indulge in unhealthy competition; your speaking skills; your general knowledge, personality, presentation skills and overall behavior.
Hence your narration plays a crucial part in reflecting your skill.
Most importantly before the commencement of G.D everyone has to introduce himself as well as a part of Self- Introduction. Hence it brings out your individualistic as well as group qualities through verbal medium.
Now that your adaptability tests are over and you have successfully crossed them, all that is left is a small medical assessment.
It incorporates certain parameters related to chest, height, weight, body tattoos, corneal surgery, hearing, dental and health history.
Coming on to declaration of lists the first list is that of PSL- Provision Select List. It is prepared as per the groups/ trade without counting for their approval, disapproval, presence or absence in medical test. It is drafted as per the vacancies. Usually PSL is published twice a year: January- June and July- December. PSL is merit based and includes larger strength of candidates as many of them don't turn up. PSL is valid up to 6 months after which the enrollment gets cancelled.
To confirm your achievement there is a final declaration of a formal list branded as All India Merit List (AISL) succeeding which the candidates enroll into Indian Air Force and go for the Joint Basic Training at Belgavi, Karnataka.
From right frame of mind to social responsibility and overall personality, Phase II of Indian Air Force exam is a true reflection of the inside- out of candidates. Prepare for the above with an optimist and balanced approach and let your win be the most miraculous one!