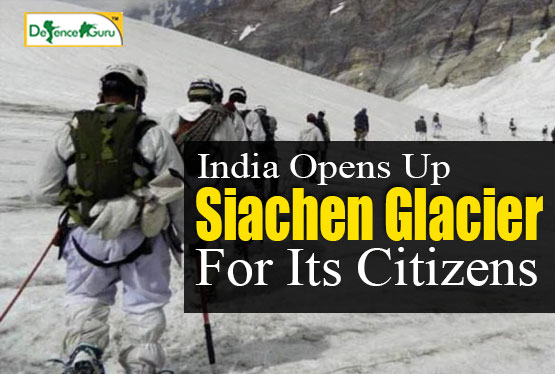 Siachen glacier, largest glacier in Karakoram and 2nd largest in world's non- polar areas, is the end point of line of control between India and Pakistan. It is under the umbrella of India. Situated in Karakoram, this glacier has beholded India's attention recently and is all over the news.
The reason for such limelight is its opening up for the ease of commute of citizens and tourists by India. You heard it right, now this route which was initially reserved for Defence purpose will serve the layman as well.
On Monday 21st October, 2019, Indian Defence Minister, Mr. Rajnath Singh declared Siachen open from Base to Kumar post for tourists from all over the world.
In September end this year, Army Chief, General Bipin Rawat spoke in a seminar about the Siachen issue and hinted the plan of opening it up. He called it good for national integration. Through this the citizens will be able to visit training centre and institutions.
To give you an insight into Siachen glacier here are some notable points:
It is a part of Ladakh and hence a Union territory.
Siachen is the world's highest battle field and its maintenance is under thousands of Indian troops each year.
The plan was proceeded after subsequent requests from the tourists coming to Ladakh who wanted to visit the famous Kargil sites such as Tiger Hill.
Since the year 2007 India permitted its civilians to trek from Siachen base camp to high altitude locations in the Siachen glacier.
But with the recent development of plans this thrilling pathway can now be travelled and experienced by people from all over the world and hence calls for recognition.