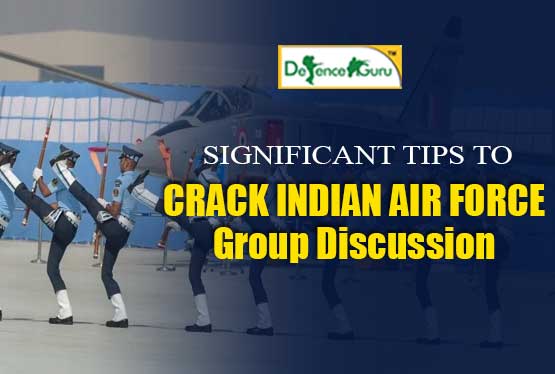 TipsTo Crack Indian Air Force GD (Group Discussion)
Effective communication bridges differences and encourages problem- solving!
Communication, interaction, discussion…. These are some of the central elements of a human society without which no progress is possible. While ability to speak is a normal, high- quality speaking ability is a benefit which only few humans have. When we talk of any professional field it is the "high- quality speaking ability" that is taken into consideration.
The professional field on which today's article focus is Indian Air Force. It is one of the most honored branch of Indian Armed Force. With the motto of "touch the sky with glory" Indian Air Force is an integral part of the nation.
Its objective is to safeguard Indian Airspace by carrying evacuation, search and rescue operations, and relief operations whenever needed.
This branch with its high standards requires a talented staff for which it conducts a particular entrance exam. The exam involves written tests+ interview+ G.D.
It is the third tier, the G.D round that links effective communication to Indian Air Force. Just as any professional field Indian Air Force requires Officers who are proficient in communication and can appropriately convey+ understand the message. To test this particular ability, I.A.F carries a G.D session.
Elaborated as Group Discussion, G.D is the last round of Indian Air Force entrance. The aim of this round is to assess communication+ knowledge+ personality.
The level is not tough so cheer up. This is just a qualifying exam and does not contribute to the merit list. It is conducted on the 2nd day of selection procedure and checks your basic ability to interact; knowledge about current affairs and your manner of conduct after all Indian Air Force Officers must be decently presentable.
Indian Air force X and Y Group GD Tips and Tricks
The process of G.D involves the following steps:
1.Each candidate comes up one by one and gives his introduction
2. The candidates then receive the topic
3. Return the slip and prepare on the topic for a while
4. The group discussion begins
Although the process seems easy you need to watch out for few important notions and hence I have penned down a list of important tips to crack I.A.F Group Discussion below:
Beforehand preparation-
Things which you can do and prepare before going to the GD (Group Discussion) include:
1. Have a good grasp over English language
2. Get habitual of reading a lot. Set a target of 20 minutes a day.
3. Newspaper tops the list when it comes to reading. Apart from it you can English grammar books, magazines or journals.
4. Speak, speak and speak... not non- sense but prepare a good content on any current topic, stand in front of the mirror and begin your speech.
5. Get updated about national and international activities. Increase your knowledge graph.
6. Brush up your personality a bit, make it descent. Analyze and improve how you are speaking, your tone, your posture and movements.
Coming to the real task, the foremost step is that of self introduction. Keep it short and simple. Do not give your whole biography, just tell your name, qualification, a bit about family, hobbies and interests.
Next follows up the topic and its preparation. Read the topic carefully, understand it, and analyze it. Structure your points, your arguments. Try to furnish it with facts as it will create good impression about the extent of knowledge you possess.
Group Discussion Tips for Air Force X and Y
Time to speak! When you get involved in the discussion remember:
1. Be audible, speak clearly.
2. Do not be aggressive nor over- polite.
3. Give others fair chance to keep their points
4. Cast good, fact- proven arguments.
5. Try to initiate the discussion.
6. Keep it neutral, that is, do not criticize any particular religion, community, country, profession or any other field.
7. Quality is highly seen so keep meaningful points
8. Be assertive
9. Do not get personal
10. Try to summarize the discussion, be it in few words.
11. Shed off the hesitation to speak in public.
12. Avoid grammatical mistakes
13. Do not speak unnecessarily. It's better to be an attentive listener than speaking non- sense.
14. Keep a positive attitude and above all get a good dose of confidence before appearing for the G.D as confidence is the magic wand to win this round.
All in all Group Discussion in I.A.F is simple yet examining task which notes essential attributes of the candidate required to work as an Officer. So pay attention to the above tips and present the best of yourself in public.