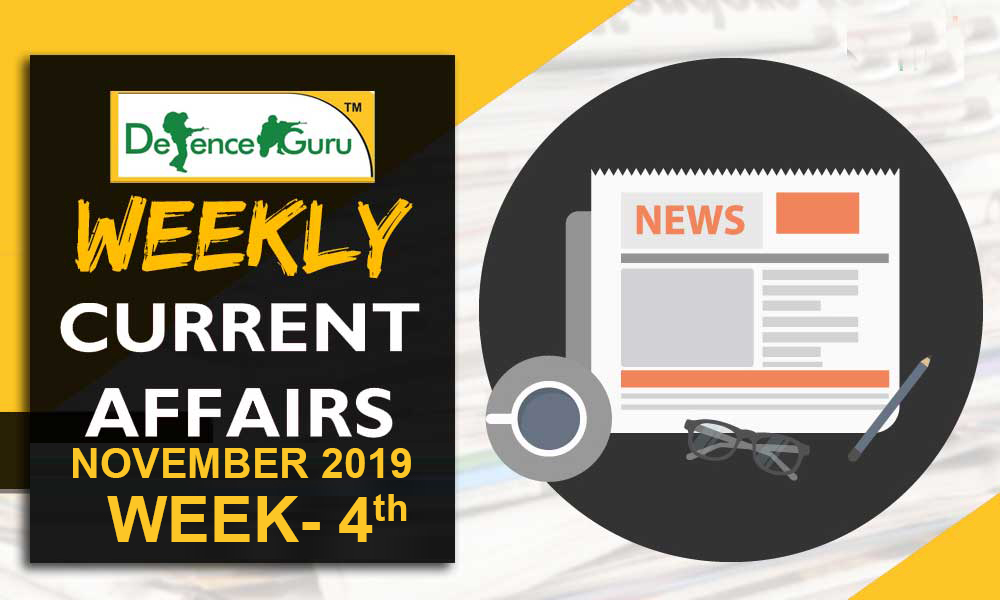 APPOINTMENTS
1.Subhash Chandra
Subhash Chandra resigned as Chairman of the Zee Entertainment Enterprises' board with immediate effect and will continue as non-executive director. Zee board appoints six independent directors; all the appointments will have to be approved by the shareholders. Subhash Chandra resigns to comply with rule mandating that Chairman can't be related to MD & CEO.
2.Mahinda Rajapaksa
In Sri Lanka, Mahinda Rajapaksa has been sworn in as the new Prime minister. He was sworn in by President Gotabaya Rajapksa, his younger brother after Ranil Wickremesinghe resigned from his post. The changes followed the victory of Gotabaya Rajapksa at elections. Mahinda Rajapaksa served as two-term President from 2005 to 2015 and was barred from contesting Presidential elections because of the two-term limit.
DEATHS
3.Yasuhiro Nakasone
In Japan, Yasuhiro Nakasone, one of the longest-reigning Prime Ministers and known for his friendship with Ronald Reagan died at the age of 101. In 1983, he became the first Japanese Premier to officially visit South Korea, mending fences with a country that Japan had brutally colonized from 1910 to 1945. Nakasone, Prime Minister from 1982 to 1987, shared the world stage with Reagan and Margaret Thatcher while battling with bureaucrats over domestic reforms.
4.Sudhir Dhar
Renowned cartoonist Sudhir Dhar, whose works graced several newspapers in a career spanning 58 years. Dhar began his career with The Statesman in 1961 after which he moved to Hindustan Times. His cartoons have also appeared in The Independent, The Pioneer, Delhi Times, New York Times, Washington Post and Saturday Review among others.
AWARDS
5.The Golden Peacock Award - 2019
Particles' directed by Blaise Harrison and produced by Estelle Fialon has won the coveted Golden Peacock Award at the 50th International Film Festival of India (IFFI), which concluded in Goa on November 28, 2019. The Golden Peacock Award carries a cash prize of Rs 40 lakhs to be shared equally between the Director and the Producer, Trophy and the citation.
Seu Jorge gets Best Actor (Male) Award
Usha Jadhav gets Best Actor (Female) Award
(IFFI) International Film Festival of India
6.Honorary fellowship Award -2019 by Royal Aeronautical Society of UK
Defence Research and Development Organisation (DRDO) chairman G Satheesh Reddy was awarded honorary fellowship by Royal Aeronautical Society (RAeS) of United Kingdom (UK) during the Medals and Awards presentation ceremony in London. He is the first Indian recipient of the prestigious award in more than 100 years. It is one of the world's highest distinctions for aerospace achievement awarded for only most exceptional contributions to the aerospace profession. It is considered as equivalent to Nobel Prize in the aerospace domain. The first Honorary Fellowship was awarded in year 1917.
7.13th Asia Pacific Screen Award-2019
The 13th Asia Pacific Screen Awards which are Asia Pacific's highest accolade in film were awarded in Brisbane, Australia.
Awardees 2019
Best Feature Film: 'Parasite', directed by South Korea's Bong Joon-Ho
Best Performance by an Actress: Max Eigenmann in 'Verdict'
Best Performance by an Actor: Manoj Bajpayee in 'Bhonsle'
Manoj Bajpayee has recently bagged the Best Performance by an Actor Award at the Asia Pacific Screen Awards for his role in 'Bhonsle.' The acclaimed actor won against international actors like Wang Jingchun (China), Navid Mohammadzadeh and Mohsen Tanabandeh (Iran), and Eran Naim (Israel). Ridham Janve won the Young Cinema Award for his directorial debut film The Gold-Laden Sheep and the Sacred Mountain.
The First edition of award was presented in 2007. Since then it is presented annually by UNESCO, FIAPF (International Federation of Film Producers Associations) and Brisbane City Council, Australia.
8.Aga Khan Architecture Award-2019
Bangladesh is a land of water. A large part of its landscape remains submerged under water during the monsoon months. When Razia Alam came back from England after retirement as teacher, she wanted to build a school for children which is spacious, modern and healthy for learning. She also wanted it to be built at a land which was under water for about six months of the year during monsoon period. She contacted the internationally renowned architect of Bangladesh Saif Ul Haque to design the school. He took up the project and came with a school which has won many prestigious awards including the Aga Khan award. It is a floating school named 'The Arcadia Education Project'.
SPORTS
9.Asian Championships: Deepika strikes gold, Ankita wins silver in archery
Indian archers Deepika Kumari and Ankita Bhakat won the gold and silver medals respectively in the women's individual recurve event of the 21st Asian Championships in Bangkok. The Indian trio of Deepika, Ankita and Laishram Bombayala Devi competed under a neutral flag due to the current suspension of the Archery Association of India (AAI), which is in administrative turmoil right now. The Berlin stage of the 2020 World Cup is the last qualifying event in Archery.
10.63rd National Shotgun Shooting Championship
Haryana's Sangram Dahiya and Varsha Varman of Madhya Pradesh clinched gold at the 63rd National Shotgun Shooting Championship in New Delhi. In men's category, Sangram shot 142 out of 150 targets to leave behind former world champion Ankur Mittal. Varsha, in the women's category of 120 targets each, had 97 to her name to clinch the gold ahead of state-mate Manisha Keer. Both Sangram and Varsha also won the team gold for their respective States.
11.U-15 Asian Wrestling Championship-2019
In wrestling, India concluded its campaign at the Under-15 Asian Championships with 28 medals, including 13 gold, 14 silver and a bronze. Led by 2019 Cadet World Championships bronze medalist Deepak Chahal, the freestyle grapplers captured four gold while one gold came in the Greco-Roman category. For the first time, India finished on top of the team rankings in freestyle category with 225 points. Kazakhstan finished second while Japan was third.
12.Scottish Open title-2019
In badminton, India's Lakshya Sen has won the Scottish Open men's single title, defeating Brazilian Ygor Coelho to seal his fourth title in three months. The 18-year-old Indian started his year with a silver medal at the Polish Open International Challenge in March. After a series of disappointing exits, Sen went on to win the Belgian International in September, his first title of the year. Within a month, Lakshya won his first BWF Super 100 title at the Dutch Open, with the second one coming soon after, at the SaarLorLux Open in Germany.
13.ISSF World Cup-2019
In Shooting, India's young shooters touched another sensational high with Manu Bhaker, Elavenil Valarivan and Divyansh Panwar clinching gold medals in their events to give the country its best ever single-day show in the ISSF World Cup Finals in Putian, China. Manu Bhaker won gold with a junior world record in the women's 10 metres air pistol event. Elavenil claimed the gold in the women's 10 metres air rifle competition. Divyansh finished on top in the men's 10 metres air rifle competition.
Manu Bhaker continued her gold rush this year by winning yet another gold in the women's 10m air pistol event, this time at the ISSF World Cup Final in Putian, China. Bhaker shot a score of 244.7 in the final in the process setting a new junior world record in the event. Fellow prodigy Elavenil Valarivan also capped an impressive 2019 by winning gold in the women's 10m air rifle event after shooting 250.8 in the final. Divyansh Singh Panwar also won gold in the men's 10m air rifle event after shooting a score of 250.1 in the final. This is 17-year-old Panwar's maiden World Cup Final win in just his first appearance at the tournament.
INTERNATIONAL
14.QS World University Rankings -2019
The National University of Singapore is ranked Asia's best for the second consecutive year. It is followed by Nanyang Technological University, which has risen from 3rd to 2nd; and the University of Hong Kong. 96 Indian institutions rank among 550 for the continent. India does not yet have a university among the top 30. The best performing institution from India is IIT Bombay, which drops one place to 34th position. It is followed by IIT Delhi at 43rd place and IIT Madras at 50th.
15.Projet "Water 4 change", an urban water management system
The Centre for Water Resources Development and Management (CWRDM), operating under the Government of Kerala has launched the "Water 4 Change". Under the project, six prominent institutions from Netherlands will perform a long-term research and field level action on urban water management systems along with Indian scientists. The project will bring solutions for water problems in the cities of Kozhikode, Shimla, Bhuj and Bhopal. The CWRDM was established by the Government of Kerala to cater the needs of research and development in water management of the state.
16.WATEC Conference -2019
The Jal Shakti Minister Shri Gajendra Singh Shekhawat represented India at the WATEC Conference that was held in Israel. The Water Technology and Environment Control (WATEC) conference helps to get updates on technologies related to water and environmental management. Israel is considered as world hero in terms of water management. The country treats and reuses 80% of its sewage water for agriculture. With drip irrigation and sea water desalination, the country has become a global leader in agriculture.
17.WHO study on physical activity-2019
The World Health Organization on November 22, 2019 published its study about physical activity of adolescents aged between 11 and 17 years. The assessment included physical education, active play, recreation and sports, walking, planned exercises and cycling. India was ranked eighth reporting lowest level of physical activity. In India the overall insufficient physical activity in 2001 was 76.6% and has now decreased to 73.9% in 2016. The lowest level of insufficient physical activity among girls was seen in India. Bangladesh topped the list and Philippines was the least performing among boys.
18.The US clears sale of MK-45 naval guns to India
The US State Department cleared the sale of sophisticated naval guns worth $1 billion to India. The MK-45 guns will enhance India's naval capabilities, particularly in the Arabian Sea. The Gun System will provide the capability to conduct anti-surface warfare and anti-air defence missions while enhancing interoperability with the U.S. and other allied forces.
19.Global Terrorism Index- 2019
According to the 2019 Global Terrorism Index (GTI), deaths from terrorism fell for the fourth consecutive year, after peaking in 2014. The number of deaths has now decreased by 52 per cent since 2014, falling from 33,555 to 15,952. Afghanistan was the country most impacted by terrorism in 2018, replacing Iraq, which had held that position since 2004. With 350 Indians killed and 540 injured in 748 terrorist incidents in 2018, India is at seventh place in the list of countries most affected by terrorism.
20.World Philosophy Day: 21 November
World Philosophy Day is an international day proclaimed by UNESCO to be celebrated every 3rd Thursday of November. The day aims at promoting an international culture of philosophical debate that respects human dignity and diversity. It was first celebrated on 21 November 2002. This year it was observed on 21st November.
21.Russia is Country of Focus at IFFI 2019
International Film Festival of India, IFFI features a Country of Focus that brings out the cinematic excellence and contributions of that particular country every year and this year, the country of focus is Russia. The section will showcase eight movies from Russia. Also, For the first time, Haryana is participating in the ongoing International Film Festival of India (IFFI) in Goa.
NATIONAL
22.Govt. constitutes committee for reviewing draft of National Code for Good Governance in Sports
Union Ministry of Youth Affairs & Sports (MYAS) has constituted a 13-member expert committee to review the Draft National Code for Good Governance in Sports, 2017. Members: The committee will be chaired by Retired SC Justice Mukundakam Sharma and member includes former Indian football team captain Baichung Bhutia, Pullela Gopichand, Anju Bobby George, Olympic medalist Gagan Narang, among others. Moreover, Joint Secretary of Sports will act as coordinator in committee.
23.ADB, India sign $451 million loan to strengthen Power Connectivity in Tamil Nadu
Government of India and Asian Development Bank (ADB) has signed a $451 million loan for strengthening power connectivity between northern and southern parts of Chennai–Kanyakumari Industrial Corridor (CKIC) which is part of East Coast Economic Corridor (ECEC). ECEC is India's first coastal economic corridor. Component corridors of ECEC includes 4 Corridors, which will be completed in 3 Phases-
Phase 1 covers Visakhapatnam–Chennai Industrial Corridor (VCIC) (it was approved by ADB board in October 2016), it lies largely in Andhra Pradesh
Phase 2 involves Chennai–Kanyakumari Industrial Corridor (CKIC) in Tamil Nadu
Phase 3 supports Odisha Economic Corridor (OEC) and West Bengal Economic Corridor (WBEC).
24.Govt propose to set up new rocket launch pad near Kulasekarapattinam in Tamil Nadu
Union Government is planning to set up a new rocket launch pad near Kulasekarapattinam in Tamil Nadu. At present, the Indian Space Research organisation (ISRO) has two launch pads at Satish Dhawan Space Centre (SDCC) in Sriharikotta, Andhra Pradesh. The new launch pad is intended to be used for future Indian rockets including- Geosynchronous Satellite Launch Vehicle (GSLV) Mk III, Avatar Reusable Launch Vehicle (RLV), Unified Modular Launch Vehicle (UMLV), Small Satellite Launch Vehicle (SSLV), and even older ones like Polar Satellite Launch Vehicle (PSLV) and Geosynchronous Satellite Launch Vehicle (GSLV).
25.Shipping Ministry approves Loktak Inland Waterways Project in Manipur
Union Ministry of Shipping (MoS) has approved long pending demand of Government of Manipur for development of Loktak Inland Waterways Project in the north eastern state. The request for development of this project was made by L Susindro Meitei, Chairman of Loktak Development Authority and MLA Khurai in Manipur. Loktak Lake is the largest freshwater lake in Northeast. The lake is located at Moirang in Manipur. It is famous for phumdis floating over it which are formed naturally. Located on this phumdi, Keibul Lamjao National Park is the only floating national park in the world and is an integral part of Loktak Lake.
26.From December 1, FASTags will be mandatory for toll payment on National Highways.
The objective is to remove bottlenecks and capture all toll electronically. All 560-odd plazas under the control of the National Highways Authority of India (NHAI) will collect toll without human intervention, and vehicles need not stop to pay toll. The device employs Radio Frequency Identification (RFID) technology for payments directly from the prepaid or savings account linked to it. It is affixed on the windscreen, so the vehicle can drive through plazas without stopping. It is valid for five years, and can be recharged as and when required. The payment method is a part of the National Electronic Toll Collection (NETC) programme. The National Payments Corporation of India (NPCI) collects the payments.
27.EU declares Climate Emergency
European Union (EU) has become the first multilateral bloc to declare climate emergency. A resolution in this regard was recently passed. The symbolic move is expected to pressurise countries to act ahead of the United Nations summit on climate change that starts on December 2 in Spain. The resolution will have more symbolic effect than practical impact, and is designed to pressure EU governments to adopt a commitment for all of the EU to reduce emissions to net zero.
28.'YuWaah'- Generation Unlimited initiative Launched by UNICEF
It brings young people together with the private sector, governments, international and local organisations. The aim is to tackle the urgent challenge of investing in their learning and training so that they are prepared for the complex and fast-changing world of work and can be active and engaged citizens.
29.PM Modi announced 400-million-dollar line of credit to Sri Lanka
Prime Minister Narendra Modi has announced Line of Credit of 400 million dollars to Sri Lanka to boost the island nation's development. India will also extend 50 million dollars Line of Credit to Sri Lanka to fight terrorism. Sri Lanka is not only in the interest of India but also in the interest of the entire Indian Ocean region. Sri Lankan police officers are receiving training on countering terrorism in prominent Indian institutions.
30.India successfully test fires Spike anti-tank missiles
In Madhya Pradesh, the Indian Army has successfully test fired two Spike long-range anti-tank missiles at Mhow. Spike is a fourth-generation missile which can engage any target with precision at ranges up to 4 kilo metres. The Spike long-range anti-tank missiles will bolster the Army's fire power capability.
31.India to set up 12 hi-tech parks in Bangladesh
India will set up 12 hi-tech parks in Bangladesh at a cost of $193 million. These hi-tech parks will provide training to 30,000 youth of Bangladesh as skilled IT professionals. Diversification of the product basket of Bangladesh will help reduce the gap by increasing exports to India. High Commissioner of India to Bangladesh Riva Ganguly Das inaugurated Swami Vivekananda Bhawan at Rangpur which houses a Computer Center, Charitable Medical Centre, Coaching centre and student's home.
32.Global Diplomacy Index -2019
The 2019 Global Diplomacy Index was released by Sydney-based Lowy Institute. The index gives the latest statistics and marking about how the world's diplomatic networks are expanding and, in certain cases, shrinking. The index ranked 61 countries across the world. China now has more diplomatic posts across the world than United States in 2019. China has overtaken United States with 276 embassies and consulates worldwide, which is 3 more than US (both countries have an equal number of embassies but China has 3 more consulates). India was ranked 12th among the 61 countries. As of 2019, India has 123 embassies and high commissions and 54 consulates globally.
33.United Nations Development Programme launches Accelerator Lab in India to work on tackling pollution
The project was launched in collaboration with the government's Atal Innovation Mission and will look to solve issues through innovative solutions. Seeking to address some of the most pressing issues facing India, including air pollution, through innovation, the UNDP launched the country chapter of its Accelerator Lab here. The laboratory that will be housed in the United Nations Development Programme (UNDP) office here has partnered with Indian government's Atal Innovation Mission to achieve the objectives.
34.Aditya Birla Finance becomes first company to list commercial papers on exchanges
Aditya Birla Finance Ltd. became the first company to list a commercial paper on the National Stock Exchange. The paper will mature in February next year. The move comes after the exchanges -- the BSE and the NSE -- came out with a framework for listing of commercial papers (CPs), in a bid to broaden investors' participation in such securities. ABFL is a well-diversified non-banking finance company (NBFC) with a long-term credit rating of AAA (stable) from both ICRA as well as India Ratings. Commercial papers can be issued for maturities between a minimum of 7 days and a maximum of up to one year from the date of issue. CP are usually issued at a discount from face value and reflects prevailing market interest rates.
35.RIL becomes first Indian company to hit Rs 10 lakh crore market cap
It became the first India Company to reach the coveted milestone. RIL was also the first company to reach Rs 8 lakh crore mark in August last year. It was also the first company to hit the $100 billion mark in market-cap in 2007, a feat it repeated last July.
36.Incidents of bribery in India reduced by 10% since last year: Survey
Incidents of bribery in the country have reduced by 10 per cent since last year, according to a survey carried out in 20 states. The 'India Corruption Survey 2019', which received 1, 90,000 responses from people in 248 districts, also stated that 51 per cent Indians paid bribe in the last 12 months. Transparency International India (TII) and LocalCircles conducted the survey. India's ranking in the Corruption Perception Index 2018, released by TII, has improved three places compared to last year and now, the country's standing is 78 among 180 nations.
37.NuGen Mobility Summit-2019
Union Minister of Road Transport & Highways and Shipping, Nitin Gadkari inaugurated NuGen Mobility Summit-2019 at International Center of Automotive Technology (ICAT) in Manesar, Haryana. This three-day conference held from 27 to 29 November 2019. The conference is the largest automotive technology event in country so far. The event is being organized by ICAT on relevant topics of Alternate Fuel Systems and e-Mobility. It is first in a series of conference organized by ICAT.
38.1st International Conference on Landslides Risk Reduction and Resilience
The 1st International Conference on 'Landslides Risk Reduction and Resilience – 2019' was held in New Delhi. It was inaugurated by Union Minister of State for Home Affairs, G. Kishan Reddy. The first of its kind conference was organized by National Institute of Disaster management (NIDM).
39.UP: 47th All India Police Science Congress begins in Lucknow
Uttar Pradesh Police in association with the Home Ministry and the Bureau of Police Research and Development is organizing the event at the police headquarters in Lucknow. It is second time since the inception of the Annual Mind Churning exercise in 1960 that Lucknow is organizing this event. The last time Lucknow was host for AIPSC was in 1997.
40.Lok Sabha passed The Special Protection Group (Amendment) Bill, 2019
The Special Protection Group (Amendment) Bill, 2019 was introduced in Lok Sabha by the Minister of Home Affairs, Mr. Amit Shah, on November 25, 2019. The Bill amends the Special Protections Group Act, 1988. The Act provides for the constitution and regulation of the Special Protection Group (SPG) to provide security to the Prime Minister, former Prime Ministers, and their immediate family members.
Under the Act, the SPG provides security to the Prime Minister and his immediate family members. It also provides security to former Prime Ministers and their immediate family members for a period of one year from the date on which they cease to hold the office. Beyond this period, the SPG security is provided based on the level of threat as decided by the central government.
41.Cabinet approves India-Saudi Arabia Agreement on Strategic Partnership Council
Union Cabinet headed Prime Minister Narendra Modi approved the Agreement signed by Prime Minister for establishment of Strategic Partnership Council between India and Saudi Arabia. The agreement was signed by Prime Minister Narendra Modi and Crown Prince Mohammed bin Salman on 29 October 2019 during former's two-day visit to the Gulf Kingdom. Strategic Partnership Council Agreement will significantly boost strategic ties between India and Saudi Arabia and will open new avenues of partnership in strategic areas. The council will be headed by PM Modi and Crown Prince Mohammed and meet every 2 years. It will coordinate decisions regarding strategically important issues.
42.Lokpal Logo & Motto launched
The Chairman of Lokpal, Justice Pinaki Chandra Ghose launched the logo of Lokpal, at an event held in New Delhi. The motto of Lokpal "मा गृधः कस्यस्विद्धनम्" (Do not be greedy for anyone's wealth) was also adopted. The Logo design of Prashant Mishra, Prayagraj, Uttar Pradesh was selected for adoption as Logo of Lokpal. The logo of Lokpal is based upon literal meaning of LOKPAL which means: LOK- meaning people and PAL- meaning caretaker, i.e. 'caretaker of people'. The logo is in tricolor representing the national essence of LOKPAL and symbolizes how Lokpal protects and cares for people of India by establishing justice as per law.
43.HRD Ministry launches Kartavya Portal
Union Human Resource Development (HRD) Minister Ramesh Pokhriyal 'Nishank' launched the kartavya.ugc.ac.in portal for holding monthly essay competitions for students. The portal was launched as part of yearlong 'Nagrik Kartavya Paalan Abhiyan' being observed throughout the country. The Department of Higher Education under HRD Ministry will be holding 11 rounds of National Essay Competitions during the year. The topics of the essay will be based on one Fundamental Duty every month.
44.Global Exhibition on Services-2019 organised in Bengaluru
Piyush Goyal, Union Minister of Commerce and Industry & Railways inaugurated the Global Exhibition on Services (GES) 2019 in Bengaluru, Karnataka. The year 2019 is the 5th edition of GES. The inaugural function was also attended by Chief Minister of Karnataka B. S. Yediyurappa. GES is an annual event established by Department of Commerce, Union Ministry of Commerce and Industry in association with Services Export Promotion Council (SEPC) and Confederation of Indian Industry (CII).
45.Indian Army inducts Israel made Anti-Tank Guided Missiles Spike along LoC in J&K
The Indian Army has inducted Israel made Anti-Tank Guided Missiles Spike along the LoC in the northern command theatre in Jammu and Kashmir to bolster defence along the border with Pakistan. Known as the "fire and forget" missiles, Spike are portable by men and are powerful enough to destroy tanks and bust bunkers within four kilometers.
46.Uttar Pradesh govt to set up state's 1st vulture conservation
In a major step to conserve the endangered vulture population, the Uttar Pradesh government will set up state's first vulture conservation and breeding centre in farenda area of Maharajganj district. The population of vultures in the country which has come down from 40 million to 19,000 in a span of over three decades. States' first vulture conservation and breeding centre of its kind will be set up on the lines of Jatayu Conservation Breeding Centre at Pinjore in Haryana, which is also the first in the country. The new centre would be set up in association with Bombay Natural History Society, a wildlife research organization.
47.Madhya Pradesh's Devi Ahilya University gets A grade from NAAC
The Indore-based Devi Ahilya University has added another feather in its cap by becoming Madhya Pradesh's first varsity to be accorded A grade by the National Assessment and Accreditation Council (NAAC). The Centre of higher learning now became entitled to several other facilities. It may introduce courses recognized by the University Grants Commission without the latter's permission besides commencing open distance-learning courses.
48.'Child Rights and You' Report on Crime against Children in India
The Child Rights and You recently released a report "How Vulnerable are Children in India to crime?" The report was based on the analysis of National Crime Records Bureau for 2016-17. The report says that the states of Madhya Pradesh and Uttar Pradesh topped the list of states for crimes against children. The highest increase in crimes between the years 2016 and 2017 was seen in Jharkhand. The Child labor in the country saw a substantial increase of 126%. The report says that in 2016 child labor was 204 and it increased to 462 in 2017. As far as Child Marriage is concerned there was an increase of 21.17%. The numbers were based on the cases registered under Prohibition of Child Marriage Act (PCMA), 2006.
49.National Milk Day-26 November
India National Milk Day is observed every year on 26 November to commemorate the birthday of Dr. Varghese Kurian, the father of India's White Revolution. However, World milk day is observed every year across the world on 1 June by the United Nations. The first National Milk Day was celebrated on 26 November 2014 after the initiative taken by Indian Dairy Association (IDA). In first National Milk Day various milk producers from 22 states participated. He was awarded Ramon Magsaysay Award (1963) and World Food Prize (1989), Padma Shri (1965), Padma Bhushan (1966) and Padma Vibhushan (1999). Due to the strenuous efforts of Dr. Verghese Kurien, India became the largest producer of milk in 1998, surpassing the US.
50. 271crores cleared by IMAC for Food Processing Scheme
The Inter-Ministerial Approval Committee chaired by Minister of Food Processing Shri Harsimrat Kaur has sanctioned Rs 271 crores for the CEFPPC scheme (Creation/Expansion of Food Processing and Preservation Capacities) scheme. The aim of the scheme is to create direct employment that will help in achieving India's goal of doubling farmers' income by 2022. It expected that the project would create 9000 employment. It will also aid in implementing PM Krishi Sampada Yojana (PMKSY). PMKSY is being implemented by the Ministry of Food Processing.
51.Constitution Day: 26 November
Constitution Day is being celebrated on 26 November across the country to mark the adopting of the Indian Constitution by the Constituent Assembly on this day in 1949. It came into force on 26th January, 1950, marking the beginning of a new era in the history of Indian Republic. Constitution Day was first celebrated in 2015, when Narendra Modi Government decided to mark the day as a tribute to Dr B R Ambedkar who played an important role in its framing as the Chairman of the Drafting Committee. The constituent assembly took two years, eleven months and eighteen days to accomplish the stupendous task of drafting the historic document.
52.Taxation Laws (Amendment) Bill, 2019 introduced in Lok Sabha
Finance Minister Nirmala Sitharaman introduced the Taxation Laws (Amendment) Bill, 2019 in the Lok Sabha. The Bill provides domestic companies with a new option to pay tax at the rate of 22 per cent, provided they do not claim certain deductions under the IT Act. Currently, domestic companies with an annual turnover of up to 400 crore rupees pay income tax at the rate of 25 per cent. For other domestic companies, the tax rate is 30 per cent. The Bill also provides new domestic manufacturing companies with an option to pay income tax at the rate of 15 percent, provided they do not claim certain deductions.
53.Indian Railways sets up Institute of Financial Management in Hyderabad
The Indian Railway Institute of Financial Management (IRIFM) has been set up in Hyderabad, Telangana. The project was conceived and constructed by Rail Vikas Nigam Limited (RVNL) at a cost of Rs 85 crore. This new entity is set up to impart professional training in management of railway finances.
54.Guru Ghasidas National Park to become Chhattisgarh's 4th tiger reserve
Chhattisgarh government announced that the state is set to have Guru Ghasidas National Park in Kotiya district as its fourth 'tiger reserve'. This decision was taken in 11th meeting of Chhattisgarh State Wildlife Board chaired by Chief Minister Bhupesh Baghel. The National Tiger Conservation Authority (NTCA) had approved to declare Guru Ghasidas National Park as a tiger reserve in 2014. At present there are three tiger reserves in state: Achanakmar Tiger Reserve in Bilaspur, Udanti-Sitanadi Tiger Reserve in Gariaband and Indravati Tiger Reserve in Bijapur district.
55.PM Modi launches Fit India School grading system in schools across India
Prime Minister Narendra Modi has launched the Fit India School grading system in schools across the country. The grading will be in 3 categories. Ranking system: Schools can declare themselves as fit by visiting the Fit India portal and the rankings will be assigned after survey. Fit India School rankings are divided into 3 categories-
Fit India Schools, which is the first level of ranking
Fit India School three star (3 star)
Fit India School five star (5 star)
56.National Child Labour Project
The National Child Labour Project (NCLP) Scheme is a Central Sector Scheme. Under this Scheme the District Project Societies (DPS) are set up at the district level under the Chairmanship of the Collector/District Magistrate for overseeing the implementation of the project. Under this Scheme, funds are provided directly to the District Project Societies who in turn engage and allocate the funds to NGOs/Voluntary Agencies/Civil Societies Organization etc. for running of Special Training Centers. Under this Scheme, the children in the age group of 9-14 years are withdrawn from work and put into NCLP Special Training Centers, where they are provided with bridge education, vocational training, mid-day meal, stipend, health care etc.
57.India to host naval drill Milan 2020 in March
The Indian Navy will host military drill 'Milan 2020' in March which will witness the participation of several countries.
MILAN stands for 'Multilateral Naval Exercise'. 41 nations from South Asia, Southeast Asia, Africa and Europe that share defense cooperation with India have been invited for the drill. "The government pursues cooperation initiatives with friendly foreign countries, including in Indian Ocean Region, through structured interactions like Staff Talks, Empowered Steering Group".
58.Hardeep Puri launched portal for subsidy scheme under PMAY
Union minister Hardeep Singh Puri launched CLSS Awas Portal through which people seeking to avail housing subsidy under the Pradhan Mantri Awas Yojna (PMAY)-Urban will be able to track their applications. At the launch of the Credit Link Subsidy Scheme (CLSS) Awas Yojana, the Union Housing and Urban Affairs Minister said that grievances of beneficiaries will be addressed in a much comprehensive and organized manner.
59.Delhi Assembly to host 3-day Commonwealth Youth Parliament
Delhi Assembly will host a three-day Commonwealth Youth Parliament. As many as 47 participants from 24 Commonwealth countries will participate in the event along with eleven participants from India. Lok Sabha Speaker Om Birla will be the Chief Guest of the event. It is for the first time that an Indian Legislature is hosting the Commonwealth Youth Parliament. The event is being organized to enlighten the youth about legislative processes and encourage their participation in legislative procedures and decision making.
60.UP govt launches immunisation campaign against Filaria
Uttar Pradesh government is launching a massive immunisation campaign against the filariasis or Filaria from 25 November. Central government has set year 2021 as the deadline for complete eradication of filaria in country. Campaign will be launched by Health and Family Welfare Minister Jai Pratap Singh. District will be provided DEC tablet, Albendazole and ivermectin.
61.National Tribal Craft Mela- 2019 being held in Bhubaneswar
Chief Minister of Odisha Naveen Patnaik inaugurated the 8th National Tribal Craft Mela at State Tribal Museum Complex in Bhubaneswar. As a part of Odisha Government's '5Ts' initiative, (which is aimed at achieving progress through Transparency, Teamwork, Technology, Time and Transformation) 45 Supplementary Readers prepared in 21 Tribal languages were released simultaneously by Chief Minister on the occasion of Tribal Mela. The National Tribal Crafts Mela is held annually with an aim to preserve, promote and popularize traditional tribal art and crafts and help the artisans to look for better opportunities to develop their skills through cross-cultural interactions for the commercial viability of their products.
62.Manipur Sangai Festival 2019 being organised in Imphal
The 2019 edition of Manipur Sangai Festival is being organised from 24-30 November in Imphal. Every year in November, Gateway of North-East region, Manipur celebrates the 'Sangai Festival', which was named after the State animal, Sangai, the brow-antlered deer found only in Manipur. Manipur Sangai Festival was started in year 2010. The Manipur Sangai Festival 2018 was organized at different locations in Imphal and Bishnupur District. It is one of the largest Government-sponsored tourism fests. The Festival is all about unity in diversity and a true reflection of Manipur's saga.
63.NSO survey on drinking water, hygiene, sanitation and housing condition
The NSO under Ministry of Statistics and Programme Implementation conducted survey on drinking water, hygiene, sanitation and housing condition between the period July 2018 and December 2018. According to the survey one fourth of the households had no access to toilets. The survey says that around 42.9% of the households in rural areas and around 40.9% households in urban areas are still using hand pumps. About 80.7% in urban area and 58.2% in rural areas had drinking water facilities within the household premises. The survey reports that around 94.5% in rural and 97.4% in urban used improved water resources. Improved water resources include piped water, hand pump, tube well, protected spring, private tanker truck, rain water collection and bottled water.
64.CBDT inaugurates Web Portal for exchange of information on Income Tax
Central Board of Direct Taxes (CBDT) has inaugurated the Web Portal for Exchange of Information on Income Tax which will consolidate all relevant Automatic Exchange of Information (AEOI) related information at one place. This portal will help in convenient access by public, financial institutions as well as departmental officers at large. The Web Portal would be a repository of policy and technical circulars, guidance, notifications issued by the CBDT. It would provide links to relevant circulars, guidance issued by regulatory authorities in India and other international bodies.
65.Madhya Pradesh: Sportspersons will get 5% reservation in government jobs
The state government of Madhya Pradesh has announced 5% reservation to national and international medalist's sportspersons in state government jobs. The announcement in this regard was made by Madhya Pradesh Minister of Sports and Youth Welfare Jitu Patwari while inaugurating the Regional Olympic Games at Kampoo sports complex in Gwalior. Every year, the Madhya Pradesh government provides government jobs to Vikram awardees. Vikram Award is the highest sports awards for players in state. Besides this national and international medallists have quota in state police department.
66.Indian Railways: North East State capitals linking, Act East policy and Electrification
Government of India has planned to link the capitals of North Eastern States with rail connectivity. This plan, however, does not include Sikkim. The capitals of Assam, Tripura and Arunachal Pradesh are already connected through Broad Gauge rail network. The Ministry of Railways has created a new action plan to electrify 37,237 km of broad-gauge routes. This is 57.91% of total railway network in India. The Government of India has set target of 100% electrification of the railways in 10 years. It was announced in August 2019. Currently, there are two rail connectivity projects connecting Indian cities Jogbani and Jayanagar with Nepal cities Biratnagar and Bardibas respectively. In Bangladesh there are two ongoing projects that connects Agartala with Akhuara and Hadibari with Chilhati. There are no ongoing railway projects with Myanmar and Bhutan.
67.National Policy to speed up Gas Infrastructure
A "high-level committee" has been set up by the Petroleum and Natural Gas Regulatory board (PNGRB) to frame national policy on city gas distribution. The intention of the policy is to speed up development of infrastructure of piped natural gas. The committee formed will perform a detailed review of the issues in the development of piped gas network. The policy will also address issues like delay in getting approvals at state level. It will also identify Geographical Areas that are facing difficulties in witnessing significant progress as compared to the other regions. The number of Geographical Areas with good City Gas Distribution has increased from 78 in the end of 2017 to 229 in 2019 according to the Ministry of Petroleum.
68.Centre extends ban on NDFB for 5 years
Centrehas extended ban on National Democratic Front of Bodoland (NDFB) along with all its groups, factions and front organisations, by 5 more years. The National Democratic Front of Boroland is an armed separatist outfit which seeks to obtain a sovereign Boroland for the Bodo people.
It is designated as a terrorist organisation by the Government of India.
President: B. Saoraigwra
Founded: 3 October 1986
69.Indian scientists identify a protein that helps regulate blood sugar levels
Scientists at the CSIR-Centre for Cellular and Molecular Biology (CCMB) in Hyderabad have demonstrated the role of a protein secretagogin (SCGN) in increasing insulin action in obesity-induced diabetes. SCGN works as a functional insulin-binding protein with therapeutic potential against diabetes. SCGN binds to insulin and protects it from various stresses, increases its stability and adds to its action. Diabetes and neurodegenerative disorders such as dementia and Alzheimer's disease are often linked with each other. SCGN is found in lower quantities in the brains of Alzheimer's patients.
70.RCEP offer 'was not as much as our aspirations': Finance Minister Nirmala Sitharaman
The RCEP negotiations were launched by ASEAN leaders and six other countries during the 21st ASEAN Summit in Phnom Penh (Cambodia) in November 2012. The objective of launching RCEP negotiations was to achieve a modern, comprehensive, high-quality, and mutually beneficial economic partnership agreement among the ASEAN member-states and their FTA partners.
71.India's first largest biotechnology conference Global Bio-India Summit
India's first largest biotechnology stakeholders conglomerate, - the Global Bio-India (GBI) Summit, 2019 concluded in New Delhi. The three-day event was organized by the Department of Biotechnology (DBT), Ministry of Science & Technology, along with its Public Sector Undertaking, Biotechnology Industry Research Assistance Council (BIRAC). The associated partners for this event were Confederation of Indian Industry (CII), Association of Biotechnology Led Enterprises (ABLE) and Invest India. Biotechnology is recognized as the sunrise sector- a key driver for contributing to India's USD 5 Trillion economy target by 2025.
72.8th International Tourism Mart -2019
Minister of State (I/C) for Culture & Tourism, Shri Prahlad Singh Patel and Chief Minister of Manipur, Shri N. Biren Singh jointly inaugurated the 8th International Tourism Mart at Imphal, Manipur. The Ministry of Tourism, Government of India, in association with the North Eastern States is organizing the "International Tourism Mart" (ITM) at Imphal, Manipur from 23 November to 25 November, 2019. This is the second time when Manipur is hosting the International Tourism Mart. India has jumped in World Travel and Tourism Index from 40th to 34th position in 2019. This is the 8th International Tourism Mart and an annual event organised in the North Eastern region with the objective of highlighting the tourism potential of the region in the domestic and international markets. The 8th International Tourism Mart, will put the spotlight on "Sustainable Tourism an engine for Economic Growth and Employment". The International Tourism Marts are organised in the North Eastern States on rotation basis. Manipur is hosting this mart for the second time. The earlier editions of this mart have been held in Guwahati, Tawang, Shillong, Gangtok, Agartala.
73.NASA Unveils First Electric Plane X-57 "Maxwell"
NASA showcased an early version of its first all-electric experimental aircraft, the X-57 Maxwell. Adapted from an Italian-made Tecnam P2006T twin-engine propeller plane, the X-57 has been under development since 2015. The target of the agency is to fly this aeroplane in late 2020.
74.Habitats of Great Indian Bustards to be declared as conservation reserves
Seeking to protect the critically endangered Great Indian Bustard, the Union environment ministry has decided to declare their habitats as conservation reserves. Ministry also asked power companies to consider placing high voltage lines under the ground as the birds have died after coming in contact with them. As per a report by the Wildlife Institute of India (WII) only 150 GIBs are left in India, out of which around 90 per cent are found in Rajasthan and Gujarat. The GIBs are dying at the rate of 15% annually due to collision with high voltage power lines.
75.NIA to host first counter-terrorism cooperation exercise for 'Quad' countries
The National Investigation Agency is hosting the first counter-terrorism exercise for the "Quad" countries, India, the US, Japan and Australia at the NIA headquarters in Delhi. The 'CT-TTX' (counter-terrorism table-top exercise) is first such engagement among the Quad countries on regional and global issues of common interest and also in the domain of counter-terrorism and cooperation. It is being conducted as the partner countries have resolved to take the international counter-terror offensive, preparedness, mitigation and synergy to the next level.
76.4-Day 'Destination North East' -2019
A four-day festival showcasing art, culture, cuisine, handicrafts and handlooms of the northeastern region will be held for the first time in Varanasi. The festival will exhibit the striking similarities between the Ganga and Brahmaputra basins in terms of ancient culture, diverse handlooms and silk products, spiritual heritage and vibrant tourist hubs. All eight Northeastern states will participate in the event, to be held at the IIT (BHU) ground, to display their handicrafts, handloom, organic products and cultural troupes.
77.Women in Karnataka now allowed to work night shifts at factories
The Karnataka government issued a notification enabling women to work in night shifts in factories. The Government allows employment of women workers, who come forward to work during night shifts, between 7.00 PM to 6.00 AM in the factories registered under the Factories Act 1948. However, employers have been directed to put in place facilities conducive for women to successfully carry out night shift jobs. Employers are required to set up mechanisms to avert sexual harassment and also establish a complaints committee to address women's grievances.
78.Bangalore, Delhi, Mumbai make it on the new global prosperity index
Bangalore emerged as India's highest-ranked city at No 83 in a new index of the world's 113 cities in terms of economic and social inclusivity. The list is topped by Zurich in Switzerland. The first-ever Prosperity & Inclusion City Seal and Awards (PICSA) Index, has been released in Spain. Delhi at 101 and Mumbai at 107 are the other Indian cities to make at the index.
79.First woman pilot of Indian Navy 'Lieutenant Shivangi'
First woman pilot of Indian Navy will join Naval operations on December 2. The first woman pilot, Lieutenant Shivangi, will join naval operations on completion of operational training on December 2. She hails from Muzzafarpur, Bihar and completed her schooling from DAV Public school, Muzzafarpur. She was inducted into Indian Navy as SSC (Pilot) as part of 27 NOC course in Indian Naval Academy, Ezhimala and got formally commissioned by Vice Admiral AK Chawla, in June last year. Shivangi, who had been undergoing training at the Southern Naval Command here, will get authorisation on December 2 to fly Dornier aircraft.
80.Assam government releases the new Land Policy 2019 after 30 years
Assam Chief Minister Sarbananda Sonowal released the new Land Policy 2019 in Guwahati. The Land Policy was approved by Cabinet on 21st October and it has been prepared by the Revenue and Disaster Management Department after 30 years.
It was last prepared in 1989.
The state government has given a lot of emphasis in preparing the Policy to safeguard the interest of the indigenous people.
The Policy would remove complications regarding land allotments and settlements.
81.DSEJ launches special enrollment drive under 'Aao School Chalein'
In Jammu, the Directorate of School Education (DSEJ) has launched a special enrollment drive under the banner 'Aao School Chalein' for increasing the enrollment in government schools. As per the Directorate of School Education, the special enrollment drive would be conducted across all the villages and catchment areas of the government schools, under the supervision of chief education officers of all the districts of Jammu Division. Apart from increasing the enrollment in the Government schools, the prime focus of the drive is on the strengthening of pre-schooling of children in the age group of 3 to 5 years.
82.Aalmi Tablighi Ijtima, world's biggest Islamic Congregation begins in Bhopal
In Madhya Pradesh, the four-day Aalmi Tablighi Ijtima, world's biggest Islamic Congregation began in Bhopal. More than one million people from 54 countries are expected to attend the congregation which will continue till 25th November. It is a forum for delivering some important religious-spiritual messages to Muslims around the world. The first Alami Tablighi Ijtima took place in Bhopal in 1944 and only 14 people attended it then.
83.Three-day Global Buddhist Congregation held at Nagsenvan in Aurangabad
A three-day Global Buddhist Congregation held at Nagsenvan in Aurangabad. The inaugural ceremony took place in the presence of Tibetan spiritual leader, the Dalai Lama and Mahanayaka Thero from Sri Lanka. Lama will deliver two lectures in the Congregation. Buddhist monks and followers of the religion from across the globe arrived at Aurangabad for attending this Congregation.
BUSINESS
84.RBI raises concerns over bad loans from Mudra Yojana
The Reserve Bank of India on November 27, 2019 raised concerns over increasing bad loans from the Pradhan Mantri Mudra Yojana. RBI believes that there is an urgent need to monitor the loans sanctioned under Mudra Yojana. According to RBI, the percentage of MUDRA loans were at 2.52% in 2017-18, It has now raised to 2.89% in 2018-19. It also says that the number of loans being sanctioned under the scheme has increased greatly. In 2017 the loans provided under Shishu category were 83,892 and it increased to 1,39,652 in 2019. The loans provided under Kishore category were 51,063 in 2017 and increased to 99,868 in 2019. Also, RBI stated that out of 182 million MUDRA loans sanctioned, 3.63 million accounts were defaulted.
85.India's urban unemployment rate drops to 9.3% in Jan-Mar 2019: Govt data
The urban unemployment rate in the country fell to 9.3 per cent during January-March 2019 from 9.8 per cent in April-June 2018, government data. The Ministry of Statistics and Programme Implementation released its Quarterly Bulletin for the January-March 2019 period, presenting estimates of labour force indicators, for urban areas. The data showed that unemployment rate in urban areas among males was estimated at 8.7 per cent during January-March 2019 as compared to 9 per cent during April-June 2018. For women, the UR was at 11.6 per cent during the reported period as against 12.8 per cent during April-June 2018. The overall labour force participation rate (LFPR) was estimated as 36 per cent in the urban areas during January-March 2019, as compared to 35.6 per cent during April- June 2018. The LFPR for men was estimated to be 56.2 per cent, while for women it was at 15 per cent in the urban areas during the January-March 2019 period.
86.SEBI doubles PMS investment size to Rs 50 lakh
Securities and Exchange Board of India has doubled the minimum investment limit for clients of Portfolio Management Services to Rs 50 lakh. Currently, the minimum ticket size for investing in PMS is Rs 25 lakh. The market regulator also increased the net worth requirement for PMS to Rs 5 crore from Rs 2 crore earlier, giving the existing portfolio managers 36 months to meet the enhanced requirement. The regulator has set a deadline of 31 days for listed companies to disclose to the stock exchanges with respect to default.