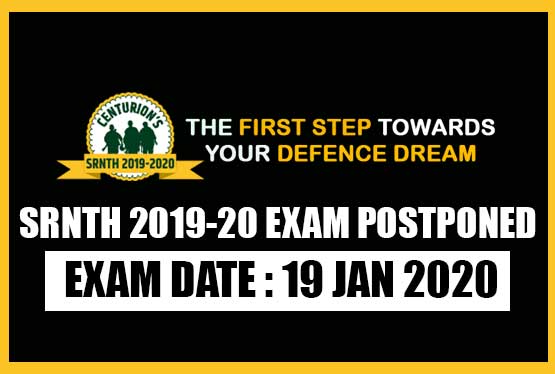 THE NEW SCHEDULE OF SRNTH SCHOLARSHIP EXAM- 19 th January 2020
Shishir Rameshwar National Talent Hunt, abbreviated as SRNTH has been much in talk among the students lately. The reason falls to its immense benefits. SRNTH is a cause, an endeavor, a philanthropic effort for the society. It is a collaborative effort of Defence Guru, an emerging NGO and Centurion Education Pvt. Ltd., the leading institute for Defence exam preparation as headed under the founder- director, Mr. Shishir Dixit. SRNTH is hence a scholarship program open for students all over India. The program is aimed to hunt the most capable aspirants of Indian Armed Forces and give them monetary as well as academic rewards. Often students fail to accomplish their dream of joining Defence because of financial constraints. It is for this reason that team Centurion has come up with SRNTH in order to see a rise in Defence personnel along with benefitting young Indian citizens in achieving their aim.
The selection process involves an online/ offline test which is scheduled to be conducted in 15 states across India. The exam curriculum includes elementary mathematics, English, mental aptitude and G.K. There are model test papers available on www.defenceguru.co.in
Talking about eligibility, students who are appearing or have passed class 10 th , 11 th , 12 th , graduation 1 st year, graduation 2 nd year as well as students who are pursuing graduation 3 rd year can easily apply for SRNTH.
SRNTH is a one in all opportunity to gain various benefits such as: scholarship as per ranks scored in the exam; free membership of Edu-Gorilla; tuition waiver applicable on joining Centurion Defence Academy and above all SRNTH provides a great platform to explore your talent and unleash your hidden knowledge.
Without doubt the examination date must be a burning question in your mind currently. Well, SRNTH was originally scheduled on 22 nd December, 2019 but due to unfavorable and unavoidable condition of the country it has to be re- scheduled. The new date for SRNTH exam is 19 th January, 2020. The whole nation has been effected by CAA and its aftermath hence it's most suitable to conduct the exam when the situation normalizes. Hope the students understand the seriousness of the situation and co- operate with the new schedule.
On a side note, you get one more moth to prepare your best. Grab this time, utilize the days and give an exemplary performance on the day of SRNTH exam.
With SRNTH you get to give your hidden potential a chance to outshine and allow nation to applause you! Hence do not waste any further time and start your preparation today itself. All the best.