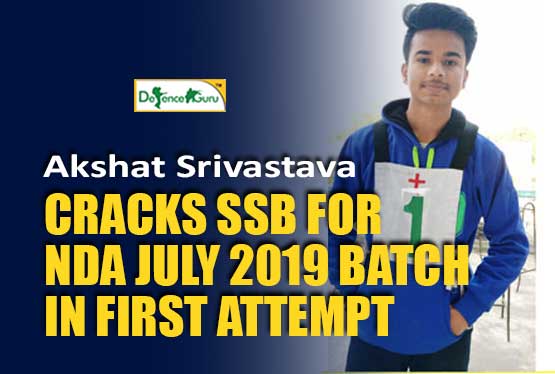 How I Cleared NDA SSB In 1st Attempt - Akshat Srivastava Success Story
I, Akshat, a proud member of Centurion Defence Academy took admission here on July, 2018 and today I would like to share my success story.
It had been a long aged dream of mine to join Indian Armed Forces and serve India. I tried to give my level best to accomplish this dream. Soon after my board exams I joined Centurion Defence Academy to get the best guidance for Defence exam preparation. The Academy has two branches in Lucknow and has been co- founded and directed by Mr. Shishir Dixit, an SSB expert.
From July, 2018 to September, 2018 I gave in all I had to prepare well for the NDA exam. I applied a 4 pillar strategy: practice more and more; attempt maximum amount of questions; perfect my personality along with academics; and employ the guidance provided in Centurion Defence Academy.
After coming to Centurion Defence Academy and listening to the suggestions given by Shishir Sir and other expert faculty members I realize that personality development holds equal importance as that of academics. I gathered more confidence and builded up a bold and positive attitude. Centurion Defence Academy made me improve my interactive skills, make more friends, become more socially active and above all participate in co- curricular activities.
The result of all of the above came in the form of my selection in SSB interview session. Yes, I am proud to tell that I, Akshat finally achieved my dream by clearing NDA in first attempt from SSB Allahabad.
I would like to pay my gratitude to Centurion Defence Academy for providing highly useful study material, for polishing up my personality and helping me in- build confidence in myself. I would also like to thank the talented faculty of this Academy who helped me in my studies and hence supported my dream.