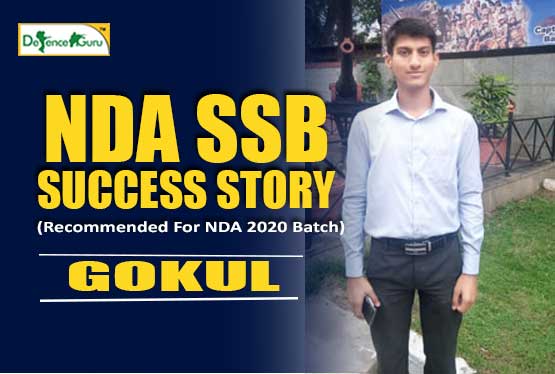 SSB SUCCESS STORY OF GOKUL (NDA 2020 Batch)
I don't know about all others but ever since I became mature I had one firm belief that 'hard work always pays off' may be not today but tomorrow.
Not letting go off my faith in hard work I, Gokul gave in my best efforts to achieve my goal and here is a brief description of my success story.
I belong to Pilibhit and since childhood the only dream I had was to be a part of the Indian Armed Forces one day. In order to see it coming true I joined one of the most appreciated coaching institutes named Centurion Defence Academy.
It is headed by the founder- director, Mr. Shishir Dixit and provides the best training for Defence exam preparation. Centurion Defence Academy aided my efforts in numerable ways in the form of great lectures; useful study material; personality development; enhancement of communication and interactive skills; and lastly an unparallel SSB interview session training.
The work of team Centurion when paired with my childhood dream and unstoppable hard work resulted in my selection in NDA.
It's a matter of honor to say that I, Gokul is the first applicant from January, 2020 batch to be clear to NDA from 12 SSB, Bangalore. I still remember the day when my result came. It was 8th August, 2019 and my moment of joy turned happily into the pride of my family as well as Centurion Defence Academy.