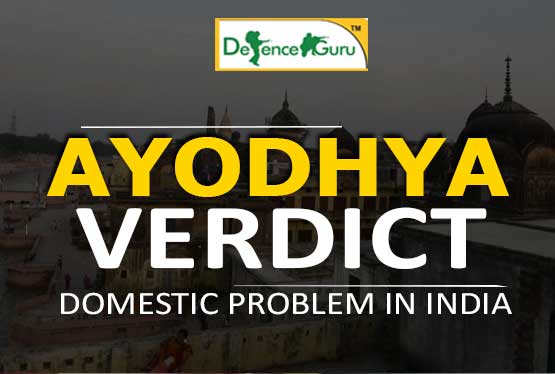 DOMESTIC PROBLEM IN INDIA: AYODHYA VERDICT
There is not a country which is safe from internal conflicts, political- social- or religious issues. India is no different. It has certain domestic problems but it also holds the potential to control them. These domestic problems stand important from the viewpoint of Lecturette round in SSB interview and hence here is a brief description of one of the prominent domestic issue: the Ayodhya Verdict.
To begin with, Ayodhya is a popular city in the Faizabad district of Uttar Pradesh. It is deeply rooted in its culture and holds importance for various reasons. Ayodhya verdict deals with the issue of Babri Masjid situated in this city. It is the longest running case. Although the case started before independence, in 1885, but the official record is counted from 1950.
In simple words the crux of Ayodhya verdict is that both Hindu and Muslim community wanted to have authority over Babri Masjid: while Sunni Waqf board with its Muslims members said that the mosque was built by Mir Baqi, an emperor of Babri Masjid, the Hindus say that it was the birthplace of God Ram and the mosque was built after demolishing a temple. There have been serious disputes, riots and filing of numerous pleas regarding this issue of which the important ones (post- independence) are highlighted below:
1949- Idols of Lord Ram were found in the premises of Babri Masjid as a result of which violence broke out.
1950- Ramchandra Das and Gopal Visharad filed a plea in Faizabad court to seek permission for worshipping their idols in Babri Masjid.
1959- Nirmohi Akhara files plea for the possession of disputed land.
1989- The case moves to Allahabd High Court + Rajiv Gandhi government grants permission to Vishwa Hindu Parishad (VHP) to perform puja near the disputed land.
1992- Kar sevaks demolishe Babri Masjid.
2010: Allahabad High Court passes a judgment for three- way partition of the disputed land amongst: Hindu, Muslims and Nirmohi Akhara.
2019: The final decision regarding Ayodhya Verdict gets passed by a constitution bench of 5 judges led by Chief Justice of India, Mr. Ranjan Gogoi. As per this decision by Supreme Court:
There is evidence of birth place of Lord Ram and a temple beneath Babri Masjid hence the disputed land of Ayodhya goes to Hindus. Supreme Court has asked the Union government to form a trust in 3 months which shall build up Ram Mandir at the disputed site. Add to that, the Supreme Court also ordered the Centre and Uttar Pradesh government to allot 5 acre land to the Muslims for building up a mosque. Moreover, Nirmohi Akhara, the third party involved in Ayodhya dispute, shall get some kind of representation but will not be the whole custodian of the land.
Since the first filing of case, around 134 years ago, the Ayodhya dispute has been a major concern of India. On 9 November, 2019 this long and lengthy chapter got closed with the final judgment of Supreme Court. However it will always be a part of Indian history and as an aspirant of Indian Armed Forces you must have knowledge about this topic.