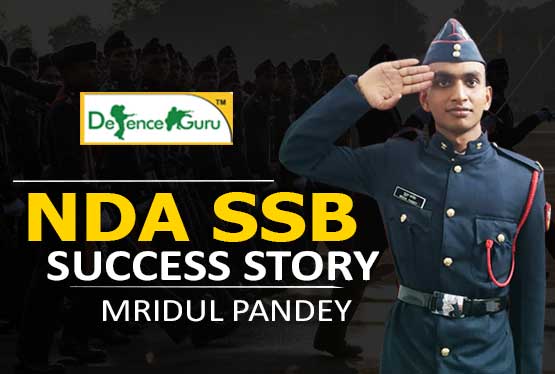 MRIDUL PANDEY SUCCESS STORY
My name is Mridul Pandey and I am currently an inmate of National Defence Academy (NDA). I have also been an alma mater of Centurion Defence Academy which helped immensely in reaching to NDA. Today I will like to share my success story and experience gained at Centurion Defence Academy.
I took admission in Centurion Defence Academy for July 2017 batch and I started my preparation through the drafting of a lesson plan based on my syllabus requirements. NDA exam requires selective study so I gave a lot of time to decide and plan: what to study; what not to study; and how to study.
Moreover, relevant study material is must to prepare well for NDA. The books I referred to were absolutely designed as per the curriculum with an easy language.
I was able to successfully clear NDA written exam but then came the difficult phase: SSB interview. Due to the unparallel guidance provided in Centurion Defence Academy for SSB I was confident to clear it. I gave numerous mock interviews, worked upon my presentation skills and practiced numerous sets of PPDT, SRT, TAT and WAT because practice is the golden key to clear SSB.
Lastly came the GTO session. I was quite confident for this round, thanks to the training provided in the personal GTO ground of Centurion Defence Academy. I practiced until I turned perfect. Add to that I worked upon developing my own strategies and use my presence of mind to tackle different tests.
I am happy to see how Centurion Defence Academy has upgraded itself with provision of online labs, mock tests, classroom infrastructure, great study material and well developed Research & Development team.
It requires combined effort to achieve your dream. The Academy will provide you a golden plate full of resources but you need to raise your hand to grab it. Open your mind, indulge in hard work and give your best to reach to achieve the dream of entering Indian Armed Forces.