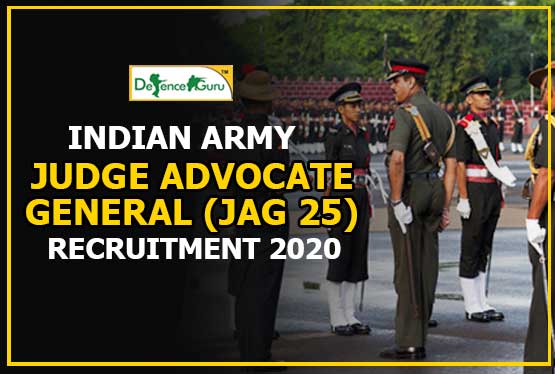 JAG ENTRY SCHEME 25TH COURSE NOTIFICATION 2020 - (MEN & WOMEN)
Judge Advocate General (JAG) is one of the many ways to join Indian Army all it requires is a law degree and passion to work in the field of legislature.
Each year Indian Army releases its official notification for JAG entry exam. This year the notification has been released on 15th January, 2020 and here are its details:
JAG 25 Exam Dates:
Official notification: 15th January 2020
Last date to apply: 13th February 2020
Interview dates: April- May 2020
Merit list: September 2020
Course- JAG entry scheme 25th (October 2020) course
Vacancies- men- 06; women- 02
Applications are invited for unmarried male and unmarried female Law graduates.
To take this exam the eligibility criteria is:
Nationality- A candidate must either be: (i) A citizen of India, or (ii) A subject of Bhutan, or (iii) A subject of Nepal, or (iv) A Tibetan refugee who came over to India before the 1st January 1962 with the intention of permanently settling in India or (v) A person of Indian origin who has migrated from Pakistan, Burma, Sri Lanka and East African countries of Kenya, Uganda, United Republic of Tanzania, Zambia, Malawi, Zaire and Ethiopiaand Vietnam with the intention of permanently settling in India,provided that a candidate belonging to categories (ii), (iii), (iv) and (v) above shall be a person in whose favour a certificate of eligibility has been issued by the Government of India. Certificate of eligibility will, however, not be necessary in the case of candidates who are Gorkha subjects of Nepal.
Education- A graduation degree in Law, that is, LLB with 55% aggregate marks.
Age- 21 to 27 years as on 01 Jul 2020(Born not earlier than 02 Jul 93 and not later than 01 Jul 99;  both dates inclusive).
JAG 25 Selection Procedure- The selection process is based upon merit cum interview. There is no written exam.
Shortlisting of candidates is done by Recruiting Directorate, Integrated Headquarter of MoD (Army).
The interview is conducted by SSB under 2 stages: screening test (stage 1) and psychology cum GTO cum interview round (Stage 2)
Once a candidate is successful in the above stages he/ she has to go for a medical assessment.
Training- The selected candidates will join Officers Training Academy, Chennai. The training period constitutes of 49 weeks after which the candidate gets to be employed on the rank of a lieutenant.
How to apply- Interested candidates can apply for JAG 2020 by visiting the official website of Indian Army, that is, www.joinindianarmy.nic.in
Click on 'registration', fill up your details and complete the application form online itself.
If you have the qualification, skill and willingness to work as an Advocate in Indian Army then quickly commence with the registration process.