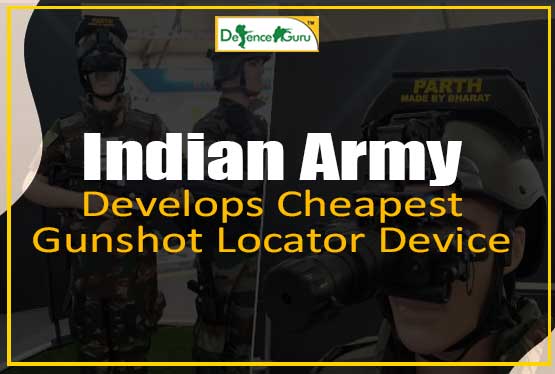 Indian Army Develops Cheapest Gunshot Locator Device
2020 kick started with crucial and prominent developments in all the fronts for Indian Defence. Showcasing India's strength to the entire world in DefExpo 2020, India has projected its land, sea and air capabilities at the largest exhibition for the world's defence companies with all its new and future technology. Some important judgments also highlighted India's strength this year from both the male and female perspective as well like Supreme Court ruled Permanent Commissioning of Women Officers in Indian Army, also come as a mark of infinity in Indian Defence.
One of the latest development introduced in Indian Army is Parth, world's cheapest gun shot locator. This type of equipment is currently important for the Indian Army in taking vigilant action on terrorist carrying out hidden attacks against the Indian security forces every day and nights regularly.
The Indian Army's College of Military Engineering with a private firm has developed the gun shot locator called "Parth", who can identify the location of a bullet from a distance of 400 metres can aim at target in the most prompt and accurate manner. Jammu and Kashmir in India is a major threat prone area where security forces are always at high alert and in such areas Parth gun shooter could help to neutralize terrorist faster.
Parth Key Features:
Displayed at the DefExpo 2020, Lucknow, Uttar Pradesh.
Can locate a bullet from a distance of 400 metres.
Cost is around 3 lakhs.
It has a system that locates gunfire and other weapons such as optical, acoustic or other combinations of sensors.
Identify the direction of gun fires.
Major Anoop Mishra showcased the indigenous "Parth" gun shot locator device at DefExpo, 2020 held in Lucknow, Uttar Pradesh, emphasizing on its features and quality a major talk of the show was its economic benefit also. The device costs around Rs 3 lakhs, and if inducted, would replace a similar imported item which costs around Rs 65 lakhs i.e. Parth is world's cheapest gun shot locator could bring down the import stress manifold in India.
Major Anoop Mishra, has added one more achievement to his name with the display of Parth, in DefExpo 2020 while earlier contribution is that he had developed a bulletproof jacket for protection against sniper bullets and a helmet which is claimed to be first such in the world that can stop an AK-47 bullet round from a distance of 10 metres.
Last year 2019 had experienced a devastating scenario in all over the nation, centre government revoking two key constitutional provisions namely Article 370 and Article 35(A) has raised the situation on a knife's edge. At this crucial stage where India top the charts of terrorism threats from neighboring countries as well as its internal and external tension is at peak then such developments like Parth, especially for use during the counter-insurgency (CI), counter-terrorism (CT) operations in Kashmir Valley will stand best in security and safeguard of the country.