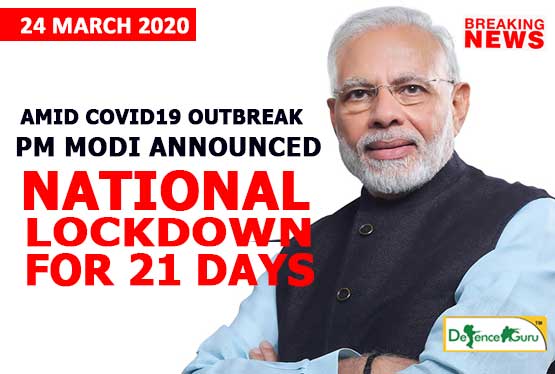 Amid Covid - 19 National Lockdown for 21 days
PM Narendra Modi addresses the nation on 24th March at 8:00 P.M in less than a week. The 2nd Covid-19 Message to the Nation from PM Modi marked a high relevance in Indian History. Acknowledging the Janta Curfew across the nation PM Modi proudly exhibit that Janta curfew was successful and all Indians had passed the test efficiently. Mentioning in his speech PM Modi applauded the contribution of Indians and portrayed how everyone endorsed Janta Curfew on social media in a good way. Presenting on stage an art that depicts:
को : कोई
रो : रोड पर
ना : ना निकले
On the immense success of Janta Curfew PM Modi took a decisive step to defeat corona.
PM announces National Lockdown i.e. 21 days lockdown from midnight.
Need to break COVID-19 chain then there is no other way to battle pandemic, a 3-week national lockdown till April 14 is our action to fight against this COVID-19 war PM stated in his speech.
Emphasizing the importance of social distancing PM Modi relies that it is the only way out to spread the deadly spread of Coronavirus in India. Coronavirus spreads like wildfire so upcoming 21 days are important for India so take the lockdown seriously that will begin Nationwide in 4 hours.
PM states that your safety is my priority, please take lockdown seriously – 'Stay home, Stay indoors, Draw Laksham Rekha and Forget about going out'.
PM Modi in his speech joins hand to plead the Indian citizens for their safety and well-being. Unprecedented message in his speech amid Coronavirus outbreak pleads that: When there is life, there is hope.