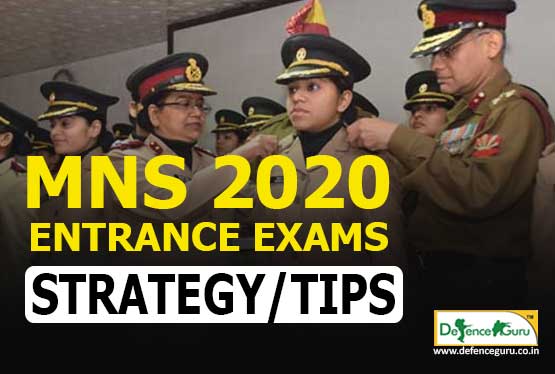 MNS 2020 Entrance Exams Strategy and Tips
The young women brigades preparing for MNS 2020 could energize their strategies with Centurion Defence Academy MNS 2020 strategic plan i.e. benefitted with tremendous step-by-step procedural notions acclaimed by experts Women officers in Indian Armed Forces. The MNS 2020 strategy is designed specifically after tracking all the required details of MNS 2020 course while keeping in mind the various dimensional conditional aspects administered by our young women aspirants at different levels during their preparation.
The much-awaited requirement of MNS aspirants has been resolved in this video. A comprehensive outlook has been approached here where you can get the Strategic Plan for upcoming MNS Entrance Exam along with the previous year MNS exam analysis. This article covers varied fact analysis for MNS 2020 entrance exam with a view of present lockdown prevailing in a country due to Covid-19 outbreak.
MNS Entrance Exam each year is scheduled in January month but this year we have a seen significant change in exam dates scheduling i.e. from January 2020 to April 2020 month. Somehow the April 2020 is also postponed till further notice amid Coronavirus pandemic. Without a further delay we should buckle up our preparation strategy in most profitable way and come up with a stable strategy plan that fits in every situation.
The success mantra is many but the best expressed part comes from the achiever itself or the one who totally sink into the preparation. If you have any MNS success mantra or plan where you would like to tell us that how we can judicially utilize this lockdown for our MNS exam preparation then do share with us on our comment section below. If you don't had any plan or mantra then you are at the right place we are here for you, in this article we have shared Strategic plan and those prevailing myths that encompassing the mind of students.
2019 MNS exam quick analysis
Students who apply for the exam - Previous year i.e. 2019 exam is conducted in offline mode, for total no of 220 seats there were total 30 examination centers in India where MNS exam took place and approximately 60,000 candidates appeared for the exam.
Students who cleared the exam- According to each year written merit list around 500 – 550 students on average bases qualify but in 2019 written merit list only 498 students had qualified, so the figure is 498 students and 220 seats.
View for MNS 2020 strategy
MNS syllabus is divided and sub-divided into 4 subjects i.e.
English - Grammer and Vocabulary
Science- Physics, Biology, Chemistry
General Knowledge- Current and Static GK
Reasoning – Verbal and Non Verbal Reasoning
Analysis derived from the MNS experts the following Strategic Plan will definitely provide better help for your preparation. To bust myths and facts about MNS 2020 Entrance Exams in a better and much easy way:
- More weight age should be given to Biology section as it is a Military Nursing Services exam but that is not the case as each section is important equally. Aspirants are suggested to treat each section equally and uniformly.
- Previous year exam paper don't have reasoning question so this year Reasoning portion requires minimum focus but that is not the case in 2020 MNS exam notification has Reasoning part in it, so students are recommended don't neglect the Reasoning portion and prepare well Reasoning portion also.
- Previous year exam paper is offline exam prepared in English Language format but there is a possibility this year online exam may include both language- Hindi and English so do not stick just with dilemma and continue your preparation avoiding the fact that language could occur as a barrier for you.
- For General Knowledge practice an all-in-one solution for every aspirant is practice from the best book the links are mentioned below for best practice books for the exam.
- Various questions in the head of aspirant like: MNS is Officer level or Non-Officer level job, Uniform- Stars, Ranks, Grade, Pay-scale, Responsibilities and Duties.
Constant Steps that can always be listed in your bucket list of preparation in all possible conditions are mentioned for MNS Entrance Exam:
- Prepare your syllabus chart - hard copy or soft copy. Stick 6 sheets in your room for each subject or Save it in a word format in your laptop.
- Prepare notes according to the Syllabus of each subject. For last minute notes revision what you have to do is derive important last minute points as suggested by your teacher or according to you from these notes.
- For Revision, topic-wise highlights important test and then analyze the amount of preparation made by you and the preparation left out from the text.
- When you access online learning portals always do a thorough research before study. What you have to keep in mind is whether the source is reliable i.e. the content delivered is relevant or to the point according to your syllabus or not. For that refer good e-learning portal and educational utube channel for your preparation.
- Practice online mock test that exposes you to the real time exam format and paper pattern in a better way. From educational portal purchase an online test series that is based on online mock test, here link is given below where you can purchase the best online test series for your MNS entrance exam practice.
Are you ready to face MNS Interview? Don't ignore Interview preparation. Suggested tips for MNS Interview:
Previous year Interview is conducted in May month where written exam was held in January month i.e. student got 90-95 days gap for interview preparation. In 2020 earlier notification it is listed that exam will be conducted in April month and interview to be held in May month. The estimated gap this year for MNS Interview depends as the exam dates are not out yet due to postpone, you can assume that approx time will be only 1/3 time for interview preparation. So aspirants are suggested to start your preparation step-by-step from day 1 along with the written exam preparation. Also focus on the following must-to-do Interview sessions at home.
- Reading habits
- Vocabulary
- Physical fitness
- Personality development
- Mirror practice (self introduction, about your native place)
- Daily practice 1-2 questions that will be more than enough for your MNS Interview preparation.
Your final selection will depend on your performance in Interview round as it is the most important part of your MNS. Candidates are judged on the basis of their personality, attitude, dedication, enthusiasm, stiffness, mental and moral abilities in a much easier and smoother way by the Interviewer Officer who will be sitting right in front of you. The above tips will give you more confidence and help you to remove the nervousness.
We are expecting that with this article all your doubts have met clarity as well as made you more vigilant, cautious and attentive to prepare well for the rescheduled exams. Regarding your desired courses if you have any query/doubt/FAQ's or questions related to exam pattern, exam syllabus, paper format, books to refer, official notification news are not clear, how to apply, where to apply, when to start preparation and many more questions will be shortly answered back to you personally or in an article form by the trusted defence team of Centurion Defence Academy.
Feel free to show your interest with us as we are here to nurture your dream, it is our duty that your minor or major questions should never come up as a set-back reason in your dreams.
Buy GK Book For MNS Entrance Exam Preparation-
Amazon: https://www.amazon.in/General-Knowledge-Defence-Exams-English/dp/8193839269

Buy MNS Kit – Just Call: + 91 9795977776
Buy MNS Kit Online
Amazon: https://www.amazon.in/MNS-Study-Centurion-Defence-Academy/dp/8193839242
Click Here to Know about MNS Online Test Series