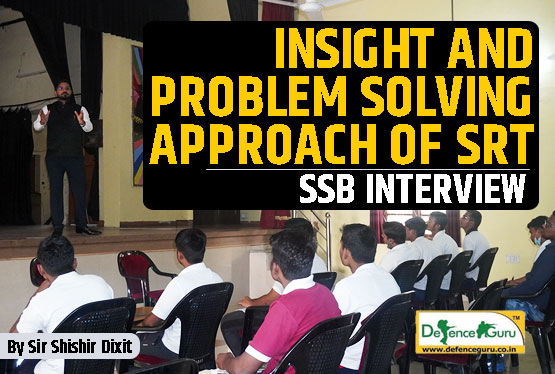 Situation Reaction Test is one of the third series in the battery of psychological testing. It is also termed as confirmatory test to assess one's personality traits through projective techniques in psychology. In this test the candidate requires to write response of each situation in just 30 seconds thereby assigning 30 minutes for 60 situation. In this test day- to-day life's routinal problems are involved and emphasized. Most of the candidates end up committing blunder by attempting this test by giving up mugged up responses along with the e-interface based emphasizers such asYouTube, etc.
Ladies and gentlemen the prime objective of psychological testing is to find out one's military attitude/ traits to solve day- to- day problems. Most importantly method of solving problem must reflect the most convenient outcome of one's personality. Quality of responses of one's SRT depends on the abilty to solve problems efficiently. Problem solving typically involves 3 major stages-
- Preparation
- Production of solutions
- Evaluation of solutions
Problem solving can be done either with or without insight and utilizes analytical, synthetic thinking along with Meta cognition. Problem solving is a dynamic and complex process and involves many types of thinking processes depending upon the nature of problem.
Barriers affecting problem solving ability in SRT
1. Cognitive barrier- Many a times in a haste, the candidates are unable to make out the situation presented before them hence fail in addressing the situation appropriately. Interpretation- SRT 1- While walking through a dense forest you observe a lion is passing near to you……..
SRT 2- While passing through a forest suddenly you observe a lion is approaching/ chasing you…. Both the situations will have a different set of responses and it is in here the candidates end up giving the wrong answers.
2. Emotional disorder- Impatience, anxiety, fear of taking risks and having a low morale are some of the main factors that end up showing a decrease in the response level of the candidate. Interpretation-You are a newly posted army officer at Siachen glacier and it is a war like situation, simultaneously, if a member of your own bloodline is medically in a serious condition. Hint: Serving your organization is your professional duty but you cannot ignore your moral duty. In this SRT (Especially female candidates feel like crying hence fail in making the right approach).
3. Magical and fantasy thinking while addressing the problem- Candidates end up ignoring the practicality of the situation and end up forming an imaginative or illusional interpretation of the same situation nullifying the actual response that should have been addressed. Interpretation-
SRT- While shooting of a movie a in jungle area, terrorists abducted the actress. You…….
1) - Response written by Devyansh(NDA Student) which is not in parameter- Continued shooting as abducting the actress is part of the movie.
2) In parameter- Response of Swastish Pandey, All India Rank- 43(NDA-144 Course, student of Alambagh Branch Centurion Defence Academy, Lucknow, U.P)- Immediately informed the movie director and security personnels, assisted them in rescuing the actress and then completed shooting under adequate security with the actress.
Unfamiliar with the resources (hidden/ visible)- In one's life one has 4 resources i.e. man, material, time and money. Visualizing resources while solving the problem reflects hero's resourcefulness.
Interpretation-
SRT- While watching movie in a Cinema hall, suddenly screen panel catches fire. You ……….
1) Response of Ashish Jha 10+2 TES Entry not in parameter-Shouted for help and ran away.
2) Response of Vaibhav Srivastava AIR 83 10+2 TES 42 Entry in parameter-Assisted fire crews in Extinguishing fire, Ensured to Switch off main Supply, Consoled audience and normalized the situation.
(In case of fire, usage of relevant extinguisher appliances and set of actions are imperative. Here candidate needs to be aware about the usage of resource on time.)
Inadequate explanations due to lack of communication- Since time line is 30 seconds for each situation, hence appropriate keywords and precise sentences with problem solving approach will serve the purpose. Lack of communication restricts hero's clarity while dealing various issues/situations. It is suggested that you may use Hindi language while endorsing your responses if you get blank while addressing some situations. The pattern/language of responses must reflect most convenient outcome of your personality.
Note:- Avoid using high degree language in your responses if it does not suit with your level as these situations usually contains day today problems.
Inability to prioritize the problems- Ladies and Gentlemen, situation reaction test confirms the candidate's problem solving attitude in day to day life. If you don't read situations carefully surely you will not be able to identify the approach to resolve those problems. Every situation may contain one or two or three problems. In rare cases, SRT deals more than three problems too. Prioritizing steps needsbroader perspective and fair combination of candidate's emotions, creativity, planning dynamism along withresourcefulness.
Conflict resolution ability and speed of decision helps candidate in drafting most appropriate responses in SRT.
Dear young SSB aspirants, who are preparing and appearing for their SSB interviews need to keep in mind an advisory of utmost importance and value to not follow any bookish approach or refer to the internet and mug up any preconceived thoughts and notions as this sample approach shall hamper the spontaneous prowess and restrict your natural ability which is assessed through the projective techniques. Rather than just mugging up the entirety of the situation that happened in an earlier instance that you read up or remembered by learning in any book, etc. and applying the same to any present situation available before you shall defeat the purpose of SRT because it is imperative to remember every situation is novel and that you must read the SRT properly and then must understand and infer the situation accordingly which is the exact and appropriate to master out your SRT with a panache. For any further queries related to SRT you can visit Centurion Defence Academy and attend my sessions and lectures available for various psychological testing measures as per SSB parameters and guidelines for further acing and achieving positive results enabling you towards your successful selection in SSB. Jai Hind!!!!
BY,
Sir Shishir Dixit
SSB Expert (Psychology)
Founder Director Centurion Defence Academy