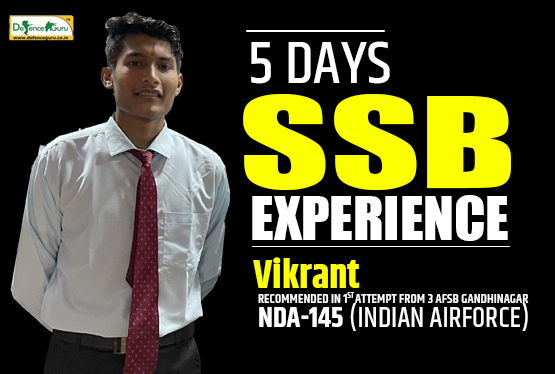 Recent accolade feathering Team Centurion's success chart is the selection of Vikrant who successfully aced out and came out with flying colors and was triumphant and got selected for NDA 145 Course. With his sincere efforts, hard work and perseverance and under the diligent guidance of Team Centurion, he has proved his mettle and added another pearl in the string of Team Centurion's beads. Let's witness his journey and experience as he embarked and successfully aced his written as well as interview-
Hello friends,
My name is Vikrant & I hail from Moradabad, U.P. I completed my schooling from BSF Senior Secondary School, Jalandhar, Punjab, I hail from an Army Background with my father being in BSF.
I always aspired for getting into NDA, Pune. Although having given previous NDA exam (written), I was unable to steer throughbut owing to my previousfailure, finally I was confidentabout conquering my weakness & made it this time. Coming to my first SSB Experience for NDA 145 Course, I was alloted 14 Dec 2020 at 3AFSB Gandhinagar as my SSB reporting Venue. There a totalof 198 candidates had reported, in which 63 (Approx) were freshers& rest were S/O&C/o (repeaters) candidates only
My Screening & Stage 2 Experience -
Out of the 198, 58 got screened in. Next day, we all had to appear for our psychology test. After completing the psychology test, my interview was scheduled at 2 PM on the very same day. My psychology Test went well but it some how got hampered due to my handwriting speed. Immediately I had to appear for my Interview therefore I reached to my accommodation, revising the topics for Interview. My interview was fully on PIQ. Questions were asked regarding my friends, family, teachers, etc. My Interview lasted for 1 hr 10 mins. It went good, I was happy after my Interview was over and was feeling confident. Next day, i.e. on 16 Dec alternative groups were having GTO for 8 hrs, as we were 58 candidates, a total of 8 persons were divided into 1 group, therefore GTO was a little tiring one but interesting also. But again due to by writing speed, I wasn't able to write full solution of GPE, but my Discussion nevertheless went well, everyone got a chance equally to speak. Also GD on both topicswent smoothly. In my PGT, I completed 2 PGT's & was on the 3rd but unfortunately the time was over. HGT, FGT, also went well. I completed 7 IO [Individual Obstacles] and gave lecturette on nuclear v/s joint family. The next day wasquite relaxing and free for us, or I say the one's who had given their psych, Interview & GTO rounds were free, I was one of the among and definitely I used this timeto have more interaction with other groups. Then the Doom's Day came, Conference or Result Declaration Day, where all ourhardwork, passion would be giving us bright results. During this time, when 'chest no6'was said, I was in seventh heaven or my joy was at its extreme level& my happiness knew no bounds. Atotal of 4 Candidates got recommendation out of 58 in which 3 were fresher & 1 that was me was a repeater (TES c/o).This is that time for which every candidate waits for to hear their name to be called out. So Gentlemen, be true to your personality & show them what you are, as SSB is a thing which will be more clear to you if you once experience it yourself, so Gear up for your coming SSB's & remember to do well.
Last but not the least my journey would be incomplete as the biggest support and pillar was Team Centurion and the dedicated staff and teachers that made me fulfill my dream and motivated me at each step and due to such strategized guidance and training provided to me by Shishir Sir and the entire staff I was able to have a roadmap to achieve this success. A big and gratuitous thanks to Team Centurion for making me achieve my dream and providing this grateful opportunity to be associated with such a big and renowned name in Defence Training.
About Team Centurion Defence Academy

Centurion Defence Academy (A Unit of Centurion Education Pvt. Ltd), under the command and head ship of Sir Shishir Dixit is best known as the foremost and top tier institute for SSB Training and NDA written exam coaching. It is one of the finest and outstanding institutes for SSB interviews for Army, Navy and Air Force Selection Boards for NDA, CDS, OTA, SSC, NA, AFCAT, TES, UES, JAG, TGC; Special Entry Scheme for Women; Army Candidates: (SCO), PC(SL), ACC; Navy Candidates: CW, SD, HET; Air Force Candidates: F(P), GDOC, Branch Commission and NCC C certificate candidates for all wings. The institute has a marvelous record of producing the best of the talents to serve for their motherland and has been touted as the one stop destination of all the defence aspirants due to the entire team of trained staff and educationists that helm at guiding and giving the best of the expertise in preparation to the budding aspirants.