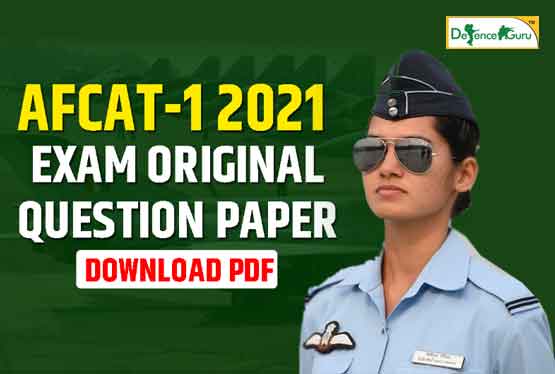 AFCAT-1 2021 Exam Question Paper
Fastest AFCAT-I 2021 Written Exam Questions released by Defence Guru just after the AFCAT-I written examination conducted on 20 Feb, 21 Feb, 22 Feb 2021. The candidates who had applied online for the Air Force Common Admission Test in the Indian Air Force can view the most accurate, correct, specific AFCAT 01/2021 Written Exam Questions.
The official Indian Air Force AFCAT-I 2021 Question Paper's shift-wise will be released after few hours or few days of the exam. Until the official Indian Air Force AFCAT-I 2021 Question Paper's shift- wise release, eager candidates can check the most authentic and appropriate AFCAT 2021 questions here. Fastest AFCAT 2021 questions for the 20 February, 21 February, 22 February 2021 exam right here. AFCAT 2021 shift-wise paper will be published through online mode and all the appearing candidates can check the AFCAT 2021 shift-wise paper and AFCAT 2021 shift-wise answer key through defenceguru.co.in Website.
AFCAT-1 2021 Written Exam Questions Given Below
Check the instant, speedy AFCAT 2021 questions where candidates will be able to calculate the probable score of the exam based on the number of correct and incorrect answers. Check your correct responses with AFCAT-1 2021 Questions. Fastest AFCAT 2021 Questions will ease your inquisitive mind many extent.
20 February 2021 Shift-I AFCAT-1 2021 Exam Questions
We are here providing a list of the important questions that appeared in the Shift 1 of the AFCAT (1) 2021 exam conducted on 20th February.
1. What was the real name of Babur?
2. Odd one out from Sodium, Uranium, Radium, and Carbon?
3. Kathakali is the folk dance of which state?
4. What is the name of Uranus's moon?
5. What is the synonym of the word 'Entice'?
6. What is the meaning of the idiom 'Turn the Coat'?
7. Which one is not the star of Uranus?
8. The term 'Raider' is associated with which sports?
9. Which team hosted the first men's cricket world cup?
10. Who was the first women para olympic gold winner?
11. Where did the India China face off take place in June 2020?
12. By whom the Chief Justice of the High Court is appointed?
20 February 2021 Shift-II AFCAT-1 2021 Exam Questions
Download AFCAT-1 2021 Exam Questions PDF