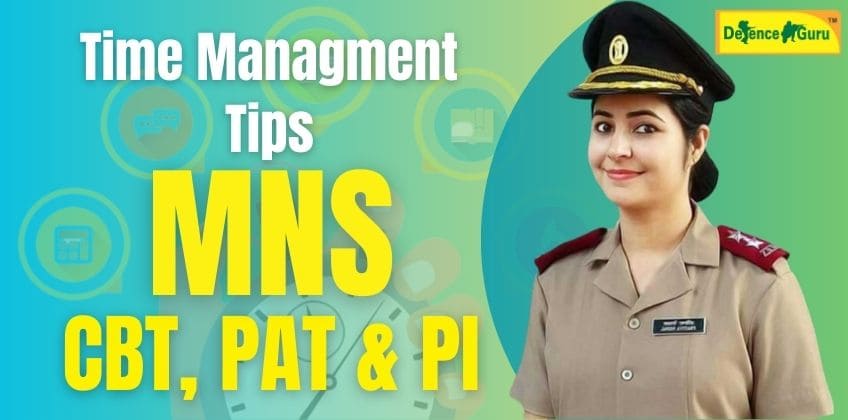 Time management is very essential for every exam. But when it comes to national-level defence exams like MNS, time management is very very essential for all MNS Aspirants. Time management will help you in completing a lengthy syllabus with ease otherwise it will take a very long time to cover a lengthy syllabus like the MNS exam. The MNS exam is not limited to MNS CBT only, the MNS selection process includes To GGIE, PAT, and PI also. These tests require dedicated preparation and proper practice. Without proper practice, it will be very hard to qualify for these tests. In this article, we are going to provide you with time management tips so that you can utilize your time. We will also provide you with a daily schedule that you can follow for the MNS 2023 selection process.
MNS CBT 2023 Exam
The MNS CBT Exam is conducted as a part of the Military Nursing Service selection process and it is conducted online. This exam consists of questions from English, reasoning, and general science. MNS CBT will be multiple choice questions (MCQ) based exam. There will be 150 questions in the MNS CBT 2023 exam and there will be no negative marking. After qualifying this paper, candidates are called for a further selection process which includes a psychological assessment test and personal interview. Candidates who perform well in all these exams are selected for four years of B.Sc nursing course.
Time Management Tips for MNS 2023 Exam- CBT, PAT, and PI
We have already informed you that MNS Exam is a national-level defence exam and it requires proper planning and time management to qualify for this exam. Without proper time management, it will be very hard to qualify for this exam.
Create a Study Schedule
It is very important to Plan your study time by creating a schedule that includes dedicated slots for each subject and topic i.e. MNS CBT, PAT, and PI. Allocate more time to subjects or topics that you find challenging. Your hobbies and physical routine are equally important because interviewers expect you to be physically active and be creative at same time.
Ideal Daily Routine Time Table for MNS Aspirants

Time

Activity

5 AM

Wake Up

5:00- 5:30 AM

Fresh Up

5:30- 6:30 AM

Physical Exercise- Yoga, Meditation, Stretching, and Jogging

6:30-7:00 AM

Bath+Breakfast

7:00- 8:30:00 AM

Newspaper+Current Affairs

8:30- 9:00 AM

Break

9:00- 11:30 AM

MNS CBT (General English, General Intelligence and Science)

11:30- 12:00 AM

Break

12:00- 2:00 PM

Preparation for PAT (Psychology Assessment Test)

2:00-3:00 PM

Lunch+Sleep

3:00- 4:00 PM

Hobby+ Personal Interview Preparation

4:00- 6:00 PM

Sports

6:00- 6:30 PM

Bath

6:30- 7:00 PM

Evening Snack+Social Media

7:00- 9:00 PM

Study+Revision of MNS CBT and PAT

9:00-10:00 PM

Family Time

10:00-10:30 PM

Sleep
Understand the Syllabus
It is very important to Familiarize yourself with the exam syllabus and divide it into smaller sections. Allocate specific time frames to cover each section, ensuring comprehensive coverage of all subjects. Tough and Important topics should be given more time and they should be revised properly.
Take Breaks between your study
It is very important to take frequent breaks during your study otherwise you will not be able to grasp anything that you study. Candidates should break their study sessions into smaller, manageable segments. For example, study for 45 minutes to 1 hour, take a short break, and then resume studying. This helps maintain focus and prevents burnout.
Give Many Mock Tests during your preparation
Giving many mock tests is very helpful for exam like MNS. Because after giving many mock tests it will help you to simulate exam-like conditions while practicing. You can set a timer and solve sample questions or previous year's papers within the allotted time frame. This will help you improve your speed and accuracy during the actual exam.
Do not forget to revise whatever you study
Without proper revision, it is very difficult to keep things in mind. That's why it is very important to allocate dedicated time for revision. Review and revise previously covered topics regularly to reinforce your understanding and retain information effectively. Candidates can make short notes in well advance to revise when the MNS exam is near.
MNS Aspirants can follow the above given time schedule and tips to excel in the upcoming MNS exam. MNS Aspirants might face some difficulties in following such a tight study schedule, but following this study schedule will help in qualifying MNS CBT 2023, PI, and PAT. MNS is a very prestigious service that offers the rank of Lieutenant in the Indian Armed Forces. so, candidates should try to put maximum effort into this exam and try to qualify in the very first attempt.
Read More:
Detailed Syllabus for MNS CBT Exam 2023
All You Need to Know About MNS 2023 - CBT, PAT & PI