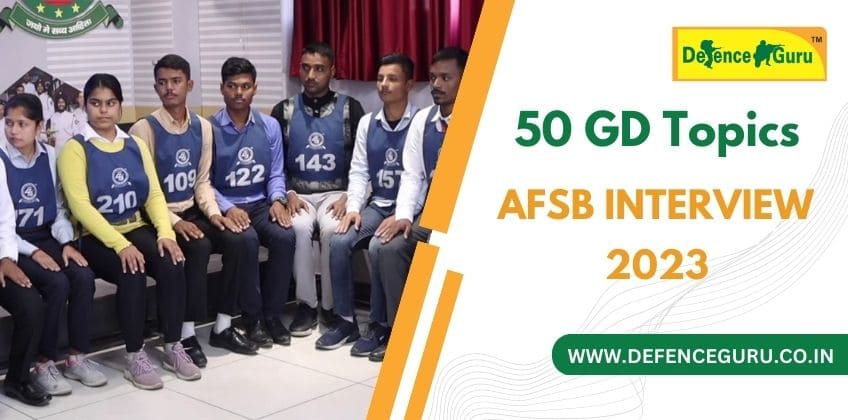 50 Group Discussion Topics for AFSB Interview 2023
AFSB stands for Air force Selection Board. AFSB Interview is conducted to select officers for Indian Air Force. The AFSB Interview process is somewhat the same as SSB Interview with minor differences. AFSB Interview is conducted within a period of five days, but in AFSB Interviews Psychology Tests are conducted on the first day only. GTO Tests also vary in AFSB Interviews. Group Discussion in AFSB Interview is the same as SSB Interview, but the Topics in AFSB Interview may be a bit different from the group discussion topics of the SSB Interview.
How is Group Discussion conducted in AFSB?
Group Discussion is a group indoor activity. Before starting of group discussion, candidates are divided into groups, and candidates are made to sit in a semi-circle manner. Once all candidates take their seats, GTO briefs all candidates about the group discussion and the rules of the task. After briefing all candidates, GTO gives two topics to candidates and candidates have to discuss to choose one topic. After choosing the topic, candidates discuss the selected topic.
50 GD Topics for AFSB Interview 2023
| | |
| --- | --- |
| Serial Number | 50 GD Topics for AFSB Interview |
| 1. | Should UAVs (Unmanned Aerial Vehicles) replace Pilots? |
| 2. | Which Fighter Jet can be the best jet for India- Gripen, Eurofighter, or F-18? |
| 3. | What will be the challenges before Indian Airforce in the coming time? |
| 4. | Should India buy a fifth-generation fighter jet or indigenously develop it? |
| 5. | The role of the Indian Air Force in disaster relief operations |
| 6. | Indian Air Force and its relation with other branches of the military |
| 7. | Indian Air Force and its role in space exploration |
| 8. | Women in the Air Force |
| 9. | The significance of cyber security in the military |
| 10. | The future of the Indian Air Force. |
| 11. | The importance of international cooperation in military operations |
| 12. | Modernization of the Indian Air Force |
| 13. | The role of the Indian Air Force in counter-insurgency operations |
| 14. | Space technology and its military applications |
| 15. | Challenges being faced by Indian Air Force |
| 16. | Role of airpower in modern warfare |
| 17. | Airborne warning and control system (AWACS) and its use in Indian Airforce |
| 18. | Indian Air Force's role in peacekeeping operations |
| 19. | The role of the Indian Air Force in safeguarding the Indian Ocean region |
| | |
| --- | --- |
| 20. | The significance of air defence in national security |
| 21. | The role of the Indian Air Force in national technological advancement. |
| 22. | The potential of the blue economy in India |
| 23. | The USA and North Korea's problem |
| 24. | Why is crime increasing in our society? |
| 25. | How can we stop religious fundamentalism in our society? |
| 26. | Is Indian Cinema Industry ruining the youth of India? |
| 27. | Diversity, equity, and inclusion in the workplace |
| 28. | The impact of technology on society |
| 29. | The role of government in society |
| 30. | Artificial intelligence and its potential impact on jobs |
| 31. | Economic inequality and wealth distribution |
| 32. | What should India do to become a superpower? |
| 33. | Why coaching institutes are increasing in our country? |
| 34. | Should Hindi be made our national language? |
| 35. | Who is responsible for the crimes against women? |
| 36. | How can the education system develop entrepreneurship? |
| 37. | Are Startups changing the landscape of the Indian Economy? |
| 38. | The potential of India's youth to shape the country's future |
| 39. | The role of social media in shaping Indian public opinion |
| 40. | The role of religion in Indian society and politics |
| 41. | Women's rights and gender equality in India |
| 42. | Corruption in India and ways to address it |
| 43. | India's progress in reducing poverty and increasing social welfare |
| 44. | India's relationship with neighboring countries and international diplomacy |
| 45. | The impact of globalization on Indian culture and traditions |
| 46. | 21st Century War and Synergy between Army, Navy, and Air force |
| 47. | India's economic growth and its impact on the global economy |
| 48. | Effects of Social Media on society |
| 49. | Role of startups in economy |
| 50. | What is wrong with the Indian education system? |
Read More:
50 GD Topics for Indian Army SSB Interview 2023
All about Command Task in SSB GTO