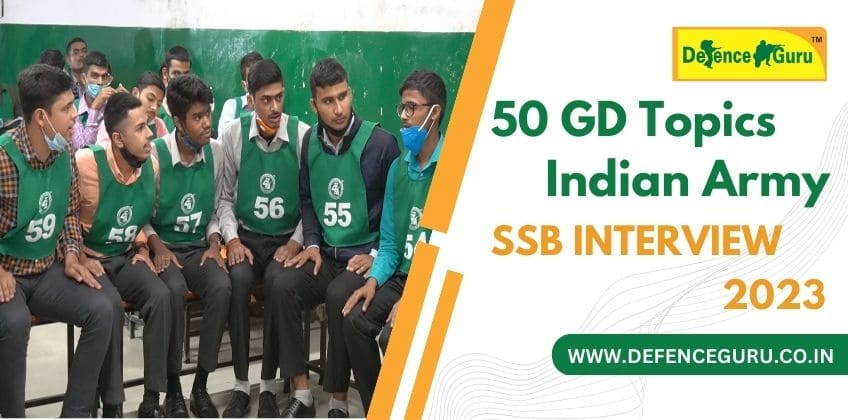 50 GD Topics for Indian Army SSB Interview 2023
Group Discussion is conducted as part of indoor GTO tasks in five days SSB Process. Group Discussion is conducted on the first day of the GTO and during the Group Discussion, groups are formed and candidates are asked to sit in a semi-circle manner. Two topics are given one by one for discussion. Candidates have to first select group discussion topics and then discuss them. Normally, topics on social issues, national issues, international issues, and international relations are given.
How is Group Discussion conducted in SSB?
Group Discussion is a group indoor activity. Before starting of group discussion, candidates are divided into groups, and candidates are made to sit in a semi-circle manner. Once all candidates take their seats, GTO briefs all candidates about the group discussion and the rules of the task. After briefing all candidates, GTO gives two topics to candidates and candidates have to discuss to choose one topic. After choosing the topic, candidates discuss the selected topic.
50 GD Topics for Indian Army SSB Interview 2023
| | |
| --- | --- |
| Serial Number | 50 GD TOPICS FOR INDIAN ARMY SSB INTERVIEW |
| 1. | Modernization of Indian Armed Forces in need of the hour |
| 2. | Power flows through the barrel of a gun |
| 3. | Environment Catastrophe and Our Future |
| 4. | Where should India focus- Agriculture or Industry? |
| 5. | Which is the bigger threat- Poverty or Terrorism? |
| 6. | The Education System in India is ruining the potential of the youth of India |
| 7. | Why India is still lagging behind in the Olympics? |
| 8. | Why regional tendencies are increasing in different regions of India? |
| 9. | Sports in India |
| 10. | Who is responsible for the exam paper leak? |
| 11. | What is the biggest problem our country is facing? |
| 12. | Should HIV testing be made mandatory before marriage? |
| 13. | How can brain drain be stopped? |
| 14. | How can railways be improved? |
| 15. | What should India do to become a superpower? |
| 16. | Why coaching institutes are increasing in our country? |
| 17. | Should Hindi be made our national language? |
| 18. | Who is responsible for the crime against women? |
| 19. | Should beauty pageants be encouraged in our country? |
| | |
| --- | --- |
| 20. | How Swacch Bharat Abhiyan can be made more successful? |
| 21. | Which is the best kind of marriage? |
| 22. | Should mobile phones be allowed in schools and colleges? |
| 23. | Who is responsible for eve-teasing? |
| 24. | How to solve the Indo-Pak problem |
| 25. | Role of youth in the current political scenario |
| 26. | Globalization Vs Localization |
| 27. | Challenge of Terrorism in the 21st Century |
| 28. | Gender Discrimination and its dimensions |
| 29. | Disasters and Our Preparedness |
| 30. | Increasing Radicalism in our society |
| 31. | Corruption in Politics and ways to fight it |
| 32. | Effects of Social Media on society |
| 33. | Role of startups in economy |
| 34. | What is wrong with the Indian education system? |
| 35. | Indian Population: Opportunities and challenges |
| 36. | 5g Connectivity and Upcoming Opportunity |
| 37. | Those who do not learn from history are doomed to repeat it |
| 38. | Smart Urbanization: The need for the hour |
| 39. | Has the UN failed to play its real role? |
| 40. | Is agriculture becoming a profession of loss? |
| 41. | India and the 5 trillion economy target |
| 42. | The potential of the blue economy in India |
| 43. | The USA and North Korea's problem |
| 44. | Why is crime increasing in our society? |
| 45. | The North-East problem |
| 46. | Armed Forces Special Forces Act (AFSPA) |
| 47. | How can ragging be controlled? |
| 48. | Middle-East problem |
| 49. | Should military training be made compulsory? |
| 50. | Should there be reservations for seats in elite institutions? |
Read More:
All about Command Task in SSB GTO
Top 5 Qualities to Conquer GTO Tasks in SSB Interview
SSB Interview GTO Tasks Colour and General Rules