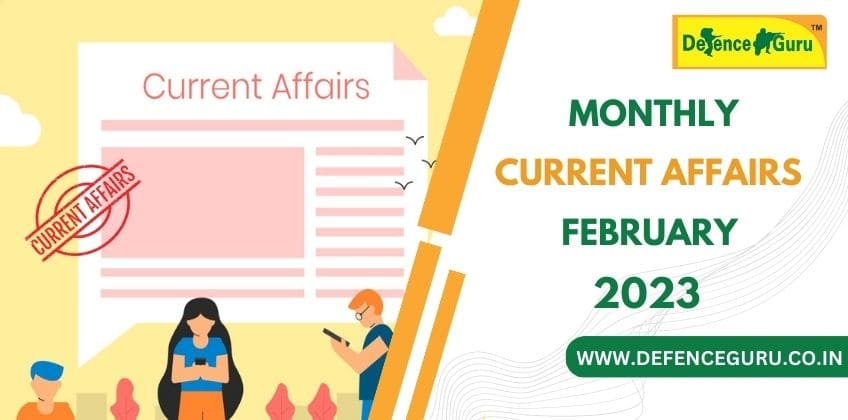 This is a monthly Current Affair Update from Defence Guru for the month of February 2023. Read the complete article for all the important news from the month of February 2023. The importance of current affairs in the defence exams cannot be denied. Not only the armed forces but also civil defense departments use current events for training and education purposes. Therefore all defence exams including NDA/ CDS/ AFCAT/ MNS/ AGNIVEER/ NAVY/ AIRFORCE etc have a GK section. This section can boost your scores very easily with as little effort as reading the news every day. The topic of current affairs is not just an everyday topic but important career advice for those who are interested in the defense department. Current affairs and general awareness are one of the main aspects of these exams. But the problem arises when you are stuck studying a wide range of topics that are being discussed in newspapers, magazines, and online sources. These topics are relevant to the country and can be of great benefit to you but how to know which ones hold more value than the others? Therefore we bring you specially sorted current affairs for defence exams which will help you ace your exams with ease. The topics covered in the current affairs section are economic, military, scientific and technology, social, sports, education, finance, human rights, politics, and international affairs. To score high in this section, you must know all the topics that are being discussed in our classes and articles. To help you clear these exams, we have compiled a list of top current affairs from the month of February 2023. Read the complete article below for further details-
VAYULINK was launched by the Indian Airforce this February:
The Indian Air Force has developed a solution for its fighter pilots to deal with bad weather. The innovative solution developed is a new data link communication called VAYULINK. It will provide uninterrupted communication even during bad weather.
The G20 summit was held in Lucknow, Uttar Pradesh from 10th to 12th February 2023:
PM Modi recently inaugurated the Global Investor Summit in Lucknow. It was a three-day-long summit. Invest UP 2.0 was launched during the summit. Also, Global Trade Show was conducted. More than 18,605 Memorandum of Understanding were signed during the summit. The state received Rs 33.5 lakh crores of investment.
12 Cheetahs were welcomed in India from South Africa:
India and South Africa signed an agreement on Project Cheetah in January 2023. According to the agreement, India will get 12 Cheetahs from South Africa. These cheetahs will be dropped at the Kuno National Park in Madhya Pradesh. In September 2022, eight Cheetahs were introduced in the park. These eight were brought from Namibia.
Khelo India Scheme 2023:
The Khelo India scheme was launched to increase the sports skills of the youth in the country and also to increase the sports infrastructure. Since the scheme's launch, the Khelo India committee working under the sports ministry has been organizing several games like Khelo India Youth Games, Khelo India Winter Games, etc.
ISRO launched SSLV into the February sky:
The Indian Space Research Organization successfully launched the Small Satellite Launch Vehicle (SSLV). It was launched from Sriharikota. The SSLV-D2 dropped EOS-07, Azzzadi SAT-2, and Janus-1 satellites. The satellites were dropped at an altitude of 450 km from the earth within 15 minutes of the launch.
Lithium reserves found in Jammu and Kashmir:
The Geological Survey of India has found lithium reserves in Jammu and Kashmir. They have been found in the Reasi district. Today India is importing Lithium from countries from Argentina and Australia. In 2021 alone, the price of lithium increased by 400% for several reasons, and now these new reserves found at J&K will be examined for good.
ANTYODAYA MISSION- aimed to eradicate poverty from the nation:
The Antyodaya mission was launched to aid people in rural areas. It aims to eliminate poverty. The Ministry of rural development recently launched Mission Antyodaya Survey 2022-23. The survey is to be conducted in two lakh sixty-nine thousand gram panchayats in the country. It is to be conducted using questionnaires.
Drones will make traffic management easier and smarter:
Skye Air is a startup delivering drones in different parts of India. The startup recently launched a Traffic Management System for drones. It is software and will allow drone operators to choose their routes. Just like flight traffic management, the need for drone traffic management is increasing.
GAGANYAAN is all set to be launched next year:
The Gaganyaan is a crewed space mission of ISRO. It is expected to be launched in 2024. Indian astronauts received their training from Russia's ROSCOSMOS to fly to space in the mission. HAL designed and built the crew module. DRDO is to provide food for the astronauts, parachutes, and a fire suppression system
AADI MAHOTSAV was inaugurated by PM Narendra Modi at the Major Dhyan Chand National Stadium, Delhi:
Held from the 16th to the 27th of February this AADI MOHATSAV was a mega National Tribal Festival that aimed to celebrate the spirit of traditional art, culture, and cuisine. It promotes the tribal culture on a national scale reminding people of the importance of sticking to their roots and culture.
Read More:
Daily GK Update - 1st March Current Affairs
Daily GK Update - 2nd March Current Affairs
Daily GK Update - 3rd March 2023 Current Affairs