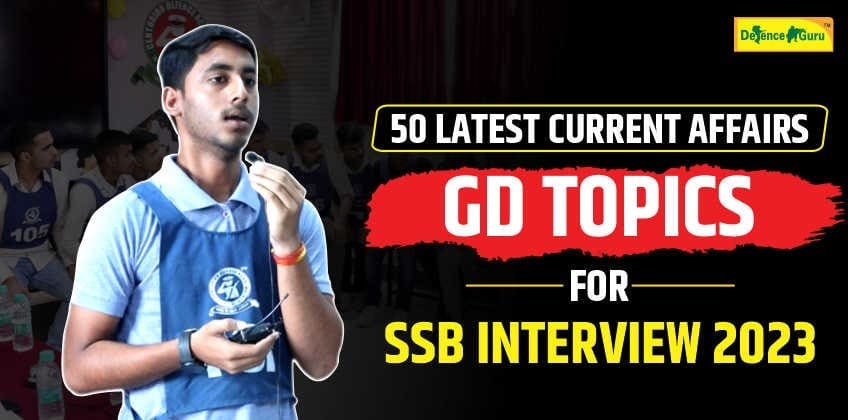 50 Latest Current Affairs Group Discussion Topics For SSB Interview 2023
As the dates of SSB Interview in 2023 are approaching, it becomes very important for NDA, CDS, and AFCAT Aspirants to start their preparation for the upcoming SSB Interview. You must be already aware that the selection rate in SSB Interview is nearly 1-2% so any weak link in your SSB preparation will spoil the whole SSB Interview preparation. So, it is very important to do a holistic preparation of the SSB interview. Group Discussion is one of the most important parts of the SSB Interview. Group Discussion in an SSB Interview not only evaluates your knowledge but also your communication skills and leadership qualities. Being a group activity it also evaluates your coordination and ability to manage a group. Many significant events have taken place in 2023, so it becomes very important to know 50 Latest Current Affairs Group Discussion Topics For SSB Interview 2023. These latest topics of group discussion for the SSB interview will help you to prepare for group discussion in the SSB Interview.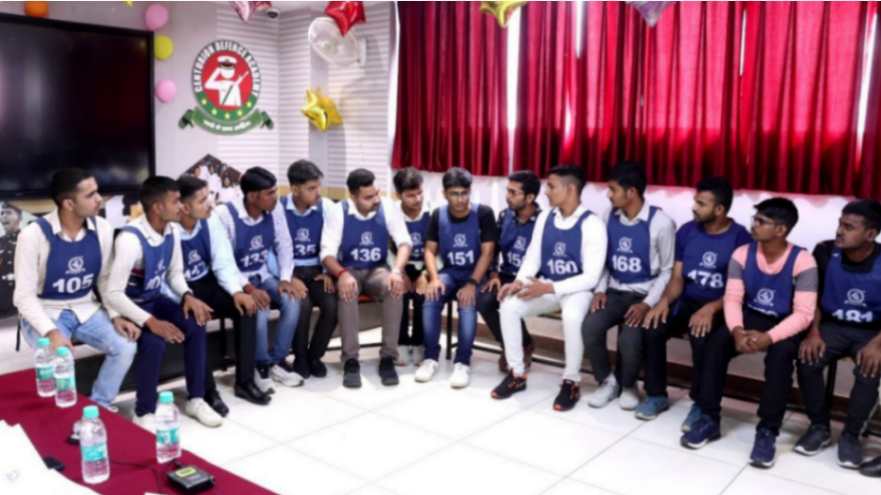 1. Climate Change and Its Impact on the Environment
2.The Future of Renewable Energy Sources
3. The Pros and Cons of Artificial Intelligence
4. Social Media and Its Influence on Society
5. Healthcare Reforms: Challenges and Solutions
6. The Importance of Mental Health Awareness
7. Gender Equality in the Workplace
8. Education in the Digital Age
9. Space Exploration: Opportunities and Challenges
10. The Role of Technology in Education
11. Cybersecurity Threats in the 21st Century
12. The Ethics of Genetic Engineering
13. Universal Basic Income: A Solution to Poverty?
14. The Impact of Fast Fashion on the Environment
15. Internet Privacy and Data Security
16. The Future of Work: Remote vs. Office
17. Youth Engagement in Politics
18. Artificial Intelligence in Healthcare
19. The Influence of Pop Culture on Society
20. Sustainable Agriculture and Food Security
21. Challenges in Global Healthcare Access
22. Social Media Addiction: Is it a Real Problem?
23. The Role of Sports in Society
24. The Benefits and Drawbacks of Online Learning
25. The Aging Population: Challenges and Opportunities
26. The Importance of Cultural Diversity
27. Climate Change Denial: Causes and Consequences
28. The Impact of Automation on Employment
29. Mental Health Stigma: Breaking the Taboo
30. The Role of Government in Regulating Big Tech
31. Wildlife Conservation Efforts
32. The Pros and Cons of Cryptocurrency
33. Immigration Policies: Balancing Security and Compassion
34. The Influence of Video Games on Behavior
35. The Future of Space Tourism
36. Environmental Activism: Greta Thunberg and Beyond
37. Online Bullying and Cyberbullying Prevention
38. Universal Healthcare: Is it Feasible?
39. The Role of Art and Culture in Society
40. The Ethics of Animal Testing
41. Renewable Energy vs. Fossil Fuels
42. The Impact of Social Media on Politics
43. The Influence of Advertising on Consumer Behavior
44. The Effects of Income Inequality
45. Climate Change Adaptation Strategies
46. The Role of NGOs in Global Development
47. Ethics in AI and Machine Learning
48. The Importance of Critical Thinking in Education
49. Youth Activism and Climate Strikes
50. The Pros and Cons of 5G Technology
Read Also:
Current Defence News for SSB Interview 2023