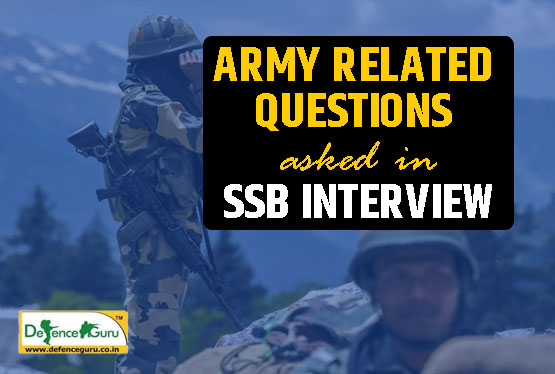 Questions Asked in SSB
The Indian Armed Forces comprises mainly of a three winged association of The Indian Army, The Indian Air Force and The Indian Navy. It becomes all the more imperative and mandatory to be well versed with all the major information as well as the minutest of details of the service you have applied and are appearing in SSB. Normally it is very common that the questions also will pertain or will revolve around the service or the choice you have made as you must know each and everything of that field. Let's take a look at some of the basic questions related to Indian Army-
1. What are the commands and their number in the Indian Army?
2. Who is the Chief and Vice Chief of the Army staff?
3. What is the location of each respective commands?
4. The base or headquarters of Indian Army?
5. Structure and organization of Indian Army.
6. Number and names of Field Marshalls appointed in Indian Army till now.
7. Name of the first recipient of Param Veer Chakra of Indian Army.
8. The motto of Indian Army.
9. Describe the Arms and the Services of Indian Army.
10. Throw some light on 5 recent defence deals of Indian Armed Forces.
11. Distinguish between infantry and mechanized infantry.
12. What is the Armored Regiment of the Indian Army?
13. The reason you wish to enlist yourself in the Indian Army.
14. Give examples of battalions of infantry.
15. What is INSAS?
16. Rank and Order of Army Officers in Indian Army.
17. Rank and Order of Indian Army starting from Sepoy.
18. What are the Gallantry Awards in Indian Army.
19. Who are the General and Vice General of Indian Army?
20. Names and Location of Training Academies of Indian Army.
21. Indigenous weapons of Indian Army.
22. Name and distinguish between cruise and ballistic missiles.
23. Name the helicopters used by Indian Aviation Corps.
24. Name any five supportive corps of the Indian Army.
25. Name the nearest Army Command to your home?
26. Throw light on UN Peace keeping force.
27. Significance of Rashtriya rifles and Para Special Forces in Indian Army.
28. Significance of Siachen Glacier for India.
29. Name of Intelligence Agency of Indian Army.
30. What is AFSPA and the powers provided to Army under AFSPA?
31. Name the battalion you would like to join and its reason.
32. What is Theater Command, its working as well as affect on Indian Army?
33. Name the organization manufacturing Arms and Weapons in Indian Army.
34. What is Risaldar in Indian Army?
35. The names of borders between India- Pakistan and India- China?
36. Names of past five Generals of Indian Army.
37. Sequence of Ranks of Indian Army with Ranks of the Air Force and Navy.
38. Number of soldiers present in a section.
39. Explain Flag of the Indian Army.
40. Mention five artillery guns used by Indian Army.
41. Mention five aircrafts used by Indian Army.
42. Mention five weapons used by the Armored Battalion of the Indian Army.
43. Mention five UAV's of the Indian Army.
44. Tell something about Agni, Prithvi and Brahmos Missiles of the Indian Army.
45. Where is the Indian National Defence University proposed to be established?
46. Tell the names of any five Military Exercises held with other countries.
The above assimilated questions are based on the basic knowledge and general know how of the Indian Army and are common questions and topics of the SSB. The candidates must be vigilant, aware and prepare for these questions related to the Indian Army- be it the minutest or the most technical one because one must be fully aware of the services he or she entrusts to be a part of. Those who have attended the NCC training are more prone and have a better edge related to the internal knowledge and working of the Indian army. A prior practice and knowledge of these questions will help you give an impressive presentation of your answer. So prepare for it and add those brownie points in your performance and impress the assessors with your confidence and knowledge.
Read More: Basic Questions Asked in SSB Interview