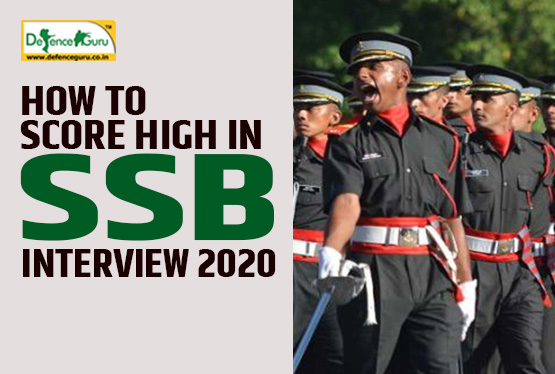 Master stroke for SSB Interview 2020 is discussed and explained in this article to its depth. The aspiring candidates can analyze what to put into their preparation for excellence and supremacy at the SSB 2020.
Five days SSB Interview 2020 comprises various stage and test, thus submitting to which candidates not only need to score good but also high. This result can confirm their place at the final recommendation.
To score high in SSB Interview Stage-1 for OIR and PPDT, the crux is:
- For OIR test the regular practice of verbal and non-verbal reasoning questions enhances one's performance.
- For PP&DT, develop your story drafting skills with a timestamp of 1 minute.
- While drafting a story, selection of theme must be socially productive and should reflect a central character's problem-solving approach, resourcefulness, positivity and rich ideals.
- During group discussion, contribute your efforts to get the common group consensus.
- Avoid screaming if the fish market is created rather have a calm approach, positive facial index, listen to instructions and to group members attentively to add the extra edge in your performance.
SSB Interview Stage-2
To score high in SSB Interview Stage-2 for Psychology tests, the crux is:
- Psychology tests is of one's subconscious and unconscious state of mind so develop productive hobbies, interests and get exposure through extra-curricular activities.
- Acknowledge your fears/ failures and be determined and courageous in your routine life.
- Develop your writing speed to write your appropriate response within the given time frame.
- Develop a flair for your story drafting skills as per the prescribed format.
- Self-visualization and one's strength, area(s) of improvement as well as reasoning aptitude should be chartered upon.
- It is full proof, a scientific process so avoid giving fake, pre-conceived, unrealistic and borrowed ideas.
- The sense of integrity, responsibility and good social adjustment, quick decision- making and leadership skills must be reflected through one's responses.
To score high in SSB Interview Stage-2 for GTO, the crux is:
- Social adjustment is the most essential trait to be assessed in parameters of selection.
- Orient your skills towards the group's goal rather than making it an individual's showcase.
- Take initiatives and always give ideas sharply.
- Avoid getting into a complex thought process.
- Courage makes one stand at the front and it is the most sought out trait seen in SSB interview.
- Resourcefulness with calculative risk analysis reflects one's decision making.
- Co-operation should be a pioneer trait in every obstacle and one should know how to operate at the group level.
- Listening to others attentively during group discussions gives you a wide range of logical answers and enough opportunities to come up with your creative solutions to them.
- Physical fitness and mental agility help in performing better during outdoor obstacles.
To score high in SSB Interview Stage-2 for Personal Interview, the crux is:
- Prepare your self-introduction well. Share your introduction happily and energetically to make a good tuning with the interviewer.
- Pay special attention to rapid-fire questions as they are asked to observe the candidate's cognitive skills, patience and confidence.
- General Awareness is a grey area and 95 per cent questions are raised from your PIQ so prepare it well.
- Current affairs of at least last 6 months, defence awareness, national and international thorny issues are to be updated.
- Proper eye-contact, confident sitting posture, positive facial index and effective communication skills add gravity to your candidature.
- If and when required, admit your mistakes gracefully which are trainable in nature such as poor communication skills and lack of general knowledge.
- Avoid revealing certain least desirable traits directly which are not as per defence suitability such as slackness in team performance, social adjustment and a low sense of responsibility.
- Be alert and respond passionately to all the questions of the interviewer with joviality rather than being bothered about the result.
Read : Tips to fill PIQ Form
Must-to-do & Follow-up SSB INTERVIEW Tips:
- Carry your simplicity, honesty and confidence at the SSB centre
- Never fake or try to manipulate interviewer
- Stick to truth and portray your true self
- Showcase your activeness and attentiveness to an extent
- Do not try to overpower the fellow candidates and excel with your stance at SSB
- Do not rush to mess up the task
Get ready for SSB 2020 with these higher and faster tips! Master stroke for SSB Interview 2020 listed above will give your dream much clearer and bolder strategy for SSB.
ALL THE BEST SSB 2020 ASPIRANTS!