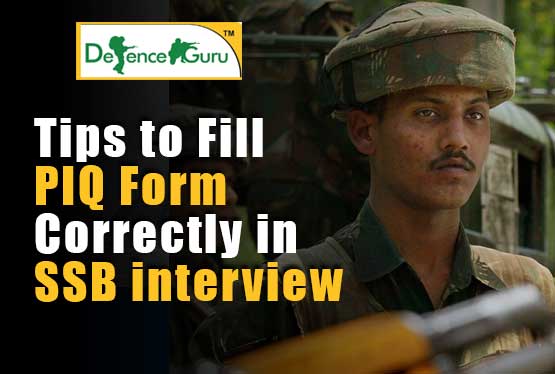 GOLDEN TIPS TO FILL PIQ FORM CORRECTLY
An essential part of SSB interview is the PIQ form. Although it often goes neglected by Defence aspirants but in truth PIQ holds a lot of importance. Today's article is dedicated to the know- how to fill PIQ and some worthy tips to fill it correctly.
PIQ is elaborated vas Personal Information Questionnaire. It is a form with various columns relating to personal, professional, academic, and extracurricular details of the candidate. The form is to be filled on the very first day of SSB interview. PIQ is significant not only because it gives an insight into the candidate's life background but also forms the basis for SSB personal interview. The Interview Officer refers to the candidate's PIQ before commencing with the question- answer.
Hence it's of utmost importance to write correct details in this form and here is a list of suggestion for the same:
Be honest, do not write any false details because the Interview Officer is an expert and will know in a minute if you have lied.
Take your time to fill in your details in order to write correctly but do not give in any wrong details.
Write about achievements in a chronological order to depict a planned state of mind.
Avoid cutting and overwriting as it shows an unclear thought process and careless attitude.
Hobbies and interest column must be filled with diligence as it showcases one's dynamic side of personality, his active involvement in life as well as nature.
PIQ is a gateway to know if a candidate is socially active through the medium of his hobbies, interests, responsibilities and extracurricular activities. You could write sports when it comes to interests as it totally aligns with military lifestyle. In responsibilities you can mention how you manage your work with other duties.
Never forget to furnish your answer with example and proof. For instance in co- curricular activities you can mention an event or an award/ certificate of participation.
Also keep in mind to write productive hobbies, something which is fruitful and high- yielding.
Be precise while writing your answers. There is no need to unnecessarily elaborate and explain. Keep the answer to the point.
Talking about impression, be neat and clean in filling PIQ form. A tidy outlook is the best way to cast a good impression on the judging Officers.
Above all, practice PIQ form filling at home. Take help from any SSB expert you know or just refer to good online guidelines but do prepare your answers beforehand. It will make your task easier on the actual day of PIQ form filling and will also prepare you how to answer smartly.
Well that was a quick and crisp overview of how to fill PIQ form. You must download a sample and start practicing your answers soon. All the best.
Read More
Download PIQ Form
How To Tackle Extra Curricular Activities Column Of PIQ in SSB