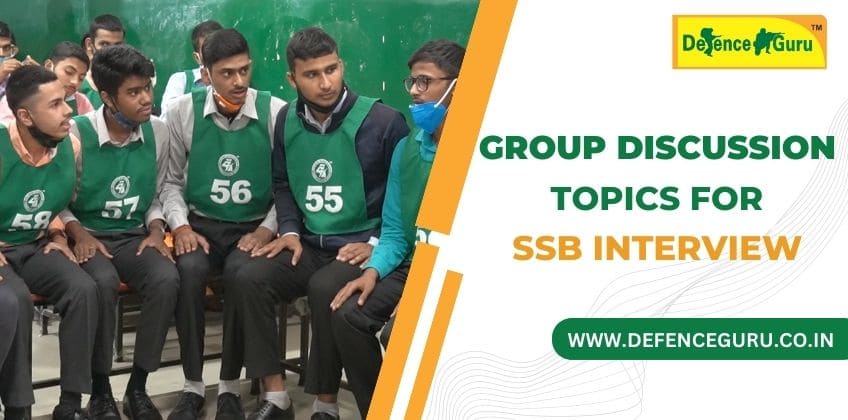 Latest Group Discussion Topics for SSB Interview
Group Discussion is conducted as part of indoor GTO tasks in five days SSB Process. Group Discussion is conducted on the first day of the GTO and during the Group Discussion, groups are formed and candidates are asked to sit in a semi-circle manner. Two topics are given one by one for discussion. Candidates have to first select group discussion topics and then discuss them. Normally, topics on social issues, national issues, international issues, and international relations are given.
Here, we are providing you with a list of all the latest group discussion topics for the SSB Interviews-
Latest Group Discussions for SSB Interview

Serial No.

Group Discussion Topics

1.

Russia-Ukraine Conflict- Who is Right?

2.

Root Cause of Corruption- Bureaucracy, Poverty, or People

3.

Should Women be allowed in Combat Roles?

4.

Which type of Energy is more suitable for India- Nuclear Power, Solar Power, or Wind Power?

5.

How can we stop nuclear proliferation?

6.

Regionalism- Good or Bad?

7.

How can we stop global warming?

8.

Right to privacy- a new need of the 21st century

9.

Role of Media in development of the our country

10.

Gaming Industry- Opportunity or Threat?

11.

Is India a soft power or hard power?

12.

Who is our true friend- Russia, the USA, or Israel?

13.

Fundamental Problem with our education system

14.

Covid 19 Pandemic- Opportunity in Catastrophe

15.

Naxalism- Major Security threat in India

16.

How can we preserve our rich historical heritage?

17.

Should India have a presidential form of government or a parliamentary form of government?

18.

Economic Growth vs Economic Development

19.

Why is women's participation low in employment?

20.

Root Cause of Political Corruption in India

21.

Biggest Challenge before India- Terrorism, Unemployment, or Poverty

22.

Role of India in the present world

23.

Technology has made our life easy or complex

24.

AI (Artificial Intelligence)- Opportunity or Threat

25.

Should OTT (Over the Top) Platforms be regulated?

26.

AFSPA- Should It be removed or not?

27.

Insurgency in North-East India- Due to Ethnic Issues or Development Problems?

28.

How should India deal with Pakistan- Diplomacy or War?

29.

Should India take back PoK (Pakistan-Occupied Kashmir)?

30.

Should UAVs (Unmanned Aerial Vehicles) replace Pilots?
Tips for Group Discussion in SSB Interview
Choose only that Topic that you know very well.
Try to initiate the Topic by giving a proper introduction.
If you do not know the topic, do not speak first. Wait for others to speak and understand the topic and then speak.
Do not try to correct someone or use improper words.
Present facts and figures to prove your point.
Do not address other candidates by name; address them by their chest number.
Never raise your voice to prove your point. Prove your point through facts.
Always give a chance to others to speak, and do not try to dominate the discussion.
While discussing the topic, try to arrive at a conclusion. But do not come to the conclusion without discussing it properly.
Read More:
Situation Reaction Test (SRT) For Women - SSB Interview
5 PPDT Pictures with Sample Stories for SSB Interview
How to Handle the Fish Market-Like Situation during PPDT Discussion