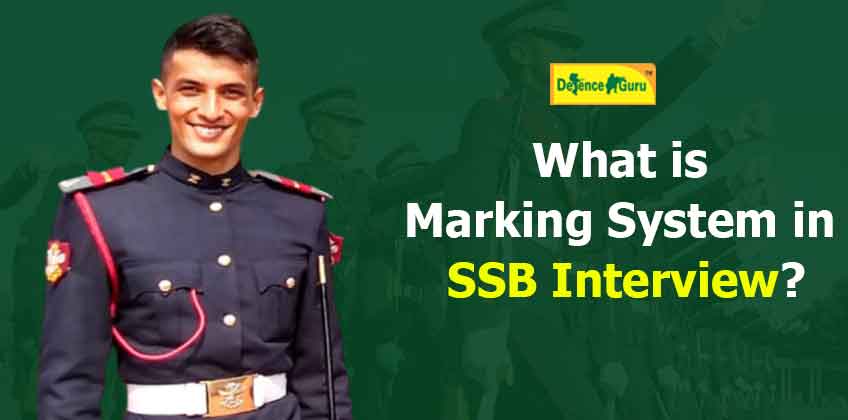 What is Marking System in SSB Interview?
Defence aspirants must take an intelligence-cum-personality test administered by the Services Selection Board (SSB) after clearing examinations such as the NDA, CDS, and AFCAT. The 5-day SSB Interview includes multiple assessment stages. The Service Selection Board (SSB) administers a comprehensive personality assessment of candidates interested in joining the Indian Armed Forces. It is not an examination in which you must pass; rather, it is a way of measuring your psychological traits, which encompasses everything. As a result, it is critical to concentrate on the SSB marking scheme in order to gain a better grasp of the various factors related to it. Continue reading to learn more about the SSB Interview marking scheme and how to plan your strategy for acing it with flying colors.
SSB Marking System out of 900 Marks
When it comes to the SSB marking system, there are three evaluators, each of whom will be given 300 marks for their assessment, namely the Psychologist, GTO, and President Interview.

Each assessor must give you a minimum of 90 marks. SSB has a total score of 900, which is separated into four parts: Psychology, GTO, Interview, and Conference round.

Therefore, for each phase of the test, 900/4 = 225 marks are allotted. To earn a "Yes" from either of the evaluators, you must get a minimum of 90 marks out of 225 marks, and getting less than 90 marks indicates "No."
Screening, Psychological Tests, GTO Tasks, and a Personal Interview are all part of the first four days' procedure. As a result, you'll need a minimum score of 90*3= 270 marks to pass. Let's look at an example to help you understand the concept of marking in an SSB interview. Assume there are two applicants, A and B.
Candidate "A" receives a score of 80 marks in the interview, 70 in the GTO, and 75 in psychology. The total mark is 225.

Another contender, "B," receives a total of 250 marks out of the required 270 marks. Now it's time to talk about the significance of the conference round.

If your total marks exceed 240, the conference will consider whether or not you should be recommended.
Detailed Procedure of Marking Scheme during SSB Interview
As previously stated, if your marks exceed 240, the conference will decide whether or not you will be recommended. As a result, we can conclude that candidate "A" mentioned earlier has no possibility of being recommended. The SSB Board has backup marks of 225, and during the conference round, they will begin interrogating the points on which they believe you are weak. If they find you fit, they will offer you enough marks to bring your total to 360 marks or higher than the previous 240. As a result, you will receive a minimum passing grade of 360 (90*4). Finally, you are recommended.
Some Key Points about SSB Marking Scheme
If an assessor is unsure about a candidate's assessment during the psychology test, he can consult another assessor. Because he needs to assess a candidate's officer-like qualities "OLQs" while he performs, the GTO or the IO does not have the option of getting a second opinion.

If two assessors recommend one and they are on the fence about the third or getting it, a review is conducted during the conference. However, if a Psychologist does not find one suitable, he or she is not advised at all.

On the day of the conference, all of these aspects of your personality are put together and reviewed to see if you are FIT to serve in the armed forces. You may be a good performer overall, but each component doesn't seem to fit together flawlessly. Our personality features differ as well, and the reason for this is related to our overall performance.

To double-check the personality of a candidate, a variety of tests are administered. In SSB tests, you'll be judged on your self-presentation, communication skills, leadership abilities, body language, dress, and the level of coordination between what you say and what you compose. As a result, the greatest strategy to improve your grades is to train your thinking.

The entire SSB Interview selection procedure is based on strategic methodologies that attempt to assess an individual based on the requirements of the Indian Armed Forces. As a consequence, potential candidates should prepare for each aspect of the SSB Interview and put in a lot of practice for exceptional results.
Read More About:
SSB Interview Questions with Answers 2022