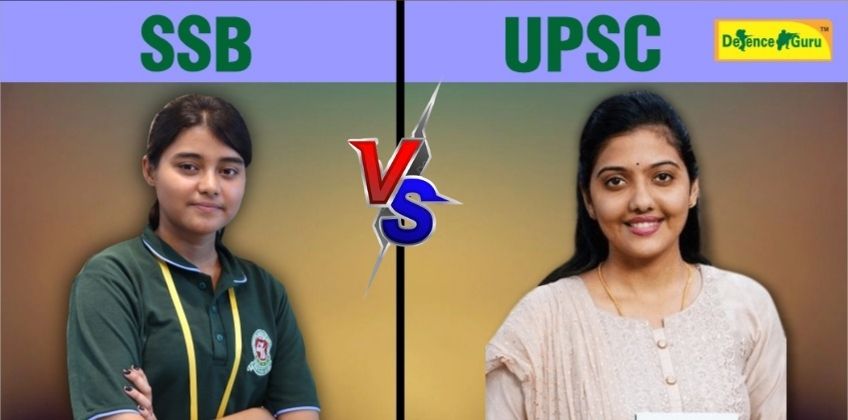 Joining the Civil Service and Indian Armed Forces is perhaps the dream of every second Indian. These two are the most prestigious career opportunities in India. Both are known for their toughness and high competitiveness. Despite India becoming a land of opportunities, the craze for these two career options never diminishes. But, there are only a lucky few who actually clear and join these two career options. Though these two career options are poles apart, these two have some striking similarities as well. Both career options are the best platform to serve our nation and offer social prestige and a sense of satisfaction that is hardly available in other fields. Both career options are difficult to join as their selection processes are the toughest in India. In this article, we are going to compare Interviews that are conducted after the written exams in both career options. We will also analyze which selection process is tougher in this article.
Comparison between SSB Interview and UPSC Interview

Parameter

UPSC Interview

SSB Interview

Duration

UPSC Interview usually lasts for 30-60 minutes.

SSB Interview is a 5-day selection process where you undergo several tests and a personal interview.

Complexity

UPSC is not a complex interview because it includes personal interviews only.

When it comes to complexity, SSB Interview is perhaps the most complex selection process. Because It involves not just personal interviews but also various physical and psychological tests.

Selection Ratio

The selection ratio in UPSC Interviews is usually around 19%.

Plus, In UPSC Interviews, Candidates are not rejected even if the candidate is not suitable.

The selection ratio in SSB Interviews is around 3-4% only. Usually in a batch of 100, only 3-4 candidates are finally recommended.

Plus, candidates are rejected in SSB Interviews if they are found unsuitable even if vacancies remain vacant.

Leadership Skills

Leadership Skills are tested in UPSC Interviews. But, Leadership Skills are not tested on the ground.

In SSB Interviews, Leadership Skills are tested on the ground through GTO tasks. In addition, coordination among candidates is also tested.

Panel

The UPSC Interview usually includes retired IAS or Government Officers.

In SSB Interview, the Panel of Selection comprises a Psychologist, a GTO Officer, an Interviewing Officer, and Board President. Candidate's selection is decided on their combined opinion.

Physical Fitness

Usually, Physical Fitness is not given much importance in UPSC Interviews.

Physical Fitness is one of the most important qualities that a candidate must have for an SSB Interview. SSB Interview includes some outdoor tasks which can not be performed without good physical fitness.
From the above comparison, one can easily understand that SSB Interview, indeed, is one of the toughest selection processes, and no doubt the SSB Interview is tougher than UPSC Interview. The multidimensional nature is the main reason behind the toughness of the SSB Interview. Unlike the UPSC Interview which mainly evaluates candidates' knowledge and intelligence, SSB Interview evaluates knowledge, intelligence, leadership skills, coordination, decision-making, and a lot more things which are known as OLQs (Officer Like Qualities). But, Passing SSB Interview is not the only criterion of success. There are so many people like Rahul Dravid, Amitabh Bachchan, and APJ Abdul Kalam who did very well in their life despite failing SSB Interviews.
Read More:
SRT Questions for upcoming CDS-1 2023 SSB Interview
Current Defence News for SSB Interview Preparation