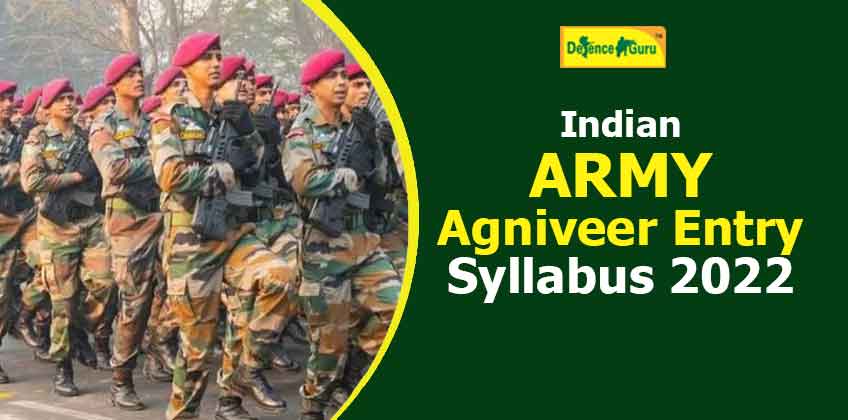 Army Agniveer Syllabus 2022
The Indian Army has published the official notification for the Agniveer recruitment exam 2022 under the newly launched Agnipath scheme. Interested candidates who wish to join the Indian Army through this scheme can apply online from July 2022 onwards. To get recruited in the Indian Army for different trades, candidates need to pass the Common Entrance Examination (CEE) after qualifying the physical test. To help candidates get an overview of the Army Agniveer Syllabus 2022, we are providing topic-wise detailed syllabus for all posts covered under the Agniveer recruitment 2022.
Army Agniveer Posts under the Agnipath Scheme 2022
There are various posts of Army Agniveer under the Agnipath scheme 2022. Candidates can choose any posts as per their eligibility requirements and educational qualification. There is a slight difference in syllabus for different posts accordingly. A written test through Common Entrance Examination (CEE) will be conducted for medically fit candidates at the nominated venue. Date and time of the written test will be intimated at the rally site and through admit cards will be issued at rally site itself for the fit candidates. Following are the key posts of Agniveer under the Agnipath scheme.
AGNIVEER GENERAL DUTY

AGNIVEER TECHNICAL

AGNIVEER TECHNICAL (AVIATION/AMMUNITION EXAMINER)

AGNIVEER CLERK/ STORE KEEPER TECHNICAL

AGNIVEER TRADESMAN 10TH PASS

AGNIVEER TRADESMAN 8TH PASS
Army Agniveer General Duty & Tradesman (10th & 8th) Syllabus 2022
Subjects

Questions

Marks

General Duty

General Knowledge

15

30

General Science

15

30

Mathematics

15

30

Logical Reasoning

05

10

Tradesman 10th Passed

General Knowledge

15

30

Logical Reasoning

05

10

General Science

15

30

Mathematics

15

30

Tradesman 8th Passed

General Knowledge

15

30

Logical Reasoning

05

10

General Science

15

30

Mathematics

15

30
Army Agniveer Technical Syllabus 2022
| | | |
| --- | --- | --- |
| Subjects | Questions | Marks |
| General Knowledge & Reasoning | 10 | 40 |
| Mathematics | 15 | 60 |
| Physics | 15 | 60 |
| Chemistry | 10 | 40 |
Army Agniveer Clerk/Store Keeper Technical Syllabus 2022
Subjects

Questions

Marks

Part-I

General Knowledge

05

20

General Science

05

20

Mathematics

10

40

Computer Science

05

20

Part-II

General English

25

100

Total

50

200
General Knowledge
History

Culture

Geography

Who's who

Abbreviations

Sports

Awards and Prizes

Terminology

Indian Armed Forces

Continents and Subcontinents

Inventions and Discoveries

The Constitution of India

International Organizations

Books and Authors

Knowledge of Important events

Current important world events

Prominent personalities
General Science
Fundamentals and day to day activities

Difference between the living and non- living

Basis of life - cells, protoplasms and tissues

Growth and reproduction in plants and animals

Elementary knowledge of the human body

Human body and its important organs

Common epidemics, their causes and prevention
Mathematics
Computation of Whole Number

Decimal and Fractions

Relationship between numbers

HCF, LCM, Decimal fraction

Percentages

Ratio and Proportion

Square roots

Averages,

Interest (Simple and Compound)

Profit and Loss

Discount

Partnership Business

Time and distance

Time and work

Basic algebraic problems

Familiarity with elementary geometric figures and facts

Triangle, Quadrilaterals, Regular Polygons, Circle

Trigonometry, trigonometric ratios

Complementary angles

Height and distances
Computer Science
Computer System

Concept of Memory

Input / Output Devices

Basic concept of an Operating System and its functions

Introduction to Windows

MS Word, MS Power Point, MS Excel
General English
Comprehension.

Article

Noun and Pronoun

Adjective

Preposition

Conjunction and models

Verbs

Present/past forms

Simple/continuous form

Prefect forms

Future time reference

Sentence Structure

Affirmative/interrogative sentences

Use of Phrases

Direct and Indirect speech

Active and Passive Voice

Idioms and Phrases

Synonyms and antonyms

One word substitution
Physics
Physical Properties and States of Matter

Mass, Weight, Volume, Density and Specific Gravity

Principle of Archimedes, Pressure Barometer

Motion of objects, Velocity and Acceleration

Newton's Laws of Motion

Force and Momentum

Parallelogram of Forces

Stability and Equilibrium of bodies

Gravitation, elementary ideas of work

Power and Energy, Heat and its Effects

Sound waves and their properties

Reflection and refraction. Spherical mirrors and lenses

Type and properties of magnet

Static and Current Electricity

Conductors and Non-conductors

Ohm's Law, Simple Electrical Circuits, Heating
Chemistry
Physical and Chemical changes

Elements, Mixtures and Compounds

Symbols, Formulae and simple Chemical Equations

Law of Chemical Combination

Properties of Air and Water

Preparation and Properties of Hydrogen

Oxygen, Nitrogen and Carbon Dioxide

Oxidation and Reduction

Acids, bases and salts

Carbon and its forms

Natural and Artificial Fertilizers

Elementary ideas about the Structure of Atom

Atomic, Equivalent and Molecular Weights, Valency
Additional Note: As per the official notification released by the Indian Army under the Agnipath Scheme, candidates possessing NCC "C" Certificate are exempted from the CEE.
Read More About