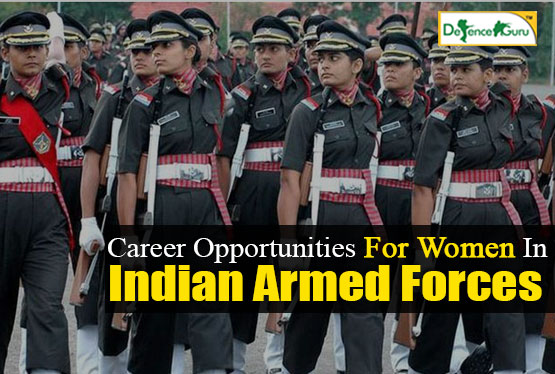 CAREER OPPORTINITIES FOR LADIES IN INDIAN ARMED FORCES
Food for thought- 'what do you want to do on joining Indian Armed Forces?' This question is often reiterated in SSB interview for girl applicants.
Keeping aside the interview Officer, it's high time the million long crowd of India gets aware of career opportunities available for girls in Indian Armed Forces.
After fairly enough research we are here to compile all the wonderful options open for our girls in the backdrop of Indian Defence. The aim is to enlighten the girls all over India about the opportunities available for them+ boost up the information of those girls who are already applying for Defence or appearing in SSB interview. So carefully scan the following:
Indian Armed Forces is divided into 3 basic fields, that is, Indian Navy, Indian Air Force, and Indian Army.
INDIAN ARMY
Commencing with Indian Army, this is the widest branch of Indian Armed Forces and is reputed as the best Army. Women can be also bear the tag of Indian Army by working as Officer Cadre through the following procedure:
Short Service Commission for Women (SSCW) – Non Technical: All the graduates falling in the range of 19- 25 years can take the UPSC exam conducted twice a year to apply for Indian Army. Total 12 female candidates are selected through this mode for Indian Army.
SSCW (NCC): NCC is a quite common pathway to Indian Army. From schooldays itself many girls opt for this sport. To join as an NCC member you must have completed 2 years of NCC in senior division with a B grade in C certificate exam. The age limit remains 19- 25 and nearly 8 candidates get selected via this process. The vacancies are released twice a year and no written exam is needed.
SSCW Judge Advocate General (JAG): Law in itself is a demanding profession. A mass crowd opts for this profession and one of the opportunities for law graduates is to serve in Indian Army as Judge Advocate General. The girls must have completed LLB with a minimum degree of 55% marks. They should also be registered with Bar Council of India. The age limit lies between 21 to 27 years and every year 8 female candidates are recruited for this position.
SSCW – Technical Entry Scheme: Welcome all female engineers! This board is especially for technical experts. With a graduate degree in any field of Engineering and falling within the age group of 20- 27 are eligible to be hired under AG branch/ Directorate General branch. Each year 40 women Engineers are selected for these posts.
Military Nursing Service (MNS): Joining medical and Army is another amazing employment combination for women. This field is only and especially for women who work as military nurses. Each year the entrance exam is conducted comprising of written test+ interview+ medical examination. Age limit is of 21- 35 years and position for Short Service Commission as well as Permanent Commission is open here. The academic requirement is that of 10+2 level education with Physics, Chemistry and Biology as mandatory subjects.
INDIAN NAVY
Sailing on a ship, donning the sparkling white uniform and enjoying the feel of water beneath and sky above! If that is not beauty then what else is? A splendid opportunity for our splendid women, Indian Navy is certainly a prestigious and lavish career choice. Women in India too have rights to be a part of this field and here are the various sources to do so:
Air Traffic Controller (ATC): ATC is quite an eminent position under Indian Navy. All the female aspirants who fall under the age group of 19 ½ to 25 can serve as an ATC. They must have a good academic credential with graduation or post graduation in Science stream, that is, Physics, Mathematics or Electronics.
Observer: female candidates who are willing to serve as observer in Indian Navy must have completed graduation in any discipline with 55% marks in Maths and Physics at 10+2 level. The age limit ranges from 19 to 23 years.
Law: Similar to Indian Army, Indian Navy also has its own judicial department which recruits efficient law graduates. Certainly an LLB degree is mandatory with an aggregate of 55% marks. Herein the age group is between 22 to 27 years.
Logistics: Engineer huh? Why don't you take your well earned degree to another level? Females can now link their Engineering degree with Indian Navy by being employed as Logisticians. They must possess an engineering graduate degree (B.Tech / B.E) in Architecture, Computer Engineering, IT, Civil, Electrical, Marine and Mechanical OR a PG diploma in material and management. The age limit is 19 ½ to 25 years.
Education: Education is that one aspect which continues lifetime. Women applicants of Indian Navy can very well work under the education sector. Falling under the age group of 21 to 25 years the candidates should have finished B.Tech / B.E in Computer Science, Electrical, IT, Electronics, Mechanical or M.Sc in Math, Physics, computer applications and others with minimum 50% marks.
Naval Architecture: This is an interesting wing of Indian Navy wherein your engineering degree makes you create architectural designs and is certainly an artistic job. Female candidates who have completed Engineering and have cleared their B.Tech / B.E. in Naval Architecture, Mechanical, Civil, Aeronautical, Metallurgical, or Aerospace Engineering with minimum 60% aggregate marks are eligible for this position. Herein the selection process is through SSC/ University Entry Scheme in Indian Navy. The age group is from 21 to 25 years.
INDIAN AIR FORCE
This particular wing of Indian Armed Force does not only hold high honor but is also filled with thrill, adventure, hard work and a world of experience. Its doors are open for females for all positions: Flying Branch, technical branch and ground duty branch. Here are the details of the same:
Flying Branch: This field renders 3 kinds of employment under the category of fighters, transports and helicopters. The selection is done through AFCAT exam which includes written test+ interview+ medical examination. Female candidates with a graduation degree and aggregate of 60% marks along with Maths and Physics as compulsory subjects at 10+2 level can apply here. Or else a B.E/B.tech holder with 60% marks can also apply.
Technical Branch: As implied by the name this area requires female candidates with technical knowledge. Herein 2 kinds of positions are available:
Mechanical- An aeronautical engineer with specialization in mechanics can apply for this position.
Female graduates with a B.tech degree and a minimum of 60% marks in the same are eligible. They must have cleared 8 out of 18 subjects in their Engineering course. Check AFCAT requirement to know the subject details.
Add to that, Mechanical Aeronautical Engineers who have cleared Section A and B exam of Associate membership of Institution of engineers or Aeronautical society of India in regular courses can also apply.
Electronics- Wires, appliances and tools, if you have an interest in such elements then this job is totally for you. Here too the same eligibility criterion as that of Mechanical branch follows.
Ground Duty: Last but not the least, ground duty offers good working space for females. There are five wings under this branch:
Administration- To be recruited here female candidates must have bachelor's degree with 60% marks or Diploma with 60% marks. Those who fulfill this criterion have to pass the AFCAT exam.
Accounts wing- Females good with numbers and calculation must try this field. A bachelor's degree with 60% marks or a degree / Diploma in commerce (M Com / CA / ICWA) with aggregate 50% minimum marks.
Logistics wing- Here female Officers will have to look after the logistical and infrastructural facilities of I.A.F. Again, a bachelor's degree with 60% marks or a diploma with 60% marks is required. Candidates will have to appear for the AFCAT exam.
Education branch: Through AFCAT females can apply for educational sector. They must hold a graduate or post graduate degree in any field with an average of 50% marks in aggregate.
Meteorological branch: This branch recruits female candidates through short listing and SSB session. No written exam is required for this position. The age limit is from 25 to 27 years.
Well ladies that's a long and a highly beneficial list of opportunities for you in Indian Armed Forces, don't you agree?
This is the fast paced era is of 21st century and women are marking their impression in every field, be it law, science, athletics or any other. If equality is on rise then why should Indian Defence lag behind? This field too has open up many academic and employment positions recently and the above points are a proof of the same. So grab the best of them now.