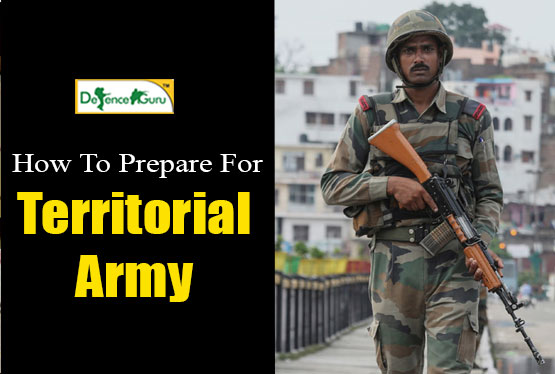 TIPS TO TRIUMPH THE TERRITORIAL ARMY ENTRANCE
Be it an employee of corporate, government, teaching, medical or any other field of work the door to Indian Army is open for all!
Surprised? Well Territorial Army has turned the dream of many Indians real by providing them a stage to serve for their nation despite belonging to different professions. Yes, Indian Territorial Army is not regular Army rather it imparts employment to civilian volunteers on temporary/ permanent basis so as to make them capable to hold arms whenever the nation needs them.
Not only it provides you a tag of Indian Armed Forces but also repute, good pay and an enriching experience. As any other area entrance into Territorial Army follows a certain procedure:
Written exam
PIB interview
SSB
Here is a detailed compilation of tips that will make you easily crack all of the above steps:
WRITTEN EXAM
Know the syllabus and the pattern. Complete preparation without complete information results in nothing beneficial. Hence check the details first.
The written exam consists of 2 parts:
Paper 1- Reasoning & Mathematics with 100 questions and 100 marks in total.
Paper 2- G.K & English with 100 questions and 100 marks in total.
There is provision of negative marks as well. Half marks are deducted for 1 wrong answer.
The time allotted is 2 hours for each paper.
To perform well in the written part, start beforehand preparation. You might be busy in a different profession and also the syllabus of TA is not easy enough to be completed overnight so devote few hours daily from your busy routine for few months.
Do not leave any subject untouched. The game rule is to pass in each section of each paper separately. 50 marks are the sum total in each part so mark your goal accordingly and win all of them.
Draft your time table. Analyze your interest, knowledge and capabilities. Give more time to the most difficult subject while paying attention to others as well though in less amount.
Be regular in studies. Do not be inconsistent.
Take care of time limit. 2 hours and 100 questions from two different topics, so time management undoubtedly becomes a pre requisite.
Coming on to the subjects individually:
Reasoning is quite general in nature. Get a good grasp over it through daily practice. Observe the tricks, get clarity of methods to solve and increase your observation level.
Mathematics indeed requires time and focus. Start from the basics, resolve each and every doubt so as to proceed with clear mind. Get known of some short tricks; write essential formulas separately and indulge more in mental calculation. Remember practice and tonnes of practice is the ultimate gateway to prepare well for this subject.
English, a section of Part 2 can proof scoring for many candidates. Right from verbal to written each aspect is tested. Get into habit of reading books, magazines, newspaper etc. Try to communicate more and more in English. There will be a subjective portion as well comprising of an essay. But mere 300 words in English does not mean a good essay, you need to provide relevant content. Start with introduction then delve into the details of the topic and finally the conclusion.
Lastly, General Knowledge, herein questions come from diverse fields such as history, science, geography and of course current affairs. Simply polish up your syllabus of social studies from school and be updated with current global activities. Do read or watch news daily especially from Indian Defence point of view.
Apart from subject wise preparation, take mock tests and practice previous year question papers. They are a tremendous source of thorough studies.
Add to the entire above points, raise your knowledge slowly and steadily because there is nothing like increased knowledge.
PIB
Personal Interview Board conducts a short face to face interview session with the candidates. It lasts upto 5- 10 minutes. Since the applicants are from different age group, place and occupation the nature of interview questions are kept quite general, that is, related to your family, work and aim.
The tip is to be calm, honest and confident.
SSB
The SSB round is held on similar patterns as that of other competitions, scheduled for 5 days with psychological, written, verbal, group, and physical tasks included in it.
It might seem little tasking but once you approach with optimism things will eventually turn easy.
With that you are now in position to commence with a good, strategic preparation for entering Territorial Army. Give your best and you will pass with flying colours.