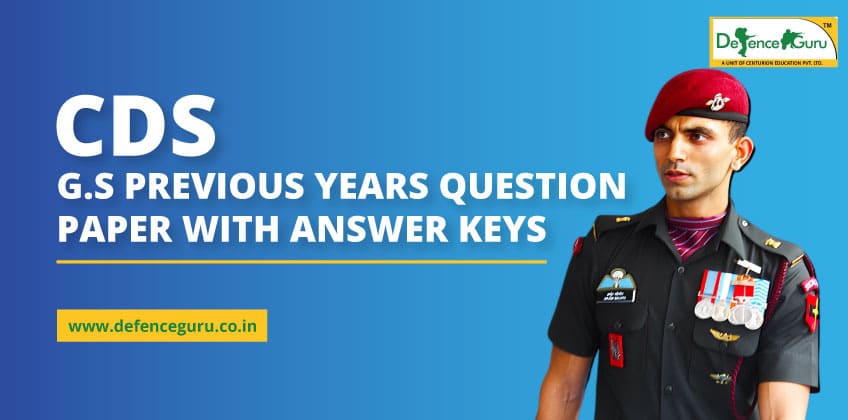 CDS General Studies Previous Years Question Paper with Answer Keys
Previous Year Question Papers are an important part of the CDS Exam preparation. Without Previous Year Papers, Preparation for CDS can not be perfect, especially in General Studies papers. To help Candidates in CDS Exam preparation, we are providing CDS General Studies Previous Year Question Paper including its answer keys. Candidates can evaluate their performance through previous year's papers.
CDS or combined defence service exam is conducted by UPSC (union public service commission). This exam is conducted twice a year and all the graduate students (both passed and appearing) can apply for this exam. This exam is conducted to select candidates for academies of the armed forces such as OTA (Officers Training Academy) in Chennai, IMA (Indian military academy) in Dehradun, AFA (Air Force Academy) in Hyderabad, and INA (Indian Naval Academy) in Enzhimala.
This exam is conducted in three stages. The first stage is a written exam in which papers on mathematics, English, and general Studies are conducted. The second stage is SSB Interview which is a five days process. Then, in the third stage, medical tests are conducted. Candidates are sent for training after qualifying in these three stages.
How to prepare General Studies for Combined Defence Services Exam?
Understand the Syllabus: First, you need to understand the syllabus of the General Studies section. The syllabus covers a wide range of topics such as Indian Polity, History, Economy, Geography, Science, Technology, and Current Affairs.
Get the Right Study Material: You should get the right study material to prepare for the General Studies section. You can refer to NCERT books, standard reference books, and current affairs magazines to cover the topics.
Create a Study Plan: Create a study plan that covers all the topics mentioned in the syllabus. Make sure to allocate enough time for each topic.
Stay Updated with Current Affairs: Keep yourself updated with the latest current affairs. You can refer to newspapers, magazines, and online portals for the latest news.
Take Mock Tests: Take mock tests to evaluate your preparation level. It helps you identify your weak areas and work on them.
Revision: Revision is an important part of preparation. Make sure to revise all the topics regularly.
Practice Previous Year Papers: Practicing previous year papers is a good way to prepare for the CDS Exam. It helps you understand the pattern of the exam and the type of questions that are asked.
Importance of Previous Year Question Papers in the CDS Exam
CDS Exam is among the most competitive exams in India. Every year thousands of candidates apply for these exams but only a few hundred are selected. The biggest reason behind this is candidates, do not understand the nature of CDS. CDS is conducted by UPSC and it has a set pattern of questions. To understand this pattern of questions, candidates have to through the previous year's question paper. Previous Year Questions Papers are particularly important in General Studies because understanding the nature of questions and the weightage of different subjects is essential in this paper.
Read More:
CDS English Previous Years Question with Answer Keys
NDA GAT Previous Years Question with Answer Keys
NDA Maths Previous Years Question Paper with Answer Keys
Download CDS General Studies Previous Years Question Paper with Answer Keys