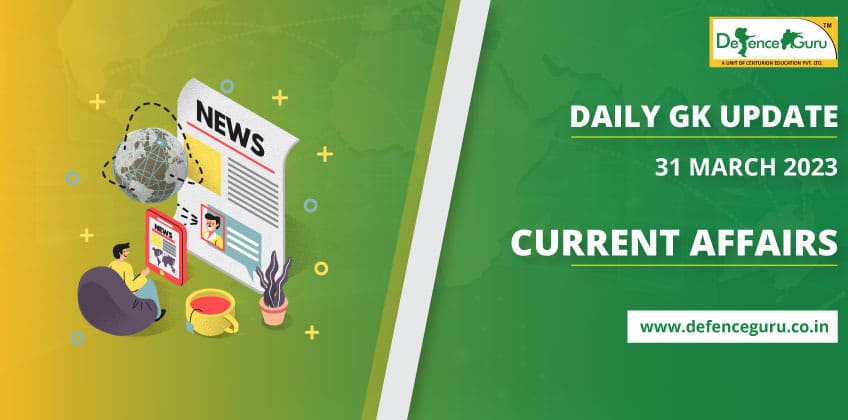 Daily GK Update - 31st March 2023 Current Affairs
Defence Guru is a dedicated platform to provide DailyCurrent Affairs Updates to Defence Aspirants. Our Daily Current Affairs Update covers National Affairs, International Affairs, Economy, Sports, Awards and Honours, Books, Appointments, etc. You can follow us for regular current affairs updates. Current Affairs cover almost 15-20% of all defence exam syllabus. That's why It becomes very important for Defence Aspirants to cover Daily Current Affairs Updates. Our Current Affairs Update is accurate, reliable, and useful for every defence exams and other exams in India.
Current Affairs

National Affairs

Yangle Festival' is being celebrated in Assam.

The Yangle Festival is celebrated by the 'Tiwa Tribe'.
This Festival is celebrated on the occasion of Bountiful Harvest.

Defence Ministry has set an export target of 40,000 Crore Rupees by 2026.

According to Defence Minister Rajnath Singh, Defence exports nearing Rs 14,000 crore in the current Financial Year. Rs 40,000 crore target has to be achieved by 2026

Three Day Combined Commanders' Conference is taking place in Bhopal.

The main focus of this conference will be on theaterisation for the best use of military resources to fight future wars.

India has been ranked 144th in Arton Capital's Passport Index 2023.

UAE has been ranked first in Arton Capital's Passport Index 2023.

International Affairs

Sheikh Khaled, the son of the UAE's President has been appointed as the crown prince of Abu Dhabi.

Sheikh Khaled bin Mohamed bin Zayed Al Nahyan is the Crown Prince of Abu Dhabi. He is the eldest son of Sheikh Mohamed bin Zayed Al Nahyan, the president of UAE.

More than 1,000 Technology Leaders including Elon Musk have written to stop further development of Artificial Intelligence.

Technology Leaders have said that AI can not be understood or controlled if further development is allowed in AI.

WHO (World Health Organisation) has declared 'Azerbaijan' and 'Tajikistan' as Malaria Free.

So far, a total of 41 Countries have been declared Malaria Free by WHO.

Economy

The Government has launched a New Foreign Trade Policy.

New Foreign Trade Policy aims at an export target of $ 2 trillion worth of goods and services by 2030.

GST (Goods and Services Tax) collection went up to 18 Lakh Crore Rupees.

This is the record GST collection since the rolling out of GST.

Books and Authors

The book 'Phoolange' has been written by Loknath Chettri.

Phoolange is the Nepali language that has been translated by Loknath Chettri.
This book describes the history of the Gorkha Movement in India.

Awards and Honours

Mumbai has been declared 'World Tree City 2022'.

Mumbai is getting this award "Tree City' for the second time.
This Award is given by Arbor Day Foundation and United Nations Food and Agriculture Organization.

Chameli Devi Jain Award 2022 has been given to 'Journalist Dhanya Rajendran'.

Dhanya Rajendran has been awarded this award for 'outstanding woman media person.

Sports

India got second place in International Shooting Sport Federation (ISSF) Rifle and Pistol World Cup 2023.

'Sarabjot Singh' got Gold Medal in 10 Metre Air Pistol.
China got the top position in this world cup.
(ISSF) The rifle and Pistol World Cup 2023 was organized in Bhopal.

Shakib Al Hasan, Bangladeshi All Rounder has become the No. 1 T-20 Bowler.

He replaced Tim Southee to become the No. 1 T-20 Bowler.
Read More:
Daily GK Update - 30th March 2023 Current Affairs
Daily GK Update - 29th March 2023 Current Affairs