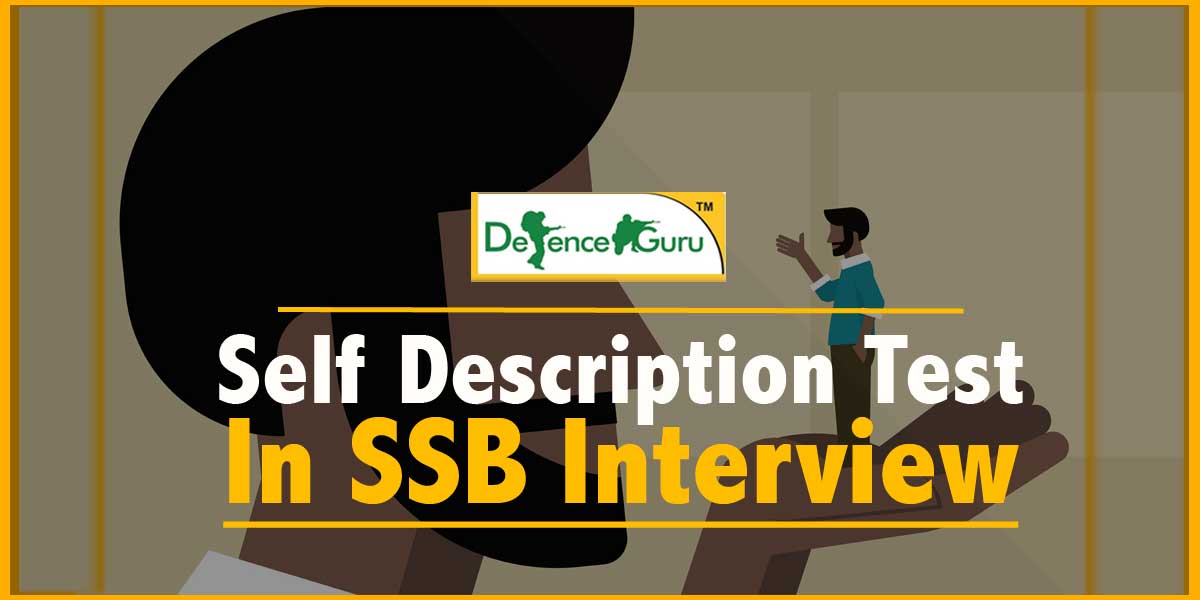 Self Description Test in SSB Interview
Self Description
Self-description test in SSB is one of the Psychology tests and it is used to test, how much you know about you and how people around you see you as a person. In other words, this is a test to bring your traits and qualities out from you and check what type of person you are.
In the psychology test of SSB you are required to write your self-description, which includes the opinions of parents, teachers, friends as well as your own.
SSB aspirants should go prepared with what to write in their self-description so that it can be written well and quickly in the test and questions can be answered well without trying to think too hard during the SSB. Self-description will be unique to every individual. However, a sample self-description of a candidate is given below to guide SSB aspirants on the subject.
Often in interview questions as given below get asked:
How would your best friend describe you?
How would your boss describe you?
How to write Ideal Self Description
A candidate can prepare it in advance as the questions are already known and for that you can refer to your parents, friends, etc and ask them what they feel about you.
Also ask them one or two bad points about you and make sure that you can justify it. Suppose your parents say that you are extravagant then you can justify it by saying that I always go for quality products that's why they think I am extravagant.
The best way to handle Self-Description test is to describe your character in less words but with various qualities. E.g: you want to say "I am a responsible boy. I am a funny loving and friendly person." Instead of it write "I am a responsible, loving and friendly person."
Also avoid writing the qualities that go against OLQ's they need. E.g: My teachers say that I lack in decision making. This will be against you.
Give one or two negative points about you in the first 3 paragraphs and make sure that you can counter it. In self opinion there is no need to tell about your negative points. IO will ask you separately that what do you think what are your weaknesses? If you don't know about your weaknesses then go for what your friends or teachers say about you.
It is certain possibility that whatever you write in your SD, the interviewing officer will ask questions regarding that. Suppose you have written that 'My parents see me as a helpful child as I help them in buying items from market'. Then be sure that you know the current item rates in the market.
Suppose in you have written that you want to improve your physical stamina then there will be a counter question. Okay, Ashish what you are doing to improve your physical stamina, what type of exercises you do to keep yourself fit.
Last but not the least write as many points you can write in less words, maintain speed and keep you handwriting neat and clean.
Generally there are 5 paragraphs which are asked to write:
Parents opinion
Friends/colleagues opinion
Teachers/Seniors opinion
Self opinion
Aim in life and Qualities you would like to improve.
Example for Self-Description
Parents opinion:
1.My parents think that I am good son who is very obedient. They see me as a bright child who will bring name and fame to the family. They see my enjoying with my siblings and appreciate my concern for them. They feel that I am very thoughtful towards family and help them in hours of need. My parents complain that I am extravagant but they know that I always go for quality products.
2. My parents know that I am honest, responsible and independent. They appreciate my concern for them and my younger brother's well- being. They appreciate my being confident and competent in academics as well as extra-curricular activities. They are confident that I will have a good future and bring a good name to the family. At times, they feel that I tend to be a little over- confident and advise me to stay grounded.
Friends opinion:
1.My friends think that I am a funny loving and straightforward person. They appreciate my helping nature in studies as well as personal problems. They feel happy around me. Some of my friends will say me as a brother. However some of them say that I am too talkative but they know that it's just because I like to have fun with and they also love it.
2. My friends know that I am lively, helpful and totally trustworthy. They consult me about their various problems. They like my company. They feel I can adapt to any situation. They like me for my commitment. They appreciate my being focused on my career. They advise me not to trust people too easily.
Teachers opinion:
1.My teachers will say that I am above average student with good communication skills. They express their happiness to shoulder me any responsibility and appreciate my participation in class and college works. They say that I am one of the best students of the class but I am naughty sometimes.
2. My teachers considered me disciplined, punctual and respectful. They found me bright, responsible and an all-rounder. They believed that I could carry out any responsibility given to me with full enthusiasm. As such, I was appointed the Head- girl/boy . They sometimes advised me to be less talkative. They feel that I will have a bright career.
Self opinion:
1.I think that I am a responsible and honest boy who wants to do thing successfully. I am punctual towards my work and do it before time. I believe that mutual cooperation is a way to success and like to help people whenever they seek my help. I am an average student and like to read books and play chess.
2. I am a responsible daughter, trustworthy friend and reliable worker. For me, my work is worship. I am helpful to my friends as well as colleagues. In difficult times, I prefer to stay calm and resolve the problems.
Aim in life and Qualities you would like to improve:
I would like to be an officer in Indian Army as my father was in army and he inspired me to select army as a career. I would like to improve my physical and mental abilities for which I do yoga and meditation. I am working hard to improve my general knowledge for which I regularly keep myself in touch with news.
I think I did not done justice to my academic potential in my school and college. I have resolved to rectify this aspect now. I need to improve my physical fitness as well as general awareness and have been working on the issues with reasonable success.
NOTE: It is just an example for Self-Description. Your opinion may differ with this, so kindly do not copy. Just have an idea and write your own Self-Description.