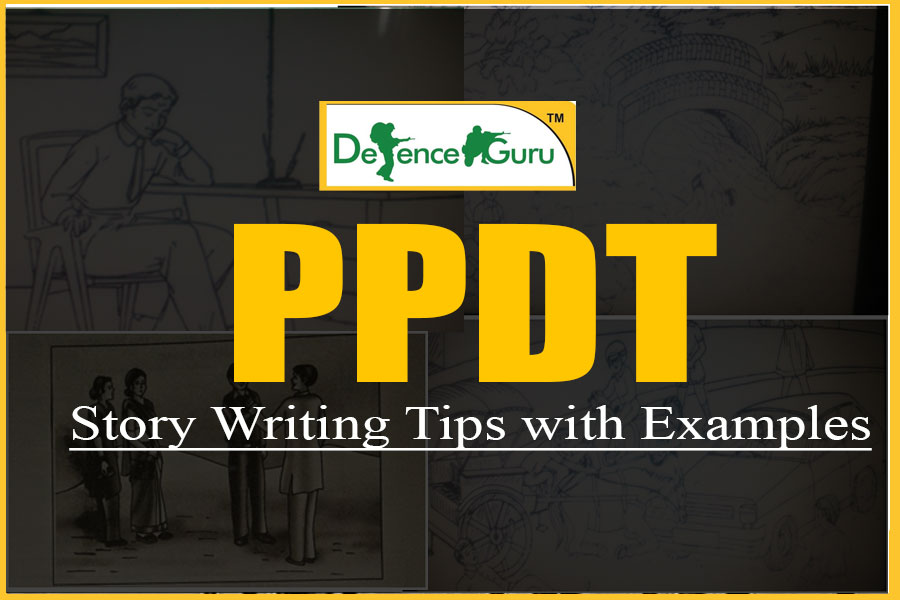 PPDT Story Writing Tips With Examples
Just as important SSB is for joining the Defence, PP&DT is important for going to Stage-2. Here defenceguru share some PPDT Story Writing Tips With Examples which you can use to write the best PP&DT story.
- When the picture is shown, note down in answer sheet the number of characters, their age and gender, their mood, what has happened, what is going on, future probable actions and the final result.
- Now, for the part of making a story, elaborate the observations to form a meaningful positive story in 200-250 words spanning over 2-3 paragraphs.
- The 1st paragraph describes What has happened, the 2nd paragraph describes What is going on and Probable Future Actions. In the final paragraph, write a positive outcome of your story and how the characters are benefitted from it.
- In PP&DT, either directly or indirectly, you are showing your OLQs. So, make the story authentic and not the one which you have keep in mind, while practising. Writing authentic stories make it meaningful. You can take inspiration from real life examples or even from your personal life. This way, you can make the story way more authentic.
- Just write the story based on the Picture shown. Note every detail of the picture. Do not make your own deductions in the picture, like creating another imaginary character or steering away from the situation.
- Do not over think while writing your story. It's pure waste of time and shows a lack of authenticity.
- Perceive the shown picture in just one sentence. This is most critical part and this is where your personality is displayed. For instance, in the following picture, my first perception is Gorkha Soldiers Resting after Training Exercise. But for some others, it may be, Soldiers martyred after a battle with enemies. So, it all depends on your thinking.
PPDT Narration Tips
- Speak Loudly, be clear what you are trying to say. When you speak loud it shows you are confident enough.
- While narrating the story, speak to the point because you might not get enough time to complete the whole story but you should make sure that you have narrated the gist of your story. Narration is the best way to show your confidence and competitiveness for 5 days ssb interview. Don't be lazy during narration and make sure you are making eye contact while speaking.
- Keep siting while speaking, do not move your hands frequently and make sure you do not fumble. There is no scope for an error while narrating so make sure you have prepared your story narration for PP&DT beforehand.
- During group discussion, keep sitting straight and do not move back and forth, avoid touching and pointing others. Do not shout unless it is really required. Do not look at the assessors at any given point of time during PP&DT.
- Try to help group to prepare a story, agree more and argue less.
- Do not pin point others for a bad story and also do not force someone to speak if they do not want to. This will be a negative mark for you, it is better to speak first and make your chances rather then giving a chance to someone who is not interested to speak.
- If you feel your story is better than others, do support it with logical points but do not force your story on others.
PPDT Example

Image : PP&DT image of River bank Scene with recommended Image
 
Sample PP&DT story:
Bhanu lives in a small village in Madhya Pradesh. He along with his friends decided to go the riverside of their nearby village, it was morning time and all of them were enjoying, run then saw dead fishes lying along the bank of river, he went near the river and jumped into it, what he saw was unbelievable for him, the river water which is going to his village, which they are using for every purpose is being polluted by the nearby factory setup, he with his friends went to village basara and informed about the threat and consequences. The result were in favor of Bhanu and the industry discharge was banned into the river Bhanu was praised by basara for his work.
Read More About
PPDT Stories With Answers
Top NDA Coaching in Lucknow
Last Minutes Tips for PPDT