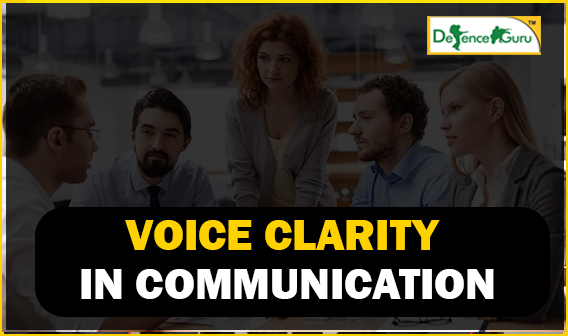 Dear Students,
Language is an interface between your mind and the audience. Any of the ideas existing in mind is expressible with effective usage of language. The idea may be worth remembering and valuable but if it is not delivered well, it loses its impact. Often we think to work on our power of expression. Although this topic has a vast scope to discuss but if we keep a few points in our mind, we can make our language impressive and we may really find a great impact of our expression over the audience. The language parameters are followed in all the languages but the language which is unfamiliar to you as well as your audience has more challenges regarding clarity; in such cases these parameters really play a great role. Keeping these facts, one can qualify the interviews too as clarity is expected in your responses and that clarity is better shown with the language being used.
Voice of a person is the recognition of his personality. Clarity in voice is as important as the content. In Armed Forces, the clarity is kept on priority when communication takes place. This is only the reason they say "over and out" once their message is conveyed successfully. To bring clarity in your voice you need to put some efforts and those efforts are based on the assessment you make for your voice. Here I am going to describe those phases.
Audibility factor is based on the number of people in audience and the distance between the speaker and the audience. A speaker is supposed to tune his voice as per these parameters. The speaker should have stamina to convey his message easily to everyone. It is suggested to have practice in such phases. There may be cases when voice aid may stop working while you are conveying the message so without aid also one should be able to convey his message to a limited number of audiences. The students who are preparing for Armed Forces should have stamina to address at least 100 people in the audience. In SSB interviews, it is observed that the distance between the interviewer and the interviewee is around 4 to 5 feet away. A candidate who has not exercised in these phases may face difficulty to convey his ideas. There is a huge difference between shouting and speaking loudly. Please note that you are supposed to speak loudly not to shout. Loud voice shows your confidence level and somehow speaking slowly may be taken as nervousness. Really it matters a lot when a message is conveyed with audibility factor. As per the situation one can tune voice.
The other factor is unfamiliarity of the language. The language for which one is habitual, any mode of communication is workable. Even non verbal communication is also made successfully. It is noticed that even one can murmur also in known language but it is not possible with uncommon language. Talking about the formal approach, one should understand that English language is not known to everyone and people speak occasionally. Here it becomes necessary and the demand of language to speak loudly. To have a better practice of voice, one may record one's voice and listen. If the recorded voice conveys meaning and clearly understood, you may consider that you have really worked well on this.
One should open mouth as per the size of the word. All syllables are important to be pronounced. There are long words, sometimes their pronunciation is missed due slow voice. The following are the words where one can feel the need of proper mouth opening.
 
Development

Association

 

Productivity

 

Connectivity

 

Amelioration

 

Altercation

 

Acclivity

 

Alacrity

 

Pronunciation

Importance

Frequency

Conscious

 

Bird

Word

World

 
 
There are many other words, the way we have given above. Like in the words bird, word and world there is slight difference and it is just based on mouth opening one has while pronouncing these words. In bird, b is to be pronounced well.
In word r is to be pronounced well.
In world, l is to be pronounced well.
Yoga Session for voice clarity
Overall if we see, we find that pronunciation varies on focusing the syllables. To give proper span to each syllable one can go with a yoga session too. The objective of this exercise is to give proper recognition to each syllable. It is better if you do early morning. Put a marker into your mouth and say a line again and again. You may choose any line as per your convenience.
"I am following Defence Guru to get updates for Defence Exams."
A daily practice of five minutes will make you exercise well for clarity in pronunciation.
Pitching in communication makes you a smart dealer with audience. As per the context of the topic, you should have voice modulation. The mood of audience also matters the intensity you have while conveying the message. Obviously motivation can't be brought by just murmuring some message or speaking very closely to someone. It is to be conveyed with motivated voice. You should be self motivated to motivate others.
 
I hope above mentioned tricks will assist you a lot to convey your messages confidently. This inner strength can be enriched by more and more exercises.
Happy speaking !
Thanks with Warm Regards
Aditya Kumar Dubey
Head of the Department
(English and Interview Skills)
Centurion Defence Academy
Alambagh, Lucknow