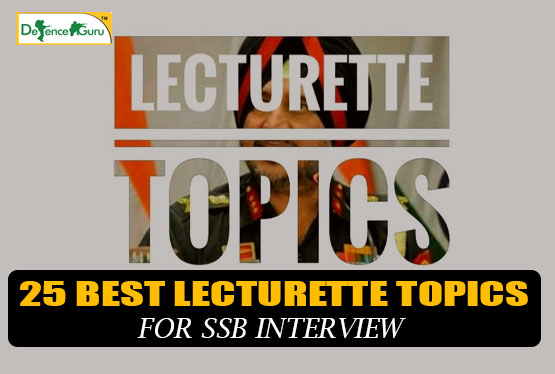 UNEARTH THE PHILOSOPHY OF SSB LECTURETTE
Relishing the beautiful drizzle, feeling the soft touch of cool breeze on my face while coming to the workplace, my mind pondered upon something this morning: how humans have turned matters intricate for others. What if we ease things for each other, what if we step up humanity by lending a helping hand? Well the world would be a better place in that case, won't it?
To turn this noble idea into reality, I endeavor to give you the most relevant insight into Lecturette of SSB by composing a list of 25 most common topics asked in SSB Lecturette. Hope it simplifies your preparation.
Seated in a circular set up, the candidates participate in one of the most important rounds of SSB named Lecturette. Herein each candidate is given a cue card incorporating 4 topics out of which he selects 1 topic to speak upon.
Relax dear, you get 3 precious minutes to prepare on the chosen topic.
Next, the GTO calls you and breaks the ice by gathering general information about you such as: name, place of residence, occupation of parents, your educational qualification and hobbies. Post this general interview the candidate has to speak (give a lecture) on the selected topic for 3 minutes. Your speech must constitute appropriate introduction, main body, and conclusion.
Of course there is no fire without smoke. Symbolically, lecturette is conducted with the aim to test the OLQs of the aspirant involving confidence, thought of expression, intelligence, fluency, clarity, organizing skill and power to influence.
25 Best Lecturette Topics for SSB Interview
Ranging from social to economic to political here is a list of 25 essential topics for SSB Lecturette:
1. Net neutrality
2. Article 370
3. India china relationship
4. India Pakistan relationship
5. Uniform civil code
6. Union budget 2019-20
7. Women empowerment
8. Swach bharat abhiyan
9. Kashmir war crisis
10. Special act of Armed Forces
11. Naxalism
12. India's foreign policy
13. E- commerce
14. Child marriage
15. Global warming
16. Chandrayaan 2
17. Cyber bullying
18. Terrorism
19. Make- in India
20. Indo- Russian relation
21. Corruption
22. Nuclear energy
23. Bharat ratna
24. Hockey in India
25. Defence budget
A secret tip: the whole world is interlinked and so are the above topics. So when you prepare on any 1 topic gather some info about its related notions as well so that you have a wholesome preparation!
For instance, while preparing global warming, also jot notes on pollution, increasing health issues, and climate summits.
Don all the know- how, tips and topics in your big- big mind and start working this moment. Goodluck!
Read More About
Latest GD Topics For SSB Interview 2019
SSB Interview Questions