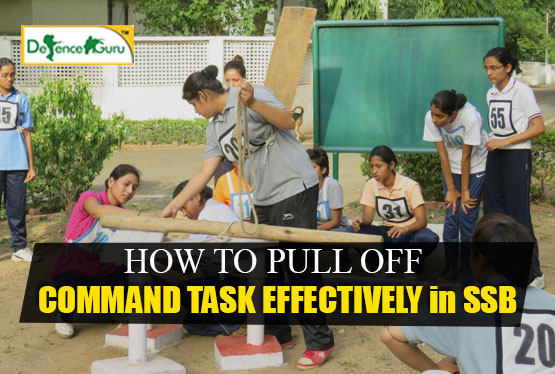 Command Task in SSB
Obedience and dedication are the ultimatum of a good commander!
GTO is incomplete without the mention of Command Task. Reflecting directly from its name, 'command task' revolves around one word- 'leadership'.
AIM:
Command task is a significant task of GTO exercise. Neither team spirit nor individual talent, this test examines your commanding skills. It checks your ability to lead, to give command, and to accomplish the task on time with the best plan of execution.
Hence the key objective is to assess: candidate's choice of subordinate; candidate's ability to think of workable ideas; his capacity to instruct as well as extract work from subordinate; and his flexibility in terms of giving solutions.
PROCEDURE:
The process of command task is as easy as its name. It begins with the GTO calling candidate one by one followed up with assigning him a task and its explanation.
The GTO interacts with the candidate and as per his judgment he allots the task providing the helping materials along with it and allowing the candidate to choose his subordinates.
The level of task determines your chances of recommendation. The more difficult the task is the more chance you hold to be recommended.
The time prescribed for completion of this task is 15 minutes.
Furthermore, rules of Half Group Task and Progressive Group Task are applied here too with an exception: here you get only 1 obstacle unlike PGT and HGT.
Each candidate gets a separate task and he has the sole responsibility to execute it as per his intelligence.
Tips for Command Task:
When it comes to giving your best performance pay attention to the following tips:
If you have any doubt or are unable to understanding the task then ask the GTO while he is explaining the procedure.
Give yourself the liberty to think for a minute or two and draft a plan.
Choose your subordinate wisely and by wisely I mean the one with whom you are comfortable. After all his good or bad performance depends much upon your commands.
Do not forget your role- you are the Commander not the Subordinate so do not take suggestion or instruction from your subordinate.
You can have multiple plans and can switch from one to next whenever needed.
Maintain an amiable behavior, that is, do not be harsh or aggressive.
Try a harmonious functioning between your inmates by giving your full co- operation.
Be logical, be systematic.
Shed off nervousness and play with complete self- confidence.
There is a slight chance that the GTO might change your situation in between. Do not panic rather be positive about and proceed logically.
EXAMPLE
Although PGT and HGT must have given you an idea of the kind of obstacles and problems involved but just to polish your memory here is an example of obstacle in Command Task:
Carry a load and cross the barrier without touching the ground. The barrier may be rods, ladders etc. ranging from 10 to 12 in number.
With that minute projection of what Command Task may look like I bring this article to its end. The only key to unlock the door of Command Task is great leadership quality sandwiched with enough of common sense. Hope you have it in you because if you don't inculcate it now dear.