Career Opportunity For Retired Officers In Territorial Army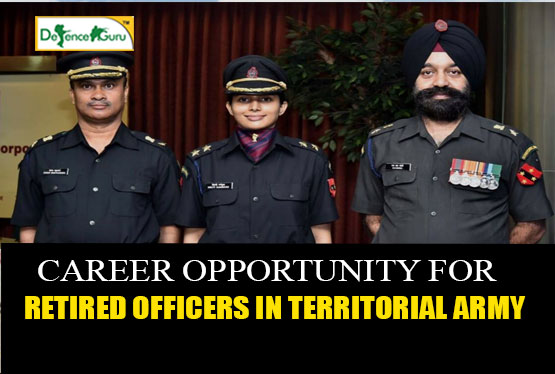 From Kapil Dev to M.S. Dhoni, people in India are desirous to serve their nation at one or the other point of lifetime. To don that Army uniform, to have the label of Indian Army, to hold rifle in hands and to taste the life of an Army man is now a rising dream among Indian youths.
But how to make turn it real? Well, Territorial Army is one major gateway to pay your services for Indian Army on permanent or temporary position despite being from a different occupation. Yes, in Territorial Army civilians from any and every occupational background can apply, work for the prescribed time and be trained as an Army man. This is not a part of regular Army.
To avail this opportunity applicants have to go through a written exam+ PIB interview+ SSB session.
Ready to be surprised more? Well, not only does TA provide a platform for youth but also for retiredOfficers. Retired Officers can save themselves from boredom by joining Territorial Army. That certainly is a bunch of benefits!
Here is a handy list of the entire procedure of applying as an Ex Officer in TA:
Officers who have previously worked in any stream of Indian Armed Force can apply as per the advertisements published in newspaper or the Employment News released in month of December- January.
They can download the application form from the official website.
Following this the Officers need to send the applications along with photocopy of Release Order and Photocopy of Release Medical Board Proceedings to Additional Directorate General Territorial Army, Integrated Headquarters of Ministry of Defence, 'L' Block, Church Road, New Delhi – 110 001.
The application is free of cost.
Moreover only an interview shall be conducted for their admission. There is no provision of written exam for admission of Ex- Officers.
Lastly, make sure you fulfill the eligibility criterion which is as follows:
Nationality : Citizen of India.
Age Limit: 18 to 42 years on the date of application.
Educational Qualification : Graduate from recognized university.
Physical Standard : A candidate must be physically and medically fit in all respects.
Employment : Gainfully Employed.
Note : Serving member of the Regular Army/ Navy/ Air Force/ Police/ GREF/ Para Military and like forces are not eligible.
Lastly bring all your documents. There is a lengthy list, you can easily check it on the official website.
SCREENING
Once you are done with application, screening or to say interview is the next procedure. Herein the Officers will be interviewed at Army Headquarters Selection Board (ASB). Those who get recommended shall undergo a medical examination at New Delhi.
CAREER OPPORYUNITY
To heighten up your motivation here is a list of the handsome pay scale that you receive in TA:
Lieutenant- Pay Band 3/ 15600- 39100; Grade Pay- 5400; military service pay- 6000
Captain- Pay Band 3/ 15600- 39100; Grade Pay- 6100; military service pay- 6000
Major- Pay Band 3/ 15600- 39100; Grade Pay- 6600; military service pay- 6000
Major- Pay Band 3/ 15600- 39100; Grade Pay- 6600; military service pay- 6000
Lt Colonel- Pay Band 4/37400- 67000; Grade Pay- 8000; military service pay- 6000
Colonel- Pay Band 4/37400- 67000; Grade Pay- 8700; military service pay- 6000
Brigadier- Pay Band 4/37400- 67000; Grade Pay- 8900; military service pay- 6000
Isn't that just tempting? It surely is. So to all the retired Officers who want to keep up their connections with Indian Defence, Territorial Army is a good platform for you. Join it before the opportunity vanishes.


Leave a Reply
Defence Guru Team feels pleasure to appreciate from you ! Required fields are marked *.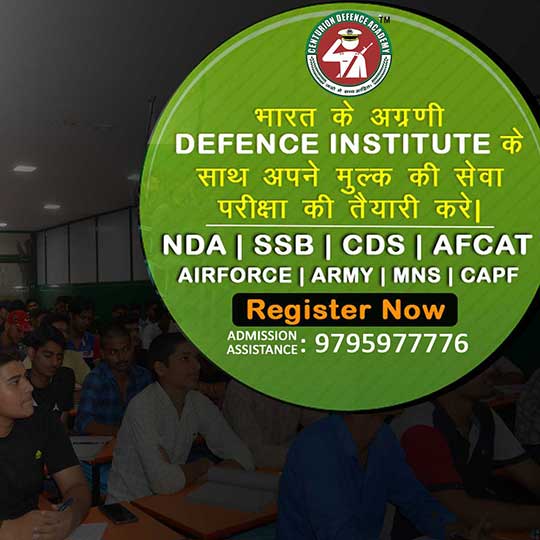 Newsletter Sign Up
Sign up to our newsletter and get exclusive deals you will not find anywhere else straight to your inbox!
-->